Everything To Know About Crystal Kung Minkoff's Pop Star Brother From RHOBH
He won a Chinese Grammy in 2001.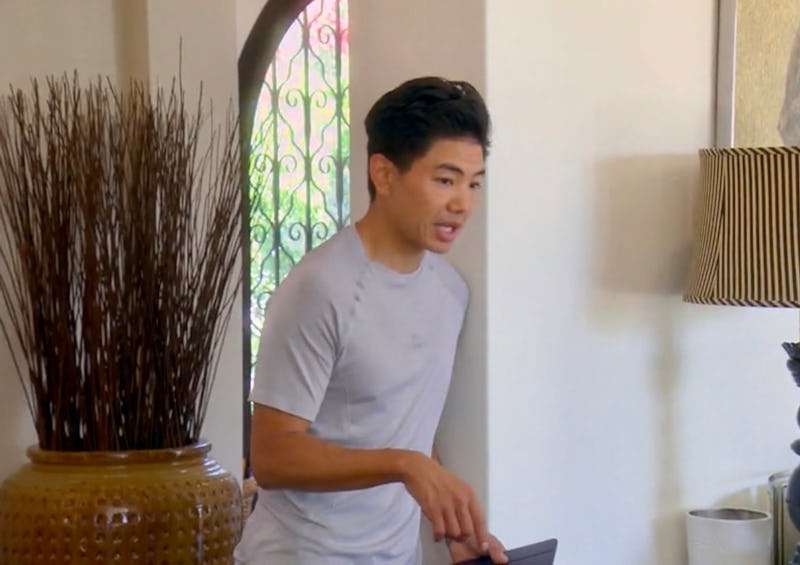 Bravo/screenshot
As Crystal Kung Minkoff joked on The Real Housewives of Beverly Hills, her brother, Jeffrey Kung, may be a pop star in China, but "here, he's my manny." She explained that Jeffrey lives in China but had been staying with her and her husband Rob Minkoff for several months because of the coronavirus pandemic, handling everything from driving around her kids — Max, 8, and Zoe, 6 — to making them green juice.
Jeffrey is much more than a musician turned manny, however. Along with Crystal and their childhood friend Brian Bardos, Jeffrey co-found Real Coco, a coconut-based food and beverage company, in 2012. The trio say their product is currently the only single-sourced organic coconut milk/creamer on the market that bottles at the source, and the company was on pace to do over $15 million in sales as of 2020.
"He's damn talented and an awesome uncle," Crystal wrote of her older brother in a May 26 Instagram caption. "Some of you know him, and if you don't, I'm looking forward to you getting to know him."
Here's everything else to know about the multi-hyphenate, who you'll likely be seeing plenty of on RHOBH.
Jeffrey's Music Is Eclectic
In a July 2020 interview on the Gaysian podcast, Jeffrey described his musical style as "all over the map," explaining that he's known for creating "every style of music" including hip-hop, rock, and rap. A 2002 University of Michigan graduate, he got his big break by total accident while studying abroad at Beijing's Peking University. "One day, I was singing a tune at a local karaoke and was discovered by a talent agent," he said. "Despite my parents being born in China, I didn't even speak Mandarin at the time and had no training as a singer or even a musical background."
His first hip-hop album took off, and he went on to win the Chinese Grammy for New Artist of the Year in 2001. "I've never looked back and spent 20 years in China," he said, adding that he's since released five studio albums and started China's first hip-hop radio show. Among his hit songs are "Real Life," "Dream Girl," "Running," and "Boss." Jeffrey's "Slide" music video was also featured on RHOBH. When Crystal married Rob in 2007, Jeffrey performed at their reception.
Jeffrey Is In A Relationship
Jeffrey planned to marry Vivi Tam in Shanghai on March 28, 2020, but had to postpone the wedding due to COVID. On the couple's Zola website, Jeffrey explained that they'd met on a "serendipitous" flight from Las Vegas to Los Angeles in 2016. "Knowing I would never forgive myself if I didn't say anything, I was determined to talk to this intimidatingly beautiful woman sitting next to me," he wrote.
On what would have been their wedding day, Jeffrey posted on Facebook that Mother Nature had handed them the greatest challenge of their lives. "I am taking this time to self-reflect, to grow, to realize so many things I never saw before," he wrote. "I love you more every day. More [than] ever."
Jeffrey's Instagram Shows Off His Family & Music
Following his RHOBH intro, Jeffrey posted his "greatest hit" photos with Max and Zoe on Instagram. The self-described "proud Mama's boy" appears to be extremely close with his niece and nephew as well as the rest of his family; he often posts throwback childhood photos with Crystal. He's also paid tribute to his late father, who would've turned 90 in March.
Of course, Jeffrey also promotes his music, most recently thanking Apple Music for putting his new single, "Day and Night" on the cover of their Chinese Pop Playlist. He called Robbie Williams his "friend and idol," and, in other posts, expressed his admiration for artists including Childish Gambino and Kanye West. He's also posted photos and videos with a wide range of musicians including Usher, Charli XCX, ASAP Ferg, Iggy Azalea, and Bow Wow. When he's not performing or making music, the fashion enthusiast and sneakerhead works on his six-pack abs by partaking in activities like basketball, skiing, and boxing.