Dan Levy Wants You To Know He Did Not Start The SNL Note Trend
The Schitt's Creek star just revealed why he left Regina King a note in the dressing room.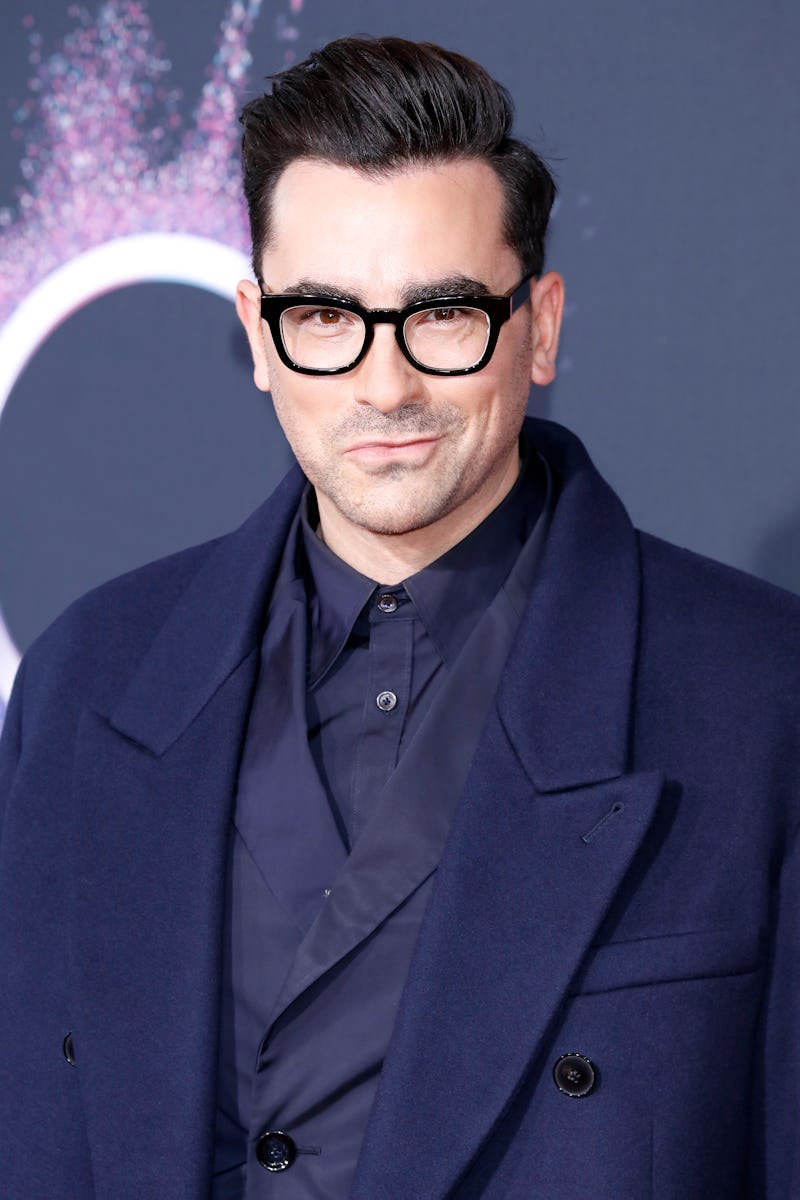 Kurt Krieger - Corbis/Corbis Entertainment/Getty Images
Hosting Saturday Night Live can be intimidating — just ask Dan Levy. The Schitt's Creek star hosted the show on Feb. 6 and even left an encouraging note in the dressing room for his successor, Regina King. "Regina! You got this! Much love, Dan," the note read. Ever since, there's been an ongoing trend of hosts leaving kind notes for each other, but Levy wants people to know that he didn't come up with the idea on his own.
"I feel the need to clarify this ... I didn't start (the tradition)," the actor recently told Today. "I kind of continued it." Levy went on to explain that the gesture was actually inspired by a message that Woody Harrelson left for Phoebe Waller-Bridge a year prior. "I asked if I could leave a note for Regina because the process is such a strange experience," he said. "Strange, wonderful and intimidating experience that like, a little note from the person that had just done it felt like such a sweet vote of confidence."
As it turns out, Levy's message inspired a long chain of celebrity hosts to leave uplifting notes for each other in the Studio 8H dressing room. King, for example, paid it forward by leaving a note for Bridgerton's Regé-Jean Page. "Regé-Jean, You got next and you are going to be amazing!" she wrote. "I'm a big fan. Regina K." Then, Page left one for Nick Jonas, who was scheduled to host the following week. "Just have the BEST time Nick! Rege," he wrote.
Well, there you have it; Dan Levy did not start the trend. And it's also not the first time he's taken a page from someone else's playbook. The actor also opened up to Today about what it was like working with his father, Eugene Levy, on Schitt's Creek, and how he helped him become the actor he is today.
"You have to really respect the person you're working with and I think when you do, it makes for a very easy go of things," Levy said. "I have so long admired what my dad had done and … I think he really let me have space to find my own footing." Perhaps one of the biggest lessons he learned from his father, though, is that "there's so much generosity to great comedy." "You have to just give people space," he explained. "There's just such a joy in knowing that you have each other's back."
This, of course, isn't the first time Levy gushed over getting to work with his father. In a 2020 interview with Variety, the 37-year-old said his father is his ultimate role model. "I don't think there's a single person you could find in Hollywood that would say a bad thing about him," the actor said. "That is an exceptional model to set for me."
"To watch my dad and finally have an understanding of how and why he has had the career longevity that he's had, and why he is continually and will continue to be sought after for the work that he does — I mean, you want to have him on set," Levy continued. "It's certainly set the bar high for me in terms of what I hope to achieve and the reputation I hope to uphold."