Deleesa's Family Plays A Major Role In Her Gameplay On The Circle Season 2
It seems the self-described "mompreneur" has another baby on the way, too.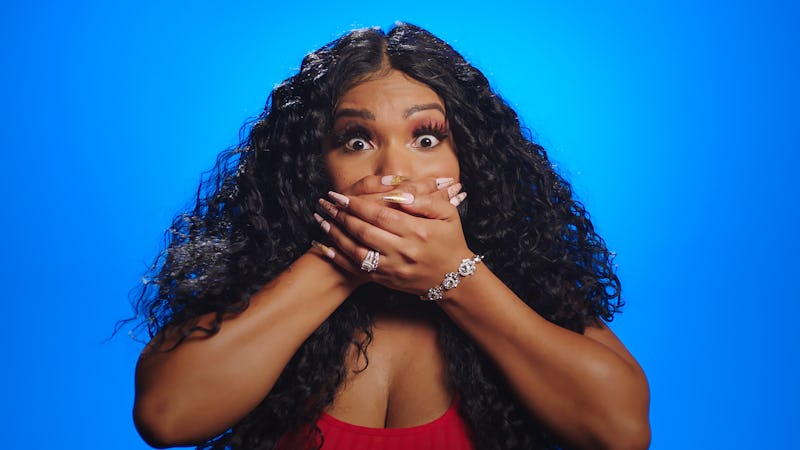 Netflix
In introducing contestant Deleesa St. Agathe, aka Deleesa Unique from The Circle Season 2 on Instagram, Netflix wrote: "Family always comes first for Deleesa. Nothing is going to stand in her way to bring the cash prize home to them." Indeed, Deleesa, who also goes by Leesa and whose middle name is Unique, can even be seen in the Season 2 trailer for The Circle clutching a pillow covered in photos of her husband and daughter.
Aside from her undeniable love of family, here's everything else you need to know about the mom, wife, and businesswoman from "the boogie down Bronx," whose stint on the Netflix reality competition series kicks off on April 14.
Deleesa's Job
Although The Circle lists Deleesa as a 32-year-old stay at home mom, she more accurately describes herself as a video creator and "Mompreneur" in her Instagram bio. She created an online women's fashion boutique called the Be Unique Shoppe "to let all women know they are unique in their special way." The online store bills itself as a one-stop shop for clients looking for "sexy yet comfortable clothing, human hair wigs, Luxury glue on nails, beautiful mink lashes and dazzling accessories to compliment any look."
In addition to her small business, Deleesa also has a YouTube channel, with her videos covering a wide range of topics such as beauty, family vlogging, ASMR, and prank challenges. She also already has a Cameo account, where fans can request a personalized video for $50.
Deleesa's Husband & Daughter
Her husband Trevor St. Agathe's Instagram page is a dead giveaway that she'll be taking on his identity to catfish her fellow contestants. The real Trevor, whom Deleesa married in June 2018, is an athlete, certified strength and conditioning coach for P3 Applied Sports Science, and self-described "hope dealer." Although he and Deleesa don't frequently show up on each other's individual Instagram pages, the couple has a joint account as The Saints, where they share family content and promote their YouTube videos.
Deleesa and Trevor share a daughter named Toni Abella, who turned one in September. She noted in a December post that her girl is "just like her momma" — and growing up too fast. "She look like her daddy but best believe she's a mommas girl," Deleesa joked in the caption. Like Mom and Dad, Toni even has her own Instagram account. That's where Deleesa announced she's expecting her second child. "So, Toni is going to be a BIG SISTER!!" she wrote on Jan. 3. "She's still so little but yet so big. At least we are happy they'll be close in age. I hope they'll be best friends, boy or girl."
Deleesa's Instagram
In an April 10 post, on her personal Leesa Unique Instagram account, she wrote, "Sometimes I post mom sh*t, sometimes I post hot girl sh*t," also joking how that balances her content. That's a great way to sum up her account as a whole, as she seems to post as many mommy and me photo shoots — often with coordinated or matching outfits — as she does her own personal pics. Other posts show that she attended Cardinal Spellman High School in the Bronx, celebrates her Puerto Rican heritage, enjoys cooking and also supports the Black Lives Matter movement. Deleesa also has a "baby sister" named Savannah, and shared a photo from her "Hollywood themed Quinceañera" in September 2019.