Demi Lovato's Yogurt Shop Controversy Rages On After New Messages Leak
It all started when the singer called out the establishment for a "triggering" and "awful" experience.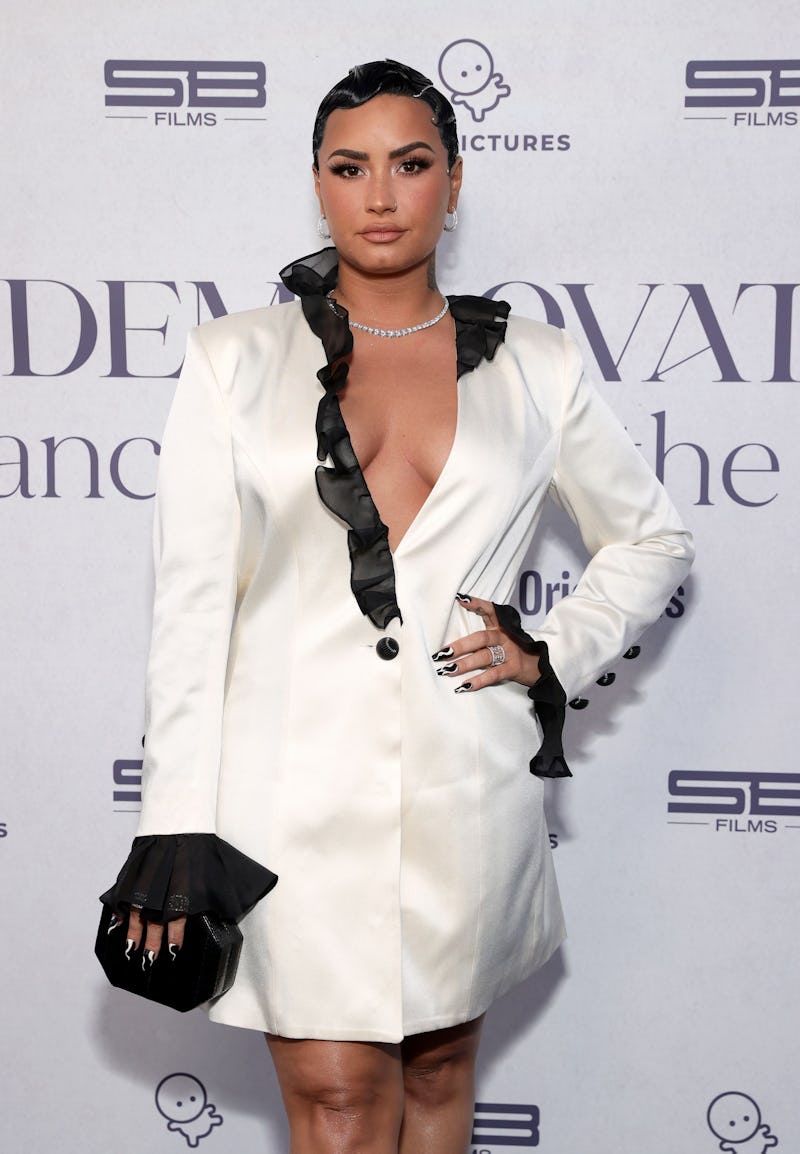 Rich Fury/Getty Images Entertainment/Getty Images
Demi Lovato's feud with Los Angeles frozen yogurt shop The Bigg Chill is far from over. It all started on Sunday, April 18, when the singer wrote on her Instagram Stories about her "triggering" experience at the establishment as a person recovering from an eating disorder. "Finding it extremely hard to order froyo from @thebiggchilloffical when you have to walk past tons of sugar-free cookies/other diet foods before you get to the counter," she wrote at the time. "Do better please. #dietculturevultures."
Upon seeing the "Anyone" singer's Stories, The Bigg Chill reposted her message on their account with an explanation as to why they carry those items. "We carry items for diabetics, Celiac disease, Vegan, and of course many indulgent items as well," they wrote. The shop also responded to the singer via DM, which Lovato then shared on her Stories. "We are not diet vultures," they told the pop star. "We cater to all of our customers needs for the past 36 years. We are sorry you found this offensive."
Per the screenshots, Lovato continued to come down on The Bigg Chill. "Your service was terrible. So rude. The whole experience was triggering and awful," she responded. "You can carry things for other people while also caring for another percentage of your customers who struggle DAILY just to even step foot in your store. You can find a way to provide an inviting environment for all people with different needs." Lovato went on to tell The Bigg Chill that eating disorders are one of the deadliest mental illnesses, "second only to [opioid] overdoses," and that they shouldn't make excuses for not accommodating people in recovery.
Later that day, the "Dancing With the Devil" singer posted on her Instagram Stories again, but this time with a suggestion as to how the shop could make the experience more pleasant. "I was thinking, maybe it would help if you made it more clear that the sugar-free options and vegan options are for that. Labeling the snacks for Celiac or Diabetes or vegans," the 28-year-old wrote according to another screenshot she shared. "When it's not super clear, the messaging gets super confusing and being in L.A. it's really hard to distinguish diet culture vs. health needs. I think clearer messaging would be more beneficial for everyone."
After receiving backlash online for coming after a small business amid a global pandemic, Lovato shared a video on her Instagram feed explaining that while her point may not have landed as intended, attacking a small business was certainly not her goal. "I'm sorry that I may have disappointed some people, but I'm not coming after a small business," she said. "That's not what I'm doing here. I walked into a situation that didn't sit right with me, my intuition said, 'speak up about this,' so I did, and I feel good about that. What I don't feel good about is some of the ways that it's been interpreted and how the message has gotten misconstrued."
Elsewhere in the video, the musician admitted that she still has "a hard time walking into a froyo shop, being content with it and keeping it down." She also acknowledged that she jumped to conclusions about the purpose of the diet options and that she simply "wanted to call out behaviors or branding things that didn't sit right." After posting her video, Jameela Jamil came to her defense, saying that wanting to get the messaging right on diet food doesn't make the "California Sober" singer a "monster." Other people, however, are still criticizing the star on social media for putting the company on blast.
Despite her apology, TMZ released additional DMs between the singer and the froyo shop on Monday, April 19, which have prompted some people on the internet to call her a "Karen." According to the latest screenshot, Lovato reshared a photo from The Bigg Chill's page of a display in their store that featured "guilt-free" options. "That post is from 2016," the froyo shop wrote in response. "We do not even carry this company's products anymore and have not in years. We only started carrying them because our customers wanted a protein cookie."
"So you don't carry the Lenny and Larry cookies that scream the exact same thing?" Lovato responded, per TMZ's screenshot. "Pretty sure I saw every flavor there. Don't keep going w this. You don't want to mess w me. You're in the wrong and the customer is always right." Since this screenshot leaked, Lovato has not addressed the controversy further. If she does, we will update this story accordingly.
If you or someone you know has an eating disorder and needs help, call the National Eating Disorders Association helpline at 1-800-931-2237, text 741741, or chat online with a Helpline volunteer here.