The True Story Behind Henry VIII's Jousting Injury
The Tudor king is portrayed by Game Of Thrones actor Mark Stanley in the new Channel 5 series.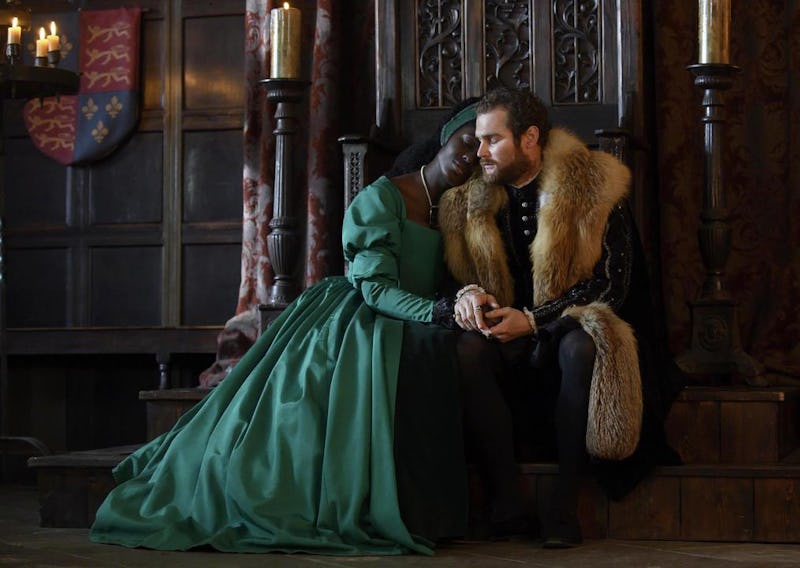 Fable / The Falen Falcon Ltd / ViacomCBS
Channel 5's much-anticipated historical drama series Anne Boleyn will re-tell the shocking story of Anne Boleyn, the second wife of the notorious Tudor king, Henry VIII. Starring Jodie Turner-Smith as Boleyn, it charts the last five months of the monarch's life, when she is estranged from Henry after failing to provide a male heir and struggling to secure a future for her daughter. Told from Boleyn's perspective, the series sees her attempt to help the King (played Mark Stanley) recover from a near-death sporting accident but did Henry VIII really suffer from a jousting injury?
It's true that Henry VIII was an avid jouster and , during the tournament at Greenwich Palace on 24 January 1536, the famous monarch was thrown off of his horse, knocked unconscious, seriously injuring his leg, and leaving him with a suspected brain injury. According to the Independent, the jousting injury led Henry VIII to become the tyrant he's remembered today.
As depicted in Anne Boleyn, many had thought Henry's accident would kill him, and, the stress of the news was thought to have led Boleyn to miscarry their son. While Henry recovered from the accident, his leg was never the same again and this contributed to his change of attitude towards his wife.
"We posit that his jousting accident of 1536 provides the explanation for his personality change from the sporty, promising, generous young prince, to cruel, paranoid, and vicious tyrant," said Dr Lucy Worsley to the Independent (2014). "From that date, the turnover of the wives really speeds up, and people begin to talk about him in quite a new and negative way. "
After Anne Boleyn's miscarriage, Henry was said to have established a plot to rid of her and make way for a new wife, Jane Seymour. Within a few months, Anne Boleyn was accused of high treason, adultery, and incest and was committed to being beheaded.
Ahead of Anne Boleyn's release, actor Mark Stanley explained what it was like to portray the infamous King in the series.
"I thought the scripts were amazing, and even more so with the angle they were coming from, with a feminist perspective," said Stanley in a statement sent to Bustle. "Usually with these adaptations, it's Henry or Cromwell taking the lead, but there's a thriller type feel to the whole piece as it's from Anne Boleyn's perspective. You get a sense of the fickle nature of the position she was put in at the time and the strength that she showed through that adversity, I thought it was amazing writing."
He added: "A lot of History documents Henry being a tyrant or this blood-curdling-thirsty gregarious-fat-man… I took it all in, but it would often be tainted with an agenda and that can leave a lot of pitfalls for you to fall into. I was very conscious of thinking about this person behind the paintings we are shown, we are given this two-dimensional version of him and actually, these scripts leaned themselves to discovering who he was and the pressures he was under as a person."
Anne Boleyn begins tonight on Channel 5 at 9 p.m.