RHOP's Robyn Dixon Explained Why Juan Paid For Another Woman's Hotel Room
Her Bravo co-stars had a lot to say about the unaired cheating allegations.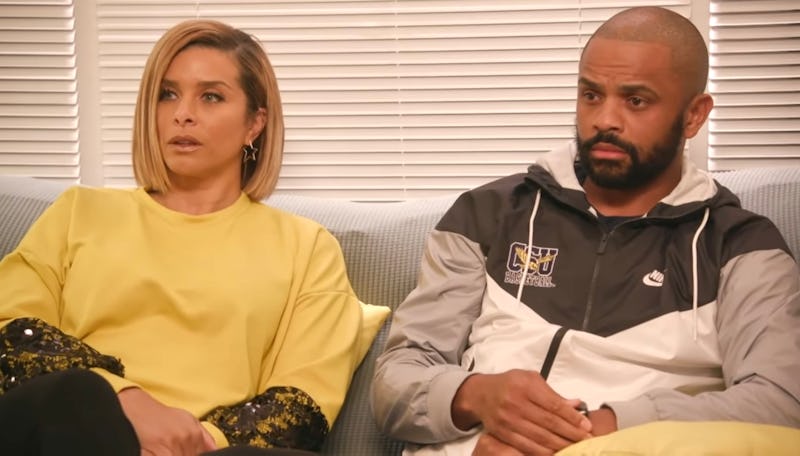 Bravo/screenshot
When The Real Housewives of Potomac star Robyn Dixon's then-ex-husband, Juan Dixon proposed for a second time in December 2019, their happy ending finally seemed imminent. Within months, however, the COVID-19 pandemic shut down the world, forcing would-be brides and grooms everywhere — including the Dixons — to press pause on wedding planning. Fast forward to 2022, and Robyn was still citing the pandemic as the reason for her wedding's continued delay, but it turns out that social distancing and other coronavirus-era precautions weren't all the RHOP cast member was referring to. On the Jan. 30 episode of her Reasonably Shady podcast with Gizelle Bryant, Robyn revealed the new rumors that Juan cheated on her partly contributed to them putting their wedding on hold.
But did Juan really cheat on Robyn again? At the same time the couple was denying infidelity claims on RHOP Season 7, off-screen, the college basketball coach's alleged mistress came forward with receipts that she claimed verified their relationship. In late January 2023, Georgio Says podcast host Georgio Takounakis posted a viral TikTok video explaining that the unidentified woman contacted him, claiming that she dated Juan for over a year beginning at "the end of COVID." The woman also sent screenshots of alleged text messages from Juan (the most recent one was from January 2022) as well as a hotel receipt under the former NBA player's name.
On her Reasonably Shady podcast, Robyn revealed that she knew about this specific allegation before RHOP Season 7 began filming in March 2022 while attempting to offer an explanation. "Juan was an idiot and communicated with this woman on Instagram because, you know, whatever he's bored. He needs attention. It's the pandemic. Blah, blah, blah," she said of the alleged DMs. "They did not date. He did not fly her anywhere, and there is a reason why his name is on a hotel receipt."
According to Robyn, the woman messaged Juan about losing her wallet and asked if he could pay for her hotel room, so he agreed to help her out but left after providing the hotel with his credit card information. "The situation when it was presented to me was handled. [It] was discussed… It was something we had to work through, you know? It was not something that it was just, 'Oh, OK, whatever,'" Robyn continued on her podcast, adding, "Maybe that's why the wedding didn't happen when y'all wanted it to."
Though her admission might have shed some light on the pandemic depression she experienced in Season 6, what it didn't explain is why Robyn joked about adding an "infidelity clause" to a proposed prenup during RHOP Season 7. After all, Juan had been open about his past affairs on the show. "I think Robyn eventually put a wall up and then just didn't give what I felt like I needed in a marriage, so, therefore, I got it elsewhere," he said of his past transgressions during a couple's therapy session on the Bravo series in 2020.
Plus, both Dixons vehemently denied Karen Huger's on-camera accusations that Juan had been spotted holding hands with a blonde woman around Georgetown, Maryland. As Robyn added on her podcast, the "comical" rumors Karen brought up on the show were entirely different than the ones she expected to arise, given that she was aware the woman with the hotel receipts had also contacted some of her cast members, including Gizelle and Ashley Darby, before filming commenced.
Naturally, Robyn's RHOP castmates still had much to say about her confession, calling out the Embellished founder for concealing the rumors on the show and waiting until filming wrapped to address the allegations — via the paid subscription service, Patreon, no less. Both Karen and Dr. Wendy Osefo kept their commentary vague and brief. "Well you don't say……" the Grand Dame tweeted on Jan. 30 after the news broke, while Wendy simply wrote, "Clown behavior…" adding laughing-crying and corn emojis.
Candiace Dillard Bassett, on the other hand, posted an entire six-part Twitter thread on Jan. 31, without mentioning Robyn by name. "Our boss's favorite clap back when we're playing coy about certain aspects of our lives is: "you're on a reality show about your life." There is an expectation that - doing no harm - we show up to this platform as our authentic selves," she tweeted, in part. "And while we "reserve the right to be judicious about what we share," there is a special brand of audacity attached to individuals who will knowingly bury the lede in exchange for damning and salacious lies that stand to cause irreparable harm to innocent people."
Meanwhile, Candiace's husband, Chris Bassett — who was accused of supposedly flirting with several other women by Gizelle and Ashley during RHOP Season 7 — chimed in, "So wait….there were TRUTHS that were omitted/not filmed during our season…as a cast, we chose to tell FALSEHOODS & LIES about innocent people all season long & now we are charging for the truth?" In a separate tweet, he clarified that he was not mad at Robyn, but referred to Gizelle and Ashley as "trash" because they "KNEW about this BEFORE the season……didn't bring it up… but chose to LIE as a distraction."
Despite all the drama, Robyn and Juan remarried last summer and reportedly filmed the private ceremony with their sons Corey, 14, and Carter, 12, as an addendum to the RHOP Season 7 finale, which airs on Feb. 5. Though her fellow Bravolebs weren't present for the wedding, the high school sweethearts' long-awaited nuptials will assuredly provide more fodder for the forthcoming reunion specials. It's still unclear if the hotel receipts will appear in any of the women's binders though, as Robyn waited until after the reunion had already taped to publicly address the situation.