Here's How You Can Get Pre-Sale Tickets To Drake's 'It's All A Blur Tour' Before They Sell Out, Thanks To Cash App
These tickets won't last long.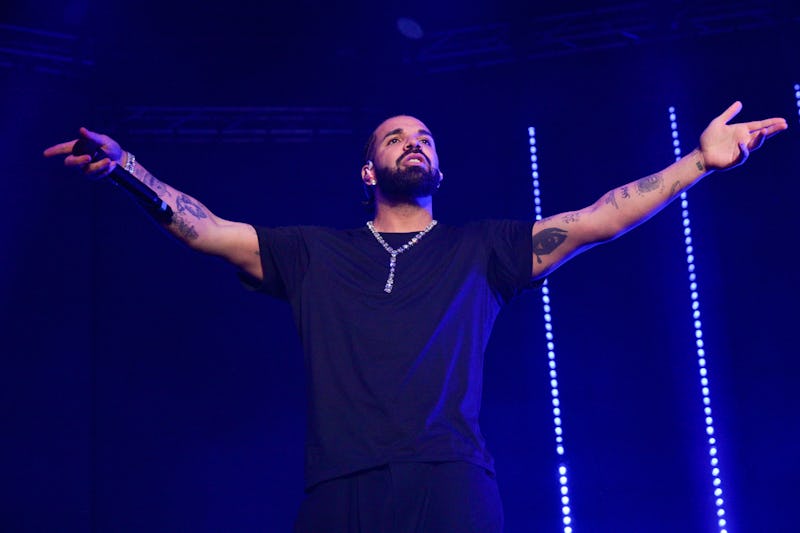 Prince Williams/WireImage/Getty Images
We may receive a portion of sales if you purchase a product through a link in this article.
Drake just announced he is going on tour, and he's bringing 21 Savage with him. If recent news has taught us anything, it's that buying tickets to your favorite major-label artist's show is not for the faint of heart. But if you're a Cash App Cash Card holder, you're about to be in luck. Starting March 15 at 12:00 p.m. ET, Cash Card holders — or anyone who orders a Cash Card now through March 15 via the app — can unlock exclusive access to presale tickets for Drake's much-anticipated It's All A Blur Tour.
The presale ends March 16, or until tickets are sold out. And since Drizzy hasn't toured stateside since 2018, tickets probably won't last long. Fortunately, if you are not yet a Cash Card holder, you still have time to sign up and take advantage of this major perk. Here's how:
How Can Cash App's Card Card Help Me See Drake?
Let's start with a little more about Cash App's Cash Card. It's a free debit card connected to your Cash App balance — you don't even need a bank account. Use the card anywhere Visa is accepted, both online and in-person. You can load your card using the balance in your Cash App, via direct deposit, or even by having a friend pay for you. The best part is that there are no fees, and you get instant discounts— called Boosts — which you can activate to use on your favorite things.
But, back to Drake. If you've been enjoying Drizzy's prolific music drops these last few years, now's your chance to see the Sticky singer live.
Here's how to get early access to the 'It's All A Blur Tour' in a few easy steps:
Enter the first nine digits of your Cash Card in the passcode box of this Live Nation event page. When you check out, remember to use your Cash Card to be eligible for pre-sale.
If you don't have a Cash Card, order one today via the Cash App link. Just tap the Cash Card tab on the app's home screen, press "Get Cash Card", and follow the steps from there. (Also, just to note: You must be 18 or older to apply for a card, but if you're 13+, you can apply with a parent or guardian's permission.)
Fortunately, you don't have to wait for a physical card to arrive in the mail to use it for the presale — it can be used as soon as you order it by accessing the digital card information stored in your Card tab.
What's Cool About Cash Card:
Draw, stamp, make it glow in the dark — these are all ways you can trick out your card. Continuing with that customizable aspect, load the card however works best for you — via your Cash App balance, direct deposit, or by loading it with physical cash at a major retailer like Walgreens or 7-Eleven.
You can also take advantage of those aforementioned Cash Boost Discounts, where you save on select retailers like Taco Bell or Gopuff. You'll also have the option to earn bitcoin via the Boost feature by selecting a Bitcoin Boost. And speaking of bitcoin, Cash App also offers a Round Ups option that makes saving and investing easier. When you turn on Round Ups, anytime you make a purchase, that transaction will be rounded up to the nearest dollar and added to your savings balance — or even a stock, ETF, or bitcoin of your choice.