Legends Of Tomorrow Season 6 Introduces A New Member To The Team
But she's not exactly thrilled to be there.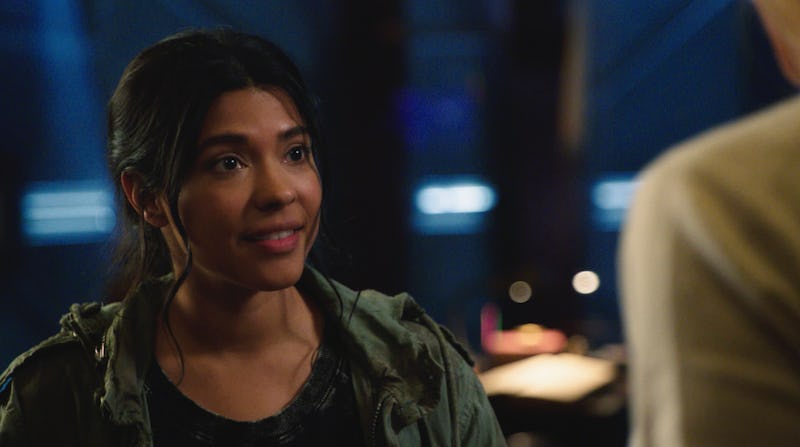 The CW
Since premiering in 2016, Legends of Tomorrow has established itself as an outlandish addition to the Arrowverse that isn't afraid to experiment with wonky plotlines and unexpected characters — risks that have paid off, according to critics and fans.
Season 5 left off on a cliffhanger when the leader of the team, Sara Lance, was kidnapped by a space alien. Unsurprisingly, Season 6 sees the Waverider crew trying to save Sara — and the entire world — from their new intergalactic enemies. In order to get an upper hand while trying to rescue Sara, the Legends recruit a new member named Esperanza "Spooner" Cruz.
Spooner (played by Lisseth Chavez) has a long history with space aliens. After a childhood alien encounter, she now lives off the grid, building technology to detect aliens and defend herself against them. She even believes that her previous alien encounter gave her the ability to both identify and communicate telepathically with extraterrestrials, which, if true, could give the Legends a serious leg up as they search for aliens who were accidentally scattered throughout history.
"She's just a tough, fearless, intuitive individual," Chavez said of her Legends character during an interview with Entertainment Weekly. "Her fearless personality, I think, just fits in with all the missions that they go into. She's a survivor and I feel like she meets them at a really good time."
Chavez hasn't been able to share many specifics about Spooner, but she hinted to EW that there's one member of the Waverider crew who she quickly bonds with. She's not as charmed by the rest of the Legends. "There is going to be some friction, some conflict just because she's sort of there — I don't know how much I can or can't say — she's not too fond of the idea of even joining the team," Chavez explained. "She's there against her will, in the beginning. So there is going to be some conflict between the Legends and her."
Though Spooner is an original Arrowverse character whose story doesn't appear to directly correspond with any existing DC Comics characters, some of her qualities appear to be similar to Jessica Cruz, who was introduced during a Justice League comic book run. Both Spooner and Jessica experienced traumatic events that led to them becoming reclusive and mildly paranoid in their attempts to protect themselves from the evil they'd witnessed. In the comics, Jessica is a host for the cursed artifact the Ring of Volthoom before eventually being saved from its corrupting power by the Justice League and later proving herself worthy to become a member of the Green Lantern Corps.
It's not likely that Spooner's story will take the exact same path as Jessica's, but it's certainly possible that the presence of her character in Legends of Tomorrow is a roundabout way of introducing the Green Lantern Corps into the Arrowverse.