Season 8 Of Fear The Walking Dead Includes Some Cast Shakeups
AMC's zombie apocalypse just won't slow down.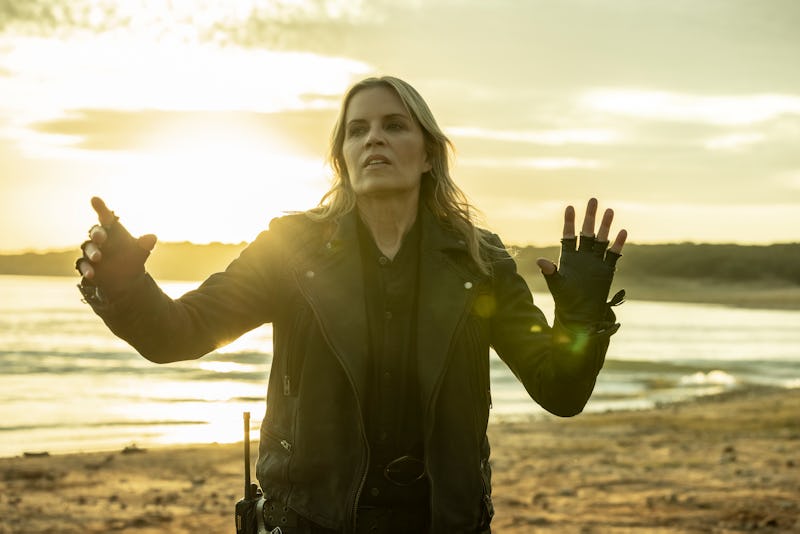 Lauren "Lo" Smith/AMC
AMC's zombie spin-off just refuses to slow down. Fear The Walking Dead, the off-shoot to the massively successful and long-running The Walking Dead has officially been renewed for its eighth season. Deadline announced the news back in December 2021, along with some major casting shakeups. However, before Season 8 gets underway, the finale of the bifurcated seventh season, set to air on June 5, may answer some questions as to the future of the franchise.
Fear The Walking Dead Season 8 Cast
As mentioned earlier, Season 8 of Fear the Walking Dead may look very different to its predecessors — and maybe a little familiar too. Back when Deadline announced the show's renewal, it also revealed that Kim Dickens, who played Madison Clark from Seasons 1 through 4, is finally set to return to the series. After leaving the show for several seasons, her character resurfaced in the second half of Season 7, and she will return to her status as a series regular in Season 8. "If there were a Mt. Deadmore, Kim Dickens' face would be on it," Scott M. Gimple, chief content officer of The Walking Dead Universe, told Deadline. "Madison Clark is a foundational character to [The Walking Dead Universe (TWDU)] — heroic, complex, an everyperson who becomes a warrior and then a force of benevolence," adding, "Kim Dickens' raw talent, strength, and brilliance will electrify TWDU once more, and we couldn't be luckier to have her back."
Just as Dickens is making her triumphant return to the program, series star Alycia Debnam-Carey, who plays Alicia Clark, announced that she would be exiting the show. Ahead of the Season 7 finale, Debnam-Carey took to Instagram to post a farewell to her Fear the Walking Dead family. "I was 21 when we began this crazy journey but now at 28, after 7 years and 100 episodes, I decided it was time for me to move on as an actor and as a person," she wrote in her caption. "As is the nature of our jobs I needed to seek out new challenges, new opportunities and carve out a new chapter for myself," adding, "I have been so lucky to be a part of something so awesome for so long but I hope you can understand and respect my choice to further expand and grow. I wouldn't be here without you all and I am so grateful."
Fear The Walking Dead Season 8 Plot
What we do know is that Victor Strand (Colman Domingo) continues to thrive post nuclear blast, while nearly every other main character has been in shambles. The group will likely have to decide between overthrowing Victor or continuing a search for salvation. Meanwhile, we can pretty much assume Alicia is on her way out, thanks to a mysterious illness, but that doesn't stop her war plans heading into the finale. Whatever will happen in Season 8, Season 7's end is certainly setting the stage.
Fear The Walking Dead Season 8 Premiere
In its first season, Fear the Walking Dead aired just six episodes, starting with the premiere in August 2015. Seasons 2, 3, 4, and 5 had their premiere dates in subsequent springs, and it wasn't until Seasons 6 and 7 that the series opted for split seasons. In 2020, Fear the Walking Dead broke the pattern of spring debuts and began running in October, airing the first half of the seasons in the fall, only to return in early spring of the following year with a second batch of episodes. If production patterns are to be trusted, it seems increasingly likely that the first half of Season 8 should drop sometime in fall of 2022, only to later return in spring of 2023.
This post will be updated as more Fear the Walking Dead Season 8 details become available.