Christine McVie Dies At 79 & Fleetwood Mac Reacts With Touching Tributes
In a handwritten note, Stevie Nicks said she wanted to sing Haim's "Hallelujah" to her before she died.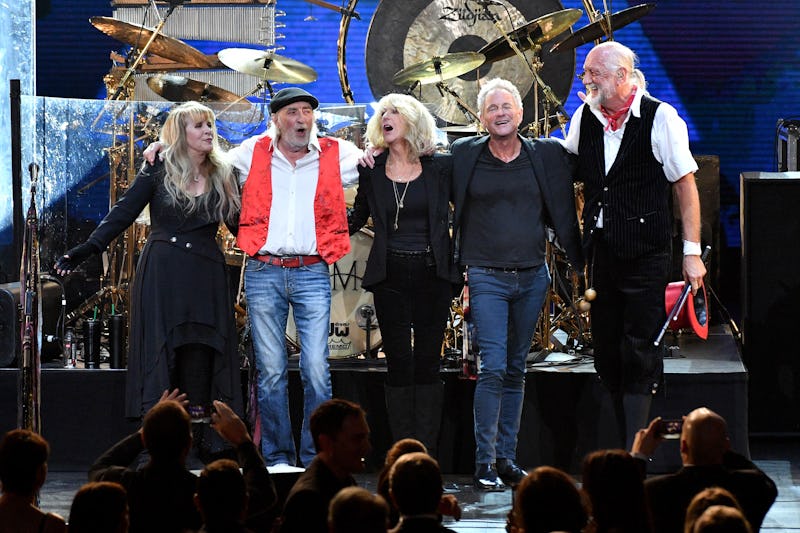 Dia Dipasupil/Getty Images Entertainment
British singer-songwriter Christine McVie, a member of iconic band Fleetwood Mac, has died at age 79. A statement from her family posted to Facebook read, "We would like everyone to keep Christine in their hearts and remember the life of an incredible human being, and revered musician who was loved universally." The statement revealed that McVie died peacefully from "a short illness" at a hospital surrounded by family. A June 2022 interview with Rolling Stone stated she had been in "quite bad health" and was suffering from debilitating chronic back pain.
The official Fleetwood Mac Twitter page commemorated McVie, who was a member of the band from 1971 to 1998 and returned in 2014, calling her "the best musician anyone could have in their band and the best friend anyone could have in their life."
Her bandmate Stevie Nicks retweeted the statement shortly after the news broke and later posted a handwritten note to her "best friend in the whole world since the first day of 1975" to Instagram. Nicks wrote that she didn't know McVie was ill until late Saturday night and was told to wait before traveling to London to see her. Her tribute included lyrics to a song she hoped to sing to McVie in person — "Hallelujah" by Haim. "See you on the other side, my love. Don't forget me," she signed the touching note.
Born Christine Perfect, keyboardist and vocalist McVie joined the band in 1971 after marrying bassist John McVie. McVie was responsible for writing and singing smash hits like "You Make Loving Fun," "Don't Stop," and "Songbird" from the celebrated 1977 album Rumours.
McVie was one of the most prolific artists of her time with three of her tracks — "Don't Stop," "Little Lies," and "Everywhere" — included on Fleetwood Mac's 1988 Greatest Hits album, while she co-wrote at least five others on the album. She was, along with the other members of Fleetwood Mac, inducted into the Rock & Roll Hall of Fame in 1998.
Alongside her contributions to 14 Fleetwood Mac albums, McVie also released three solo albums. She received two Grammy awards for her work. In 1977 she told Rolling Stone (via New York Times) she found songwriting easy. "I don't struggle over my songs," McVie said. "I write them quickly." Another interview she gave about writing "Songbird" in the middle of the night "from beginning to end" began circulating on Twitter after her death.
Fellow musicians Sheryl Crow, John Taylor of Duran Duran, and Japanese Breakfast are among the many artists who have paid tribute to McVie on Twitter.
Fans reminisced on her artistry, presence, and persona. Questlove called her "one of the nicest humans ever."
The outpouring of love included many personal stories and memories of Fleetwood Mac concerts, and thoughts about McVie's indelible impact on the music industry.