Frankie Jonas Is Doing His Own Thing
How the youngest Jonas brother, now 20, found his voice — raunchy, self-aware, heavily therapized — on TikTok.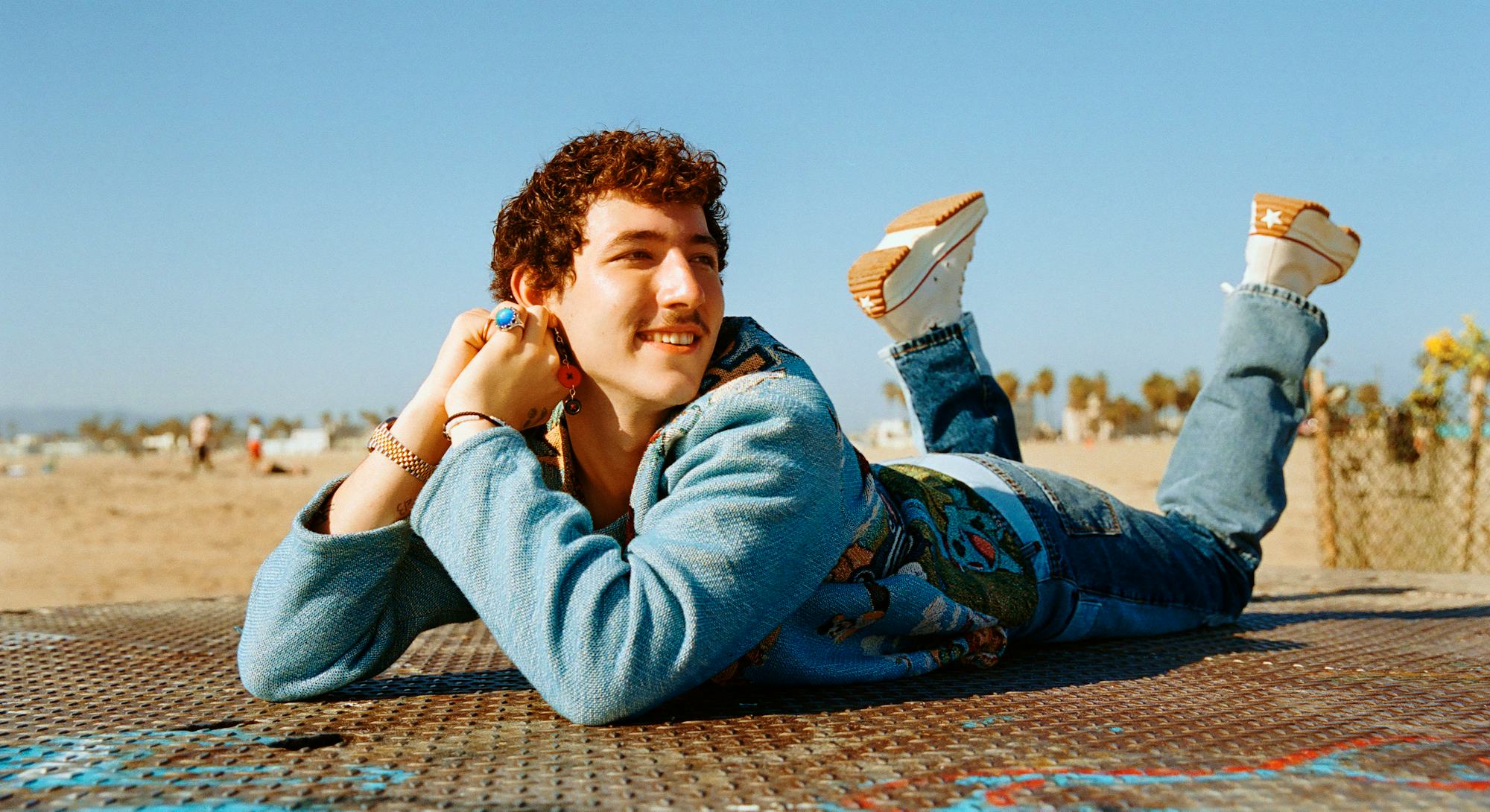 On an outdoor-dining-patio-lined block in downtown New York City, through three locked doors, a glass-shielded security guard, and a keyed elevator ride, Frankie Jonas is playing host at the 3,000-square-foot apartment of his brother Joe Jonas and sister-in-law Sophie Turner. The youngest Jonas, who greets me newly brunette and in his bacon and egg patterned socks, hospitably offers pretzels and fizzy water, a smile beaming steadily behind his mask. COVID precautions aside, he seems right at home in his sprawling crash pad. As we make our way to the living room, he gestures toward one of the unit's three bathrooms with a red nail-polished hand. "I take a lot of baths," he says. "I try to get myself self-care as much as possible; I do what I can to prioritize me."
Though he's been posted up here for much of the last year (his brother and sister-in-law have moved out and put the condo on the market), he's hours away from pulling up stakes and starting over, again. Today is Jonas' last day in New York, where he has been taking virtual astrophysics and academic writing classes at Columbia University. We're surrounded by open suitcases and stacks of clothing; his sister-in-law Priyanka Chopra Jonas' new memoir, Unfinished, sits atop one piece of luggage. Tomorrow he decamps for Los Angeles, to continue classes remotely while pursuing opportunities in fashion, film, and television with the help of United Talent Agency, which signed the 20-year-old in March on the strength of his comedy and mental health TikTok accounts.
"There's definitely been moments where I was like, 'Is this really what I want to do right now?'" he says of his latest foray into the spotlight. It was only two years ago that Jonas, fed up with Twitter and TMZ, scrubbed his social media presence for privacy and peace of mind. But things feel different this time around. "This experience on TikTok is so different because I'm being so authentically myself and not caring and just doing what I can."
One way to separate millennials and Gen Zers is by how you know Frankie Jonas. The older among us know him by the nickname he hated then and hates now: the Bonus Jonas, the much-younger brother of Kevin, Joe, and Nick, a constant, quiet presence in the trio's rise to fame in the late '00s, with cameos in their two-season Disney Channel series Jonas, their Disney Channel Original Movie Camp Rock 2, their documentary Jonas Brothers: The 3D Concert Experience, and their Oprah interview. For the 24 and younger crowd, though, Jonas is best known for his presence on TikTok, where @iamfrankiejonas has netted nearly 2 million followers in less than six months. Two other accounts, @frankiejonastherapist (that's therapist) and @frankiejonassongwriter, find him offering straightforward advice and out-of-tune songs on whatever subjects his followers request. Now, Jonas' own fan army trolls the comment sections of his older brothers' accounts, asking "Wait, aren't you Frankie's brother?"
On TikTok, nothing is off limits for Jonas. Bad trips, panic attacks, his bare butt, his most embarrassing childhood moments — it's all up for good-humored grabs. But in reality, he explains, sipping an iced coffee on the giant sectional couch, "[People tell me] that I need to have more fun [and] I need to be less intense all the time, which you would not get from TikTok." It can be hard to tell that, beneath Jonas' self-deprecating humor is a decade-long struggle to define his relationship to the family business. Or, as his brother Joe puts it, "He's done a lot of healing behind the scenes, and this is his way of bringing you into his own universe. He has a lot of fun with it. The guy is the social media star we honestly need."
Born eight years after the then-youngest, Nick, Frankie was the only Jonas baby who was planned, he says. "They were trying for a girl. My name was supposed to be Destiny." At the time, the family was leasing a small home — "the first house we could afford" — which they'd moved to after leaving the church house his father was given as the senior pastor of a small Wyckoff, New Jersey, parish. As a kid, Jonas remembers his siblings hustling between recording sessions, commercials, and Broadway stages while he and his mother, Denise, went to Mommy and Me classes to get food stamps for the family. Though the older brothers were often out chasing their dreams, the family was close-knit. "Frankie and I bonded on comics and superheroes," says Joe. "We were probably the two biggest nerds when it came to anything Marvel or DC. He was just a walking encyclopedia of knowledge when it came to anything in that world."
When Jonas was 5, his parents sat him down on the set of a Baby Bottle Pop commercial his brothers were filming to break some news: "They were like, 'We're going to move to L.A. for your brothers' career.' I had planned out my entire life in Jersey. I was 5, and I'm like, 'I'm going to go to Princeton and be this college football star who comes back home and becomes an astrophysicist.' That was my plan. And I watched it just fade to dust. My future just slowly died." After the family relocated, "it was kind of just decided that I'd act," he remembers. "It was a conversation — I don't remember it, but I've been told about it — regarding the fans of my brothers, who also had a similar kinship to me as this symbol, as this mascot. 'Frankie could theoretically act. He could be in their shows. He can continue that legacy of that mascot-like character.'"
At age 7, Jonas booked the lead role in the animated Hayao Miyazaki movie Ponyo on his first-ever audition. "I practiced for a month with a friend of my family's who was an actress," he says. "She was very much like, 'Listen, you're probably going to audition for 1,000 things before you get anything.' And then…" The movie, in which Jonas starred alongside Miley Cyrus' younger sibling, Noah, was a modest hit in America, but he was too busy struggling with his demeaning new nickname to enjoy it. Jonas Brothers fans had dubbed him "the Bonus Jonas" affectionately, but it stuck, and as a pre-teen he felt defined by superfluity, valuable only as an extension of the existing brand. "I always hated that nickname," he says. "A lot of my problem with being in the public eye was that I was seen as this commodified vision of myself."
"I refused to call Frankie 'Bonus Jonas' after he opened up to me about how that was hurtful to him," says Joe. "It completely makes sense, and we've had lengthy conversations and apologies behind closed doors that showcased my understanding and respect for his wishes. I think to feel like you are second, third, or fourth best from something is unfair; we are all equals."
"I was this joke, and my entire identity to people was 'adjacent,' which really affected myself and the way that I thought about the world and the way I felt about myself."
When Jonas turned 12, he downloaded Twitter onto his phone and searched for his own name. "It was all pretty awful things for a 12-year-old to read," he says. He remembers people making fun of his weight, which torpedoed his body image and self-worth. Others used the child as the butt of cruel jokes: "A lot of it was like, 'If you ever feel forgotten, remember this guy.' Or, 'Frankie Jonas is a talentless sack of sh*t.'"
"It became a form of self-harm to look at these things," Jonas says. "Then it became essentially an OCD, like a tic. I couldn't stop. I checked it every day, and I had to, to feel OK in a way. It really became a serious issue for me. A lot of that perpetuated the idea that I was just this meme. I was this joke, and my entire identity to people was 'adjacent,' which really affected myself and the way that I thought about the world and the way I felt about myself."
The same year, he says, he discovered High School DxD, a popular softcore hentai that led to his first orgasm. Afterward, he looked at the purity ring on his hand — just like the one the Jonas Brothers and other Disney stars had worn for years, signifying a religious pledge of celibacy until marriage — and decided to make a change. It was "a ring that I had begged for because I wanted to be like my brothers," he tells me. "I took it off and snuck out in my backyard. I started a fire. I put it on the log. And I sat there for two hours as the metal slowly melted. It was this ceremonial ritual; I was moving on with my life and taking my will back. I was just trying to be in control of my life."
His career didn't offer much in the way of a self-esteem boost. An emotionally scarring experience on the set of R.L. Stine's The Haunting Hour at age 13, in which an allergic reaction caused him to "sh*t [himself] while filming," left him wondering whether he would ever work again ("when you sh*t your pants as a child actor and you get blacklisted," he wrote on TikTok in February) and aching for normalcy. "I became disillusioned with it all and feeling the way I was feeling," he says. "I wanted to disappear, but I wanted to do everything I could to get back to that normal life that I thought I watched die. I wanted to run away from everything."
Jonas left Hollywood behind in 2015 and moved to Texas, where his family had a home. For once, he got to be a kid, for better (new friends) or worse (getting busted with weed by his parents after he came home from South by Southwest one night). He says he felt like himself for the first time. He graduated from high school early and enrolled in Belmont University, a private Christian school in Nashville, to study film. It felt like a fresh start.
But the feeling didn't last. When he was a 16-year-old freshman on campus, he recalls, "a friend was like, 'You need to tell people who you are so you'll get laid.' And in my head, I'm like, 'OK, yeah, I'll do it,' so every person I meet, I'm like, 'Hi, my name is Frankie Jonas. Nice to meet you.' I'd introduce myself, full name."
Jonas quickly caught wind that he was the laughingstock of the school for leaning into his famous last name. "That made me just internalize and feel as bad as I did before," he says. Just when the chatter started to die down, his brother Nick played a show nearby and name-checked him on stage. "He's like, 'I want to welcome my brother to town. He just started school at Belmont University.' I brought him to school the next day to see the campus, and it was a crowd, and it was a whole thing. It sucked. It wasn't cool."
Five years later, Jonas talks about his Belmont days without bitterness. "It's easy to lose compassion for individuals because they have attention," he says of his classmates. "That was my biggest issue with my name and with my public image. The second that people knew who my family was or who I was, I felt that connection, that tether of empathy, get cut." He says he made it "a semester and a half" before he was cited for marijuana possession at a Nashville convenience store, suspended, and eventually dropped out. "It was a cheap laugh, but I get it," he says. "If I was working at TMZ and I got that call that Frankie Jonas was just popped in Nashville, yeah, run that story. That's funny as hell."
"I've never had my thing really. This feels like so much of my thing. It feels so empowering to have a thing."
He continued studying, first at the Academy of Art University in San Francisco, and then at an audio engineering school in Nashville. He made music under the name MEPHISTO, much of it while taking LSD, as a means of pure self-expression after years of playing by industry rules. (Early demos still exist on SoundCloud.) "I have synesthesia, so I just try to make something that makes me feel the way I feel. I can make a painting in my head, I can make a landscape, and I can make an experience inside of me that I can resonate with."
But he was still adrift. At Joe's 2019 wedding to Game of Thrones star Sophie Turner, paparazzi circling the ceremony in a helicopter caught Jonas, dressed in head-to-toe Louis Vuitton, flipping the cameraman the middle finger. "I looked at that picture [later] and it exemplified so much of my feelings. I just went, 'OK, this is my sendoff. This is it.'" He posted the photo to Instagram, and then deleted his account.
It's only when revisiting this most recent period of his life that Jonas slouches down into the couch and jiggles his leg, his normally animated voice becoming small. He pauses and quickly pulls the photo up on his phone. In it, his eyes read hollow and tired. "It's just exhaustion," he says. "So much of that time was me being like, 'I'm done being Frankie Jonas.'" He coped with not wanting to be Frankie Jonas by drinking and using drugs, which he later described on TikTok as "trying to kill himself accidentally." But "something intervened, and my life was saved," he said in the video. "I went to treatment, and it saved me."
"There were some blockades within my family, which prevented me from getting certain help that I wanted," Jonas tells me. "I've always dealt with a lot more than just anxiety. At the time, I didn't know that I got panic attacks. I didn't know that I had obsessive thoughts. I didn't know that I would go on to be diagnosed with PTSD."
"It's important for me to be like, 'Yeah, these things were rough,'" he adds, "'but at the same time, without them, where would I be?'"
Without the dark days and subsequent treatment, he probably wouldn't be mining his childhood stardom for TikTok jokes, reshaping his story on his own terms. When Jonas joined TikTok in October, after his two-year social media hiatus, he only had 20 followers, most of whom were friends he'd made on Fortnite. Then he saw a "show which celebrity you look like" challenge, made his own version comparing his face to his older brothers', closed the app, and returned to nearly a million views in just a few hours. The next day, he posted about his encounter with Nashville police as a teenager; it racked up 3 million views. Since then, he's shared videos reviewing his adolescent red carpet looks, tattooing an influencer's name on his thigh, and musing about whether a running joke about having a foot fetish, kept up long enough, becomes an actual foot fetish.
Fans have responded in the millions, in part because Jonas' brand — raunchy, self-referential, insidery — is a refreshing break from the TikTok norm of bland, half-hearted fame-seeking. "Imagine trying to go back and explain why Frankie is funny to a pilgrim — you can't," says Brittany Broski, an early TikTok star and host of the platform's official podcast, For You, on which Jonas was the first guest. "He's very self-deprecating, but in a way that's not grossly negative. [...] I always think: If I had to show a video of his to my grandma, she'd be like, 'What the f*ck?'"
"Everything that I talk about on TikTok… no one knew that that was how I speak, how I express myself, what I think is funny," Jonas says. "I was just making jokes, thinking no one was hearing them. And then people heard them and liked them. I thought, 'I'm going to continue to do this,' because I've never had my thing really. This feels like so much of my thing. It feels so empowering to have a thing."
Well, empowering and a little bit terrifying. He says he often has a panic attack after posting. "I have massive anxiety about everything I post because I don't want to fail," he says. "I'm someone who has spent his whole life wanting to be liked."
Though he has yet to join a TikTok house, Jonas has begun to leverage his rediscovered fame for some business opportunities. He's created TikTok ads for Crocs, Daily Harvest, and, though he has a longtime girlfriend (a nonfamous person who stays out of the way during our interview), Tinder. But it's not clear yet where Jonas' new platform will take him. "I just want him to be happy," Joe says. "If that means he wants to be TikTok famous, great; if that means he wants to be an author, great; if that means he wants to be a scientist, great! He could pretty much do anything he puts his heart and mind to, and he's done that already. I'm just so proud of the man he's become."
From Frankie's perspective, TikTok popularity is "amazing and incredible and a blessing and a gift. And also, it could be momentary — you never really know." He says he wants to enjoy it while it lasts without worrying about maintaining it forever. It's an unusually calm outlook, coming from someone with a tortured relationship to fame. But, looked at another way, it's a bit of long overdue faith in the possibilities the future holds. If social media superstardom doesn't work out, he really could still be an astrophysicist. "I'm getting the best grades I've ever gotten because it's actual material that I'm interested in," he says. "And I'm actually at the age that you should be when you go to college."
Photographer: Christian Cody
Stylist: Tabitha Sanchez
Grooming: Tati Bruening