Gentleman Jack Season 2's Trailer Is Everything
The latest instalment of the period drama is set to premiere soon.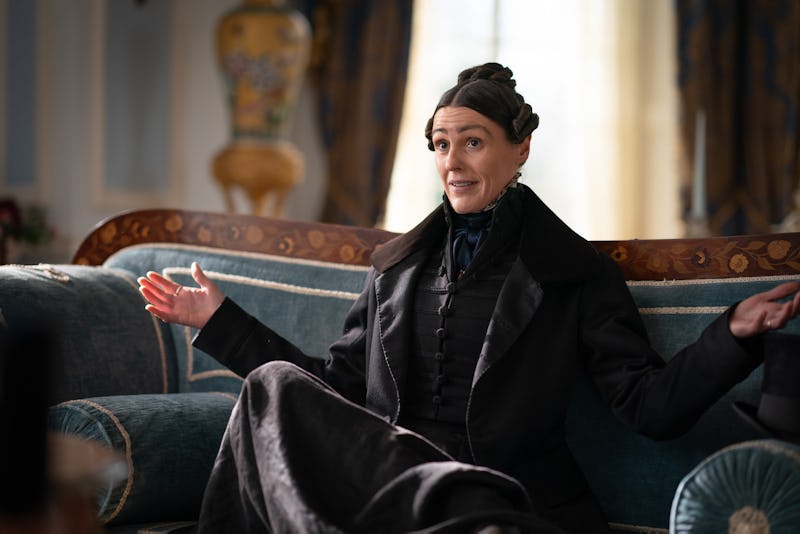 BBC/Lookout Point/HBO/Aimee Spinks
It's been a long while since viewers have caught up with Suranne Jones as Georgian pioneer and diarist Anne Lister, but thankfully there's not long to wait until Gentleman Jack is back on telly. First announced in 2019, it was inevitable that BBC's most-watched drama would make a triumphant return. Now with new first look photos in tow, here's everything we know so far about Gentleman Jack season two and what to expect from the series.
Gentleman Jack S2 Plot
Season two picks up a year or so after the first series, following Anne (Jones) and Ann (Sophie Rundle) as a newly-married couple. Following the narratives set out in the real diaries of lesbian pioneer Anne Lister, it'll see the couple attempt to combine their estates "and become a power couple", according to a synopsis by the BBC. But with Halifax on "the brink of a revolution," their "refusal to keep a low profile becomes provocative and dangerous."
The drama is certainly set to continue in Gentleman Jack season two, as the show's creator Sally Wainwright told the BBC. "I've been in a little bit of heaven once again spending much time deep in Anne's diaries as I've written the scripts, and can't wait to see the fabulous, joyous magic, and detail that Suranne and Sophie will bring to it all."
Gentleman Jack S2 Trailer
Yes, and it's absolutely brimming with drama. Suranne Jones is back as Anne Lister, alongside Sophie Rundle as Lister's wife Ann Walker, with most of the drama stemming a love triangle courtesty of Ann's former lover Mariana Lawton – played by Lydia Leonard.
Gemma Whelan and Gemma Jones also pop up in the trailer as Marian Lister and Aunt Anne Lister, as well as a handful of other recognisable faces. And it's clear that as Anne deals with the newly formed love triangle, she'll also be faced with being referred to as a "predator in more senses than one" and claims that she "debauched" Ann.
Along with the trailer, the BBC has teased what's to come with a new batch of first-look images of the next instalment of the series, including a fantastic glimpse into the period costuming this season courtesy of newcomer Joanna Scanlan as Tib, who's sporting a black and yellow gown with a matching bird in her hair.
Gentleman Jack S2 Cast
Suranne Jones returns as Anne Lister, accompanied by Sophie Rundle as Ann Walker. The Larkins' Joanna Scanlan will star in a guest role as Isabella 'Tib' Northcliffe, one of Anne Lister's former lovers.
There's also a fantastic glimpse into the period costuming this season courtesy of newcomer Joanna Scanlan as Tib, who's sporting a black and yellow gown with a matching bird in her hair.
Other stars including Gemma Jones (Aunt Anne Lister), Timothy West (Jeremy Lister), Gemma Whelan (Marian Lister), and Lydia Leonard (Mariana Lawton) are all returning. Jodhi May (Lady Vere Cameron), Katherine Kelly (Elizabeth Sunderland), Derek Riddell (Captain George Sutherland), Stephanie Cole (Aunt Ann Walker), and Peter Davidson (William Priestly) will also make an appearance.
Amelia Bullmore (Eliza Priestley), Vincent Franklin (Christopher Rawson), Shaun Dooley (Jeremiah Rawson), Rosie Cavaliero (Elizabeth Cordingley), Joe Armstrong (Samuel Washington), Anthony Flanagan (Ben Sowden), and George Costigan (James Holt) will also be reprising their roles.
Gentleman Jack S2 Release Date
Gentleman Jack season 2 is set to premiere on BBC One and BBC iPlayer at 9 p.m. on Sunday, April 10. Following the premiere, the episodes will air weekly.
This article was originally published on