Everything We Know About The Gossip Girl Reboot
Spotted: a new cast of Upper East Siders congregating on the Met steps.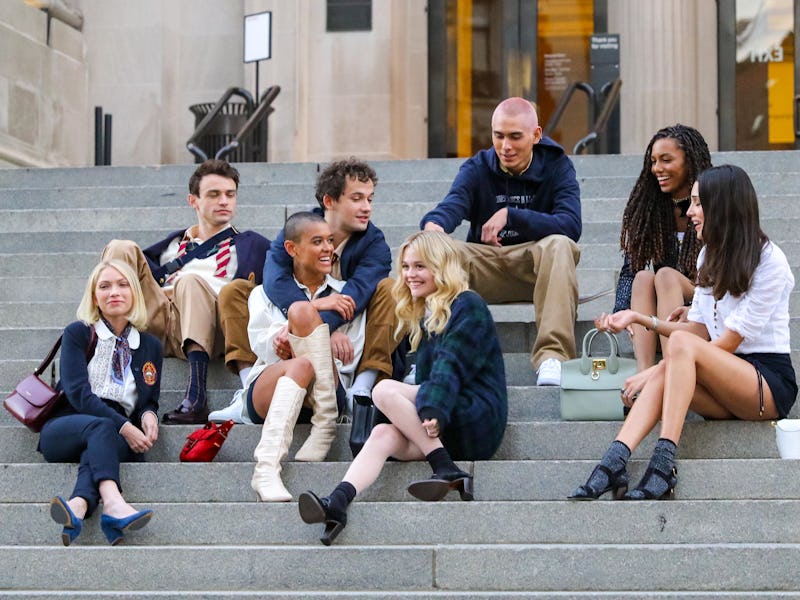 Jose Perez/Bauer-Griffin/GC Images/Getty Images
In the year since HBO Max ordered a Gossip Girl reboot in July 2019, fans have been eagerly anticipating more details. And on Nov. 11, they finally got their first tease. First-look photos of the cast filming on the steps of the Metropolitan Museum of Art in New York City — an iconic location in the original series — were released and promptly went viral on Twitter. Other information has been sparse, but here's what else we know so far, including how Penn Badgley's two series are colliding with a new casting choice.
The Gossip Girl Reboot Premiere Date
According to Deadline, Gossip Girl was first expected to air in early 2021. However, it was confirmed on May 28, via the show's first teaser trailer, that it will debut on July 8. Production began on Nov. 2, 2020 after pre-production was delayed by the coronavirus pandemic in March.
The Gossip Girl Reboot Cast
The reboot will feature a young, diverse, and "very, very queer" new cast, showrunner Josh Safran confirmed on Twitter. This includes Emily Alyn Lind (Revenge), Whitney Peak (Chilling Adventures of Sabrina), Eli Brown (Pretty Little Liars: The Perfectionists), and Johnathan Fernandez (Lethal Weapon), per The Hollywood Reporter. Tavi Gevinson (Scream Queens), Thomas Doherty (High Fidelity), and Zion Moreno (Claws) are also set to appear. Their costars include two Broadway favorites — Donna Murphy (2017's Hello, Dolly!) as the school's headmistress and Laura Benanti (She Loves Me) in an unspecified role.
Also joining the ensemble is YOU star Elizabeth Lail, according to Deadline. No further details have been provided about her role, though it stands to reason that her former costar Penn Badgley could give her a tip or two about joining the Gossip Girl universe.
We don't know much about many of the other characters, aside from that Lind will portray Audrey, "who is in a long-term relationship and is beginning to wonder what else might be out there," per THR. At the start of the year, the official Gossip Girl Instagram also released a series of portraits featuring cast members and one-word teasers of their characters.
Will The Original Cast Return?
Kristen Bell is confirmed to return as the titular narrator (XOXO!), and a few original cast members have shown interest in a cameo, but nothing more. "If there's an opening in the future for doing a cameo, I would definitely be open," Chace Crawford, who played Nate Archibald, told August Man in 2019. Leighton Meester, who played Blair Waldorf, also told E! News that she would "never say[s] never" but that "no one's sent [her] information" about a possible return.
The reboot's showrunners, however, said that they contacted all of the original actors prior to launching the reboot. "We'd love for them to be involved if they want to be involved, but certainly didn't want to make [the show] contingent upon [them being involved]," co-creator Josh Schwartz said at the July 2019 Television Critics Association summer press tour, per ET. "They played these characters for six years, and if they felt like they were good with that, we want to respect that, but obviously...it would be great to see them again."
Schwartz specifically told ET in another interview that he hopes a Badgley (Dan Humphrey) return happens, having stated, "Now that you've said it, I want it to [happen]."
How Is The Reboot Connected To The Original?
Safran told ET in a separate interview that whether or not the core four — Blair, Nate, Dan, and Serena van der Woodsen (Blake Lively) — physically appear, they will be referenced in the reboot. "They are a part of the world," he said. "The characters talk about them and that they do exist."
What Is The Gossip Girl Reboot About?
Details are murky, but the show's logline reveals this: "Eight years after the original website went dark, a new generation of New York private school teens are introduced to the social surveillance of Gossip Girl. The prestige series will address just how much social media — and the landscape of New York itself — has changed in the intervening years."
The teens are students at Constance Billard High, just like Blair, Serena, and the rest of the OG Gossip Girl crew, but some of them will be Brooklyn residents instead of snobby Manhattanites. "Not everyone lives on the Upper East Side," Schwartz told ET. "Brooklyn's not the bad place to live. Brooklyn's probably cooler in the new version than Manhattan, 'cause it is in some places."
Schwartz has also confirmed that Gossip Girl's identity will be no secret this time around. "It didn't really feel like a group of adults who were being controlled by Gossip Girl would make a lot of sense," he told E! News in 2019. "So it felt like there was something really interesting about this idea that we are all Gossip Girl now, in our own way, that we are all purveyors of our own social media surveillance state ... telling that story through a new generation of Upper East Side high school kids felt like the right time."
In addition, showrunner and creator Joshua Safran tweeted that there will be "no slut shaming"and "no catfights" in the reboot. "Those are not things I believe need to be in this show for it to be fun. Or any show? GG2 is sex positive and our characters use their brains, not their brawn, to take you out!" There will, however, still be plenty of the tawdry drama that made the original series famous. "My mentions rn are lololol. Does anyone really think the show isn't still going to portray characters pitted against one another doing devious things?" Safran wrote in another tweet. "They just won't literally hit or push each other! Or slut-shame! The idea anyone in my mentions defending slut-shaming?? SMH."
The Gossip Girl Reboot Trailer
The vibe of the Gossip Girl trailer, released on June 10, is very much in line with the original show. There are glamorous penthouses, high end fashion shows, steamy makeouts, and of course, hangouts on the Met steps. "We own this school," Julien (Jordan Alexander) proclaims. Zoya Lott (Whitney Peak) appears to be the Dan Humphrey in the story — an outsider invited into a world of insiders by Julien — but whose entrée into upper crust society won't be without scandal. "She is a stranger, who has found herself in your friend group, with your boyfriend," Audrey (Lind) warns.
Meanwhile, an anonymous Instagram account under the name of Gossip Girl crops up to begin posting about Constance's students. "Did you miss me? I know I've missed you," Kristen Bell intones. Watch the trailer below.
This post will be updated with additional plot details as more information on the Gossip Girl reboot becomes available.
This article was originally published on