Dead Poets Society Stars' Reactions To Gwyneth Paltrow's Thirst Are Hilarious
"I am living for this exchange of comments," one fan wrote.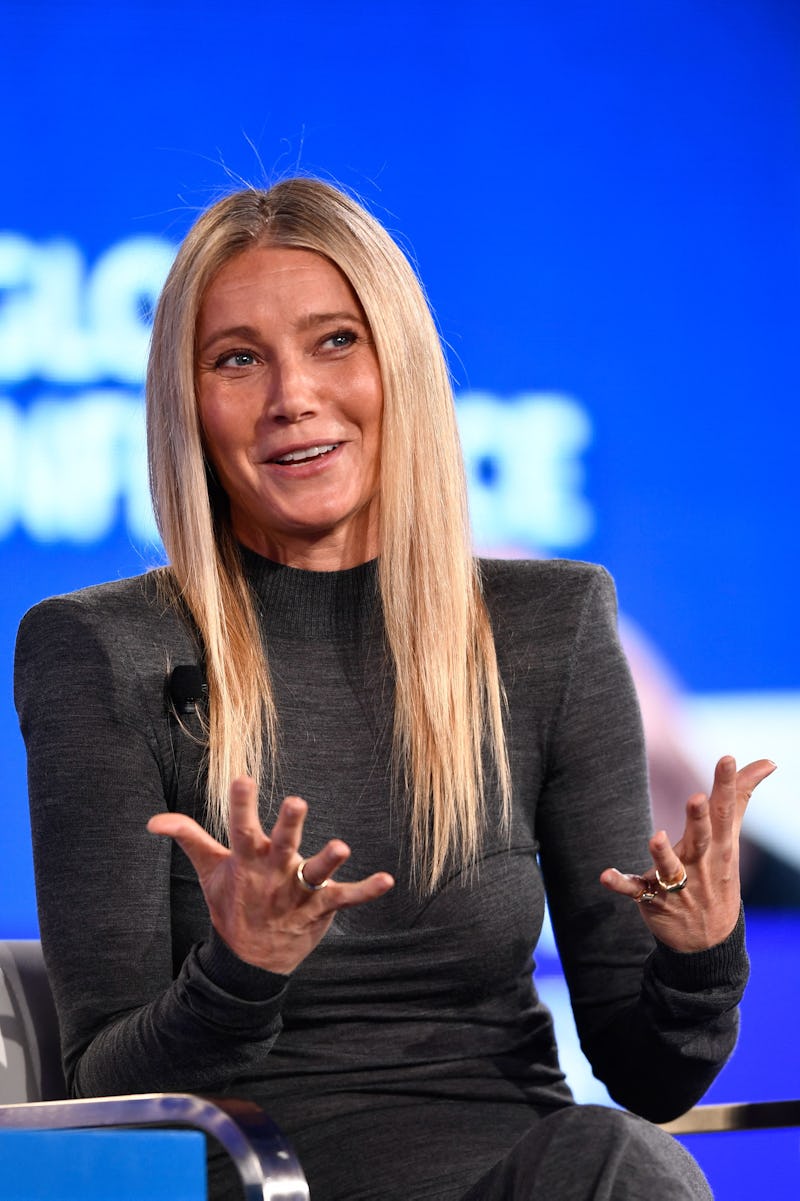 PATRICK T. FALLON/AFP/Getty Images
As glamorous a life as Gwyneth Paltrow has had, she still has some regrets, like coining the all-too-catchy phrase "conscious uncoupling," among others related to her love life. In fact, the Oscar winner shared another on Thursday, June 2 in a cheeky comment on her Great Expectations co-star Ethan Hawke's Instagram account. He had posted a photo to honor the 33rd anniversary of his teen comedy-drama Dead Poets Society, and Paltrow's response was more than a little thirsty.
Hawke, who starred in the 1989 film alongside Robert Sean Leonard, Josh Charles, Gale Hansen, Allelon Ruggiero, Dylan Kussman, James Waterston, Kurtwood Smith, and Robin Williams, shared cast photos and stills. "I stand upon my desk to remind myself that we must constantly look at things in a different way. DEAD POETS SOCIETY," Hawke captioned his post, quoting the film.
"Best move EVER, I wish I had made out with more of you than I did," Paltrow commented.
Fans were floored by the Policitian star's reply. It racked up more than 13,500 likes and dozens of comments, from the shocked ("girl what??") to the entertained ("gwyneth got no chill haha"). One shared pure admiration, writing, "maam u are so wild that's why i need to stan harder."
Hawke himself even joined the responses, much to fans' delight. "@gwynethpaltrow we all wish the same," he wrote, racking up thousands more likes.
Naturally, many people wondered about which Dead Poets Society stars Paltrow had kissed. "Omg which of them did you make out with?? My inner 90's kid needs to know!!!" wrote one person. While Paltrow didn't answer, some of that information is already public knowledge. For one, she and Hawke shared onscreen smooches in Great Expectations. She also quietly dated Leonard in 1994 before they decided not to see each other anymore, as he told the New York Post in 1998. One person she clearly did not make out with, on the other hand, was Charles.
"Gwyneth, fifty year old me is pissed twenty year old me never knew this was a possibility," he wrote in response to her Instagram comment. "Please send me a vagina candle to help me work through this."
His addition to the conversation further amused fans. "I am living for this exchange of comments," one wrote. Alas, Charles has yet to get public confirmation that one of Goop's famous vagina candles is on the way. Still, the buzz has carried over to Twitter, where Paltrow is also being celebrated for her "wild" comment. She's even inspired multiple people to rewatch Dead Poets Society. What an anniversary for the film.