Hannah Montana Would Like Her Closet To Be Featured In Architectural Digest, Thank You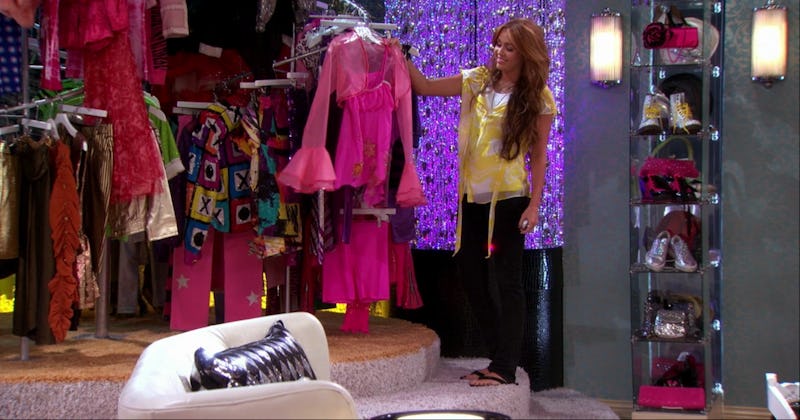 Disney+ / Hannah Montana
Attention, editor-in-chief: Hannah Montana would like an Architectural Digest feature on her closet, thank you very much. The fictional popstar's response to Miley Cyrus' new house, which she revealed to the magazine on Thursday, April 29, is very typical of the Disney Channel character and proves that Hannah really does have nerve.
Cyrus' six-bedroom, seven-bedroom Hidden Hills home is befitting for one of the world's biggest music stars — and her TV alter ego. Between her psychedelic studio with a warped rainbow ceiling, her art-deco living room with a beautiful "Peacock Chair," and her cheetah wallpaper-lined glam room, filled with personal mementos from stars like RuPaul, it's basically the house that Hannah would have as an adult. Except nothing could top her iconic closet.
In response to the feature, Miley's famous character Hannah Montana took to Instagram (which is reportedly run by the star herself) to share a meme about her closet on the series: "Hannah Montana's closet was all I ever wanted as a child." For all 2000s Disney Channel fans, it's a true statement, and Miss Montana would like Architectural Digest to give it the attention it deserves, like they did with Cyrus' real-life home. "@archdigest what about me?" she captioned the post.
The outlet has yet to respond to Montana's request, but given the grandiose scale of her closet, it's hard to imagine them turning down the opportunity. Hannah's closet has her initials on a secret door, clear shelves that literally pop out of the wall for her shoes, circular rotating racks for her couture, and a sitting area that's more posh than a Four Seasons lobby. The most high-end department stores don't display their wares this beautifully. It even inspired Kendall Jenner as she was designing her own closet.
When Miley Stewart moved her family to a Malibu farm house, Hannah's closet didn't lose any of its luxury, as it secretly opened from behind her vanity. Coincidentally, the only room that Cyrus didn't show Architectural Digest was her closet. It probably just can't compare.