You Probably Want To Watch Lisey's Story With The Lights On
Stephen King blends worldly and supernatural horrors in his Apple TV+ adaptation.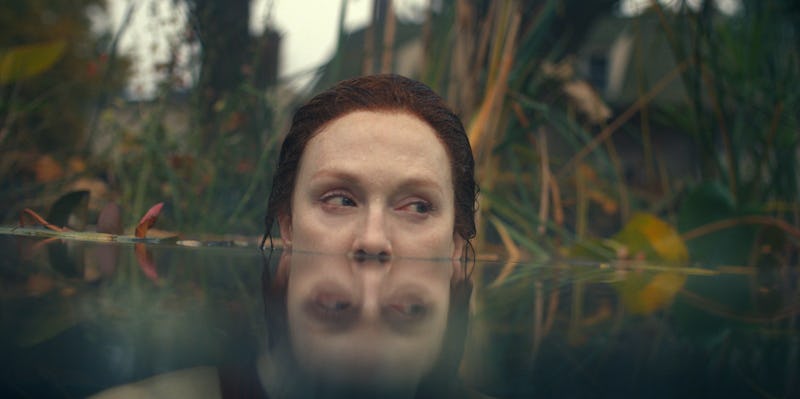 Apple TV+
With such fright fests as Carrie, The Shining, and It among Stephen King's credits, the fact he wrote all eight episodes of the Apple TV adaptation of Lisey's Story should give viewers an idea of just how scary the thriller is. Although the "terrifying thriller," as the streamer has billed it, also features a love story, there's no shortage of horror, either. Early Lisey's Story reviews have largely been unfavorable, but several critics agree that the scares are among the miniseries' redeeming qualities. As Variety's Daniel D'Addario put it, "There's much here that works well: What is meant to be scary is scary, what is meant to touch the heart will."
Based on King's 2006 novel of the same name, which the author has hailed as one of his all-time favorites, Lisey's Story tackles horror on two fronts. First, there are the worldly scares: Julianne Moore's titular widow Lisey Landon is forced to confront her own grief as Jim Dooley (Dane DeHaan) — a deranged fan of her late novelist husband Scott Landon's (Clive Owen) Pulitzer Prize-winning work — violently stalks her in hopes she'll release his unpublished writing. There's one particularly gory scene between Lisey and Jim involving a pizza cutter that the faint of heart may want to avoid.
"Those scenes are difficult to watch, but it's like what Hitchcock said about Psycho: Most of what's there is in your imagination," King recently explained to The New York Times. "We never see a single cut put on Julianne Moore or a blow hit on her face. Your hear sounds and hear her react and the aftermath, but not the acts themselves."
Then, there's the supernatural element that manifests in a fantasy world called Boo'ya Moon. In childhood, Scott and his brother would retreat to the magical realm to escape the merciless abuse of their father (Michael Pitt). Boo'ya Moon is hardly an idyllic paradise, however, as an actual towering, glowing-eyed monster named Long Boy haunts the land. "The design of this creature — a behemoth with a body comprised entirely of writhing, screaming human beings — is admittedly scary," SlashFilm's Chris Evangelista opined in his review.
Meanwhile, the series also hinges on the mental illness of Lisey's catatonic sister Amanda (Joan Allen), who has also retreated to Boo'ya Moon. Amanda is institutionalized for self-harm, something that also serves to mask otherworldly secrets. Through a series of unsettling events, Lisey is tasked both with facing memories from her marriage that she deliberately blocked out of her mind, while also trying to bring her sister back from her coma.
"The eerie and the uncanny have always been King's friends, and he builds them a playground in Lisey's Story," RogerEbert.com's Roxana Hadadi writes. Among the examples she cited: "A boy's face transforms into the terribly aged sneer of an ancient demon. An array of figures, some shrouded in obscuring plastic, some seemingly homages to King's previous works, gather silently around a deep pool under a blood-red moon. A pair of newlyweds dance on the beach, swaying back and forth to a rhythm of love only they can hear."
All things considered, you might want to watch Lisey's Story with the lights on.