Ed Sheeran & David Beckham Are Teaming Up For A Live TikTok Gig
Here are the details you need to watch the special Euros event.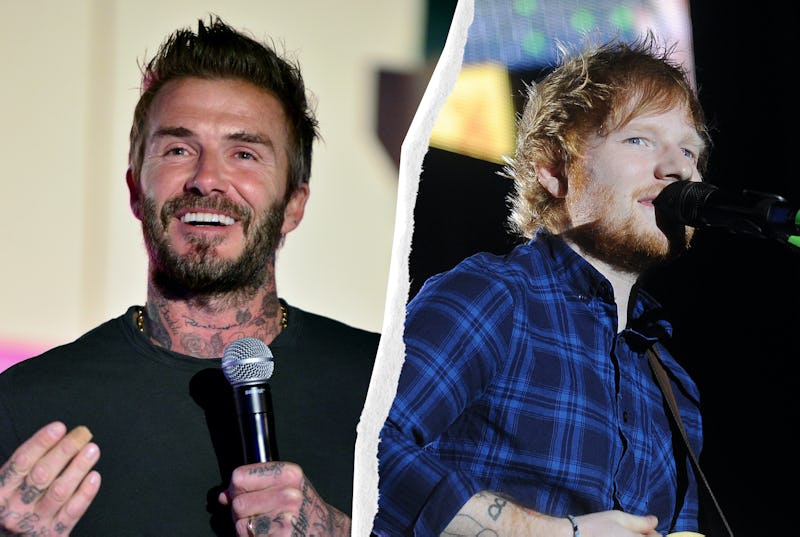 Johnny Louis/Getty / yakub88/Shutterstock
Virtual performances have fast become the norm in the age of coronavirus, and it seems Grammy award-winner Ed Sheeran is getting in on the action following the announcement of a special virtual gig with the help of former England captain David Beckham. Sound like your cup of tea? Here's how to watch Ed Sheeran's Euros 2020 TikTok gig.
As Radio Times reports, Sheeran's upcoming performance will be held two weeks into the Euro 2020 football tournament on Friday, June 25. The virtual gig will be recorded at the Portman Road ground of Sheeran's football club, Ipswich Town, and will be available to stream on the "Lego House" singer's TikTok channel from 9 p.m. that evening.
Sheeran's performance is expected to include a string of his best-loved hits, as well as a first-listen of the singer's hotly-anticipated new single. If you miss the virtual performance the first time around, fear not, because the gig will be re-broadcast at 10 a.m. on Saturday, June 26, at 1 a.m. on Sunday, June 27, and at 8 p.m. on Thursday, July 8.
As mentioned, footballing legend David Beckham announced the forthcoming performance alongside Sheeran in an online clip shared on Sunday, June 6. Speaking to Sheeran on FaceTime in the video, Beckham joked, "Good to hear you're singing and not trying to play football again…," to which Sheeran replied, "I did think, me…you…duet?"
Per the BBC, the virtual concert will be part of the UEFA Euro 2020 Show hosted by TikTok, which is an official sponsor of this year's tournament. Speaking of the forthcoming gig, Sheeran said, "Can't wait to be live from Portman Road. It's a place I love." He added, "I'm looking forward to performing some fan faves as well as my new track for the first time. See you on the 25 June."
Elsewhere, the head of music operations at TikTok, Paul Hourican, said the social media giant is "honoured to play host to Ed Sheeran for this very special gig during the UEFA European Championships."
"He is one of the greatest pop stars of his generation, a truly ground-breaking live performer," Hourican added.