How To Watch I Care A Lot In The UK
The film isn't yet available on Netflix UK, but there is another way to stream it.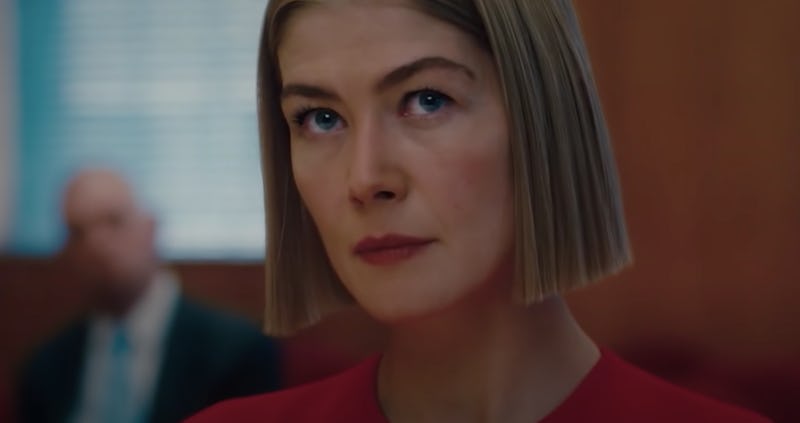 Netflix
After the colossal success of Gone Girl, Rosamund Pike is back playing a "Blonde-Hitchcock" villain in the brand new dark comedy thriller I Care A Lot. In the Netlix-Amazon film, Pike stars as Marla Grayson, a crooked con-artist who preys on the elderly by acting as their legal guardian, forcing them into a home and draining them of all their money and assets. Yikes. Also starring Game Of Thrones Peter Dinklage, the film has already seen rave reviews and bagged Pike a Golden Globe nomination, but how to watch I Care A Lot In The UK?
While I Care A Lot is now streaming on Netflix (US), UK viewers can only access the movie via Amazon Prime. And, from the looks of the rave reviews, it'd be worth a new membership.
As the synopsis goes, Marla Grayson is a famous steely businesswoman with a Stepford Wife smile who somehow convinces the court to make her a legal guardian of vulnerable elderly people, before carting them to a nursing home, conning them out of all their assets when they die — or as she repeatedly puts it, "caring is my job".
However, her ruthless plans go awry when she targets Jennifer Peterson (played Dianne Wiest), a woman with minor mental health problems who lives alone. Turns out, her son is a powerful and violent Russian gangster Roman Lunyov, played by Peter Dinklage. Let's just say this puts a spanner in the works of Grayson's plans. Not that the self-proclaimed "lioness" backs down...
Dinklage as Lunyov is a scene-stealer in I Care A Lot and the two have some dark but funny exchanges. The cast also includes Birds of Prey's Chris Messina as a slimy lawyer and Eiza González as Fran, Marla's lover, and partner-in-crime.
It's you're still blown away by Rosamund Pike's amazing portrayal of Psychopath Amy Dunne in Gone Girl then I Care A Lot is a much watch.