Emma Thompson Has Joined The Cast Of A Major Agatha Christie Adaptation
She's not the only national treasure in the series.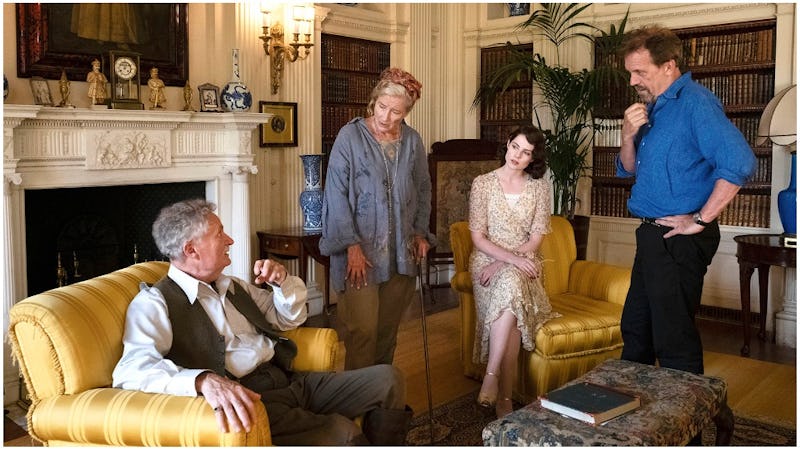 Hugh Laurie wears many hats. He's an actor (known for his roles in Blackadder, House and The Night Manager), he sings, and has released a couple of novels to boot. He's also a director. And now, he's set to write, direct, and produce an upcoming three-part adaptation of Agatha Christie's 1934 novel, Why Didn't They Ask Evans? Per Deadline, this is BritBox North America's biggest U.S. commission to date. And it will star some pretty major actors too, including two bonafide national treasures. Here's all we know about Why Didn't They Ask Evans?
What is the plot of Why Didn't They Ask Evans?
The story revolves around Bobby Jones and Lady Frances Derwent, a duo of friends who embark on a crime-solving adventure after they find a dying man, who in his last, gasping breaths, asks, "Why didn't they ask Evans?" Who is this man and why did he die? All they have as they begin their quest is a picture of a beautiful woman, which is found in the dead man's pocket.
The story has been previously adapted in 1980, 2011 and in French in 2013. With such a gripping premise, and the thrill and suspense signature of Agatha Christie's stories, you can bet it's gonna be a good one.
Who stars in Why Didn't They Ask Evans?
It's been confirmed that two huge names in British entertainment will be making an appearance in the mini series — Emma Thompson and Jim Broadbent. Although their characters are not part of the original story, the actors will play British aristocrats Lord and Lady Marcham in their guest roles.
Actor Will Poulter — known for his roles in The Revenant, The Maze Runner and Midsommar — and Bohemian Rhapsody and Murder on the Orient Express's Lucy Boynton will also join Laurie's production. Poulter plays Bobby Jones, the local vicar's son, while Boynton takes on the role of Lady Frances 'Frankie' Derwent, his witty socialite friend.
Poulter remarked, "I'm deeply honoured to have been given the opportunity to co-lead this project with Lucy and the chance to bring Agatha Christie's thrilling story to life under Hugh's direction." Meanwhile, Boynton was similarly excited: "I'm so thrilled to be working with Hugh and Will, and on this story from one of my favourite authors. I can't wait to get started," she said.
Also to join are The Secret Garden's Maeve Dermody as Moira and Game of Thrones' Conleth Hill as Dr Alwyn Thomas, Bobby's mentor. Daniel Ings from I Hate Suzie stars as Roger Bassington-ffrench (yes, that's with two 'f's) and Small Axe's Jonathan Jules as Ralph "Knocker" Beadon.
Other names include Miles Jupp from The Durrells, Amy Nuttall from Downton Abbey, Alistair Petrie from Rogue One: A Star Wars Story, alongside The Personal History of David Copperfield's Paul Whitehouse, Skins' Morwenna Banks and Black Mirror's Joshua James.
Laurie himself will portray Dr James Nicholson, who directs a sanatorium.
When will Why Didn't They Ask Evans? air?
An air date has yet to be announced as production has only just begun. Watch this space for more to come.