Here's How To Listen To The Epic In The Heights Soundtrack
Featuring the most dance-worthy tunes from the original Broadway musical — and a new song written by Lin-Manuel Miranda.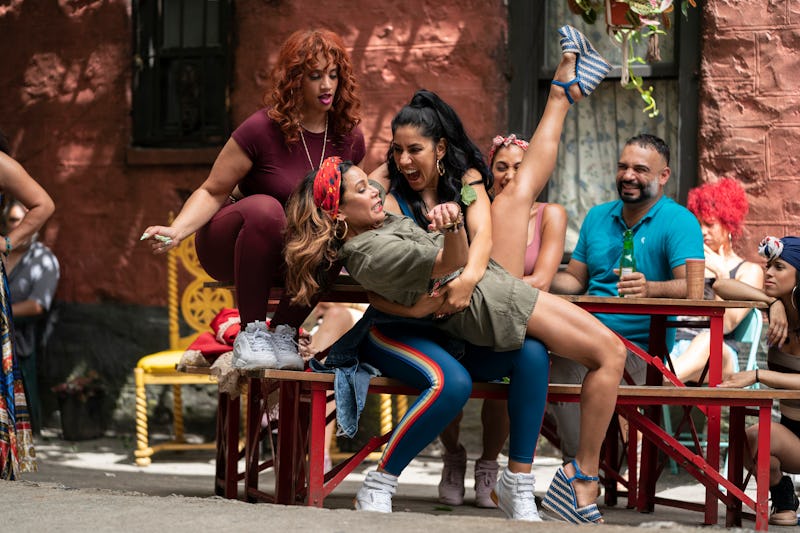 Macall Polay/© 2021 Warner Bros. Entertainment Inc.
If you love In the Heights, chances are you also love its extremely dance-worthy and sing-along-able tunes. Well, I have great news for you: you don't have to wait much longer to add the movie's soundtrack to your playlist.
The John M. Chu-directed film, based on the Tony-winning musical by the same name, will hit theaters (and HBO Max) on June 11. It features a who's who of acting talent, including In the Heights creator Lin-Manuel Miranda, Anthony Ramos, Leslie Grace, Jimmy Smits, Corey Hawkins, Stephanie Beatriz, Melissa Barrera, Chris Jackson, Marc Anthony, and Dascha Polanco — all of whom lend their vocal talents to the music.
The movie soundtrack is only the second official recording of the musical's score, after the original 2008 recording, according to Playbill. So for longtime fans, it's a pretty big deal — and if you're coming in fresh, it'll offer a great introduction to the beloved songs. Below, how you can listen to the In the Heights soundtrack.
When can I buy the In the Heights soundtrack?
When the movie finally premieres on June 11, the accompanying soundtrack will also be released. In addition to 16 tracks from the stage production, the album will also feature a new song written by Miranda called "Home All Summer," sung by Ramos, Grace, and Anthony. At 17 total songs, that's fewer than the original; the creators had to cut lines and songs to save on run time. A lot of favorites are still on there, though.
Can I pre-order the soundtrack?
Yes, you can pre-order it on iTunes! And if you do, you'll get early access to the titular "In the Heights," according to Lin-Manuel Miranda:
What's on the soundtrack?
The full track list is as follows:
In The Heights
Benny's Dispatch
Breathe
No Me Diga
It Won't Be Long Now
96,000
Piragua
When You're Home
The Club
Blackout
Paciencia Y Fe
Alabanza
Carnaval del Barrio
When The Sun Goes Down
Champagne
Finale
Home All Summer
Eagle-eyed fans will notice that the songs are also in a slightly different order than the musical. To understand why, you'll just have to watch the movie.