This Bad Blood Character Was Inspired By Some Real Montreal Mafia Members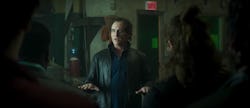 Netflix
The Canadian crime drama Bad Blood premieres on Netflix on Dec. 7 and will introduce audiences to the true story of Vito Rizzuto, the "Teflon Don" of Montreal. While Rizzuto, played by Anthony LaPaglia, was a real person and many of the events in Bad Blood are inspired by Rizzuto's real life, the real central character of the show is actually a work of fiction. Declan Gardiner, played by Kim Coates, is Rizzuto's right-hand man, but is also completely fictional. Declan Gardiner may not be real, but he serves as a stand-in for some of the many right-hand men that Rizzuto had serving under him during his time in Montreal.
Bad Blood is inspired by the non-fiction book Business or Blood: Mafia Boss Vito Rizzuto's Last War by Peter Edwards and Antonio Nicaso, but the television series cuts out some of the true facts to make the story fit the small screen better — one of those being the inclusion of Declan Gardiner. In reality, there were so many people who were allegedly serving as Rizzuto's right-hand man in different points of time that attempting to adapt the reality of their story might have proven too complicated for the show to pull off. As for which figure the character of Declan is most inspired by among Rizzuto's many right-hand men, there are a few likely candidates.
One such possibility is that Declan is based on Vincenzo Spagnolo who, according to CBC, allegedly served as Vito Rizzuto's right-hand man until Rizzuto's death in 2013 and was killed in 2016 in what police say was a "settling of accounts." Another possible point of comparison is Juan Ramon Fernandez, who Global News claims was Rizzuto's right-hand man and is allegedly communicating currently with big league mafia personalities in Sicily following Rizzuto's death in order to continue to seek success in the crime world.
Yet another figure accused of being Rizzuto's right-hand man is Rocco Sollecito, who was gunned-down in May of 2016. An anonymous Montreal police investigator told CP24 that Sollecito was associated with Rizzuto since childhood and worked his way into an integral role in Rizzuto's syndicate. Raynald Desjardins, who the National Post alleges was Rizzuto's right-hand man and whoVice calls "the most influential non-Italian in the Montreal Mafia," is currently serving a 14-year prison term for attempting to kill someone who wasn't Rizzuto's right-hand man, according to the Montreal Gazette.
While the history of Rizzuto's actual go-to makes for an interesting history in and of itself, the story of Bad Blood seems to dictate that Rizzuto have one figure by his side for the duration of the story, and that figure is Declan Gardiner. Whether or not dramatized versions of other Rizzuto lackeys will appear as the show goes on has yet to be seen, but the show seems less interested in total accuracy and more focused on ensuring that viewers understood how violent, powerful, and influential Rizzuto and his crew were during his time at the top of Montreal's criminal underworld.