Full House Fans Will Hate John Stamos' New Role
He plays a hot-headed coach in a new Disney+ series.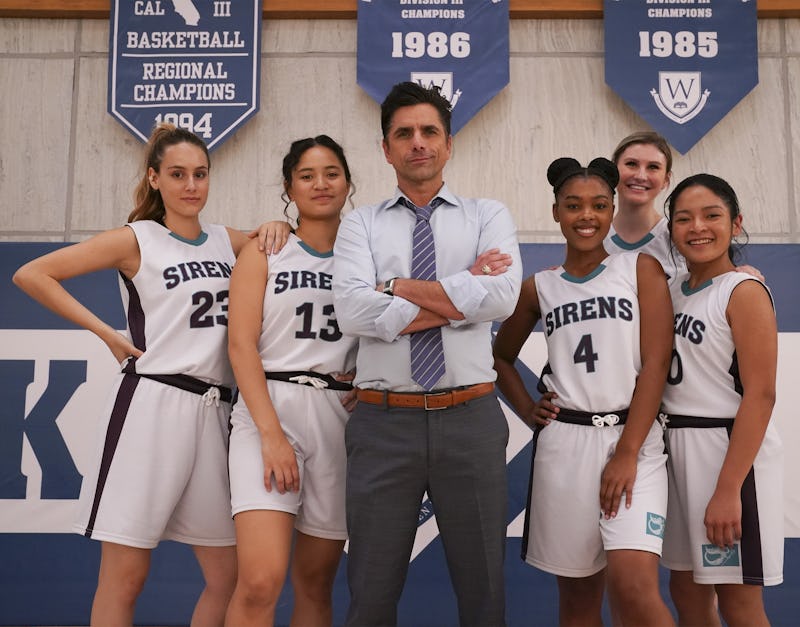 Gilles Mingasson/Disney+
If you only know John Stamos from his nice guy role as Uncle Jesse on Full House, prepare to see him in a much different light in the new Disney+ series Big Shot. After his character Marvyn Korn gets fired from the NCAA for throwing a chair at a referee, he takes a new job coaching a team at an all-girls high school.
Marvyn's initials may make some people think of Duke's notoriously tough head basketball coach Mike Krzyzewski, thought it's unclear if the character is based on any real person in particular. The general set-up brings to mind Hoosiers coach Bobby Knight, who famously threw a chair across the basketball court in 1985. Stamos told USA Today that he studied Knight in preparation for the role, and also watched one of the Los Angeles Clippers' practices.
Stamos certainly didn't have any of his own sports knowledge to bring to the show. "I'm the anti-jock," he told USA Today. "I was a band geek in high school, and I'm still band geek. I know nothing about sports. I can't play sports. I don't watch them." He added that learning the medical jargon for his stint on ER was easier than getting the basketball terms down.
But even though he wasn't familiar with the subject matter, Stamos was eager to take on such a complex role. "I saw a show about a guy who was very polarizing, and stuck in his way, and did things his way," Stamos told TV Line. "In his mind, to have to coach high school girls is the worst thing in the world. Turns out it isn't, and for him to come in and just let go of those [preconceptions] and connect with these girls, that's a show that I wanted to be a part of."
When viewers first meet Korn, he's definitely unlikable. In addition to fat-shaming his players, he's just an overall hothead who thinks the team is beneath his abilities. But over the course of the show, he begins to approach coaching in a new way. "Marvyn Korn soon learns that teenage girls are complicated human beings who require more than just tough love and two-a-days — they need real mentorship and genuine care," the series synopsis reads. (For the record, the male players on Korn's NCAA team were also deserving of those things, as gender shouldn't affect the treatment or respect players receive).
Korn will never be Uncle Jesse, doling out warm hugs and meaningful talks about life lessons. But he won't be bad from beginning to end. "You know, he changes fairly fast," Stamos told TV Line. "I mean, I don't think you want to watch a whole 10 episodes of some jerk who's not listening, right? Not learning? So, he gets better."
Big Shot premieres April 16.