Sharon Horgan's Relationships Are A Key Part Of Her Comedy
The Together star said writing about her life is like "extra therapy."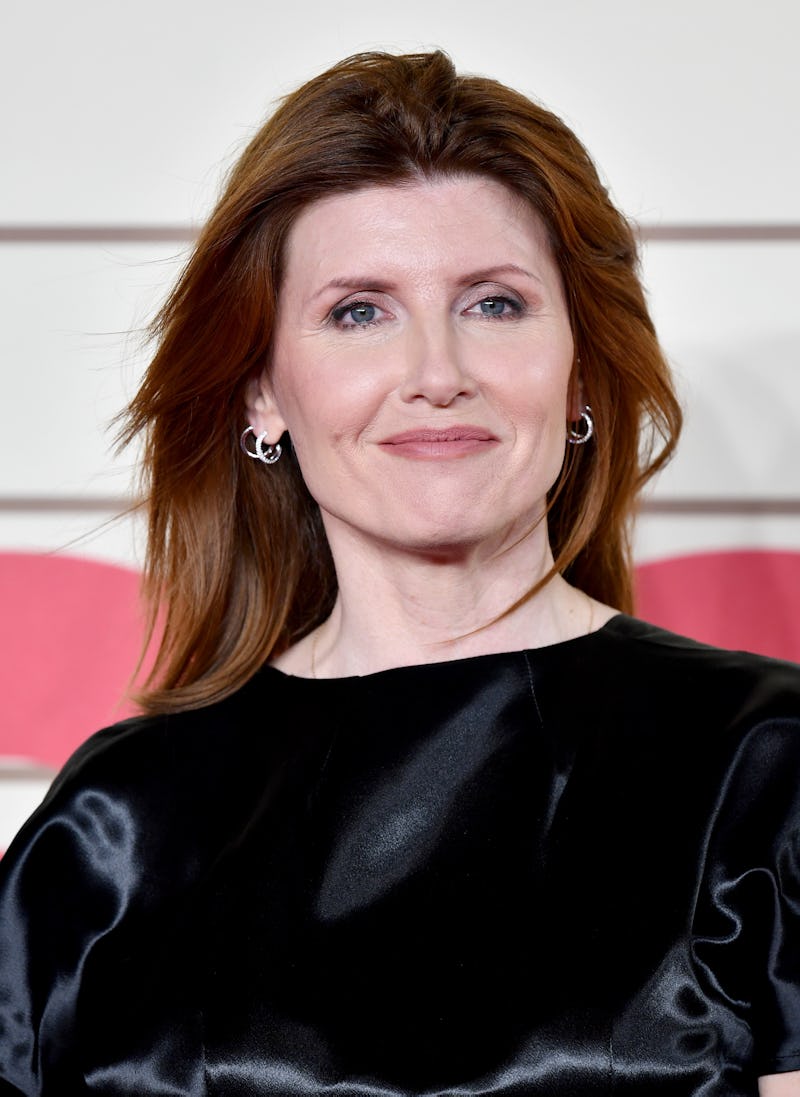 Gareth Cattermole/Getty Images Entertainment/Getty Images
Sharon Horgan is the queen of relatable comedy and her latest project will have you giggling at the trials and tribulations of being in a relationship in lockdown. The Catastrophe creator stars opposite James McAvoy in BBC Two's Together. She plays one half of a couple at breaking point, but is Sharon Horgan married in real life?
Horgan is the creator of Pulling, Catastrophe, Motherland, and Divorce. She's no stranger to spinning the realities of family life into hilarious TV. She told the Guardian that she uses uses her experiences to inspire the shows she works on and her marriage was the source for one of her most successful projects.
According to Entertainment Daily Horgan was married to businessman Jeremy Rainbird. The publication writes that the pair tied the knot in 2005 but split in 2019. They have two children together, Sadhbh, aged 16, and Amer, aged 11.
Their split was confirmed by Rainbird in a statement given to the Sunday Times. He told the publication: "She is a great mum and great business partner. And I love her dearly, but at some point in the next three to four months the divorce will be finalised." He added that they're still "genuinely mates" and even live down the road from each other. The article also shared details about their working relationship, explaining that during their marriage Rainbird launched the production company Merman which produced Catastrophe, Motherland, and Divorce.
The story of how their relationship may sound familiar to Catastrophe viewers. Just like the show, Horgan became unexpectedly pregnant with their first child very early on in the relationship. She told the Irish Independent: "That is what happened to me so it made sense to write about it."
She drew on this and other experiences in her life and relationship to inform Catastrophe. She told the Guardian that the one rule that she had with co-star and writer Rob Delaney was that they wouldn't make anything up during the writing of the series. "I feel when I write about what's either going on in my life or has gone on in my life, I just connect to it way more, have more stuff to say. It also provides me with a little extra therapy, getting stuff down on the page," she said, "I really want to write about what it is to be a woman of a certain age whose life is changing."
Since her divorce, Horgan has spoken openly about how tough it can be juggling co-parenting, working on new projects, and filming on location. Speaking to the Telegraph about how her life has changed she said, "You have to be way more organised and you have to plan in advance. If you think you're going to be filming in Ireland for three weeks, you'd better make sure that your co-parent knows about it. But it's good. I'm having to grow up."
Horgan and Rainbird still sound like a solid partnership. However, while speaking to Lauren Laverne on BBC's Desert Island Discs she said co-parenting took a little getting used to. "I was fun mum for years. Everything changes and you take on a lot more roles and I am much more practical than I was, and I think that is a positive thing," she said, "It had some dips in the middle where I thought, 'Oh, that thing I thought I was, which was a good mother, I am not entirely sure about'."
New show Together sees her turn her comedic mind to yet more family drama. She plays one half of a couple who are facing years of unhappiness in their relationship during lockdown. While both Horgan and McAvoy's characters have been aware of their underlying problems for some time they can't skirt around them anymore when they're forced into the same house in March 2020. Prepare to laugh and shed a tear.
Watch Together 9 p.m., June 17 on BBC Two.