The Big Shot School Isn't Real. Here's Where It Was Actually Filmed.
The San Diego-set series wasn't filmed in San Diego at all.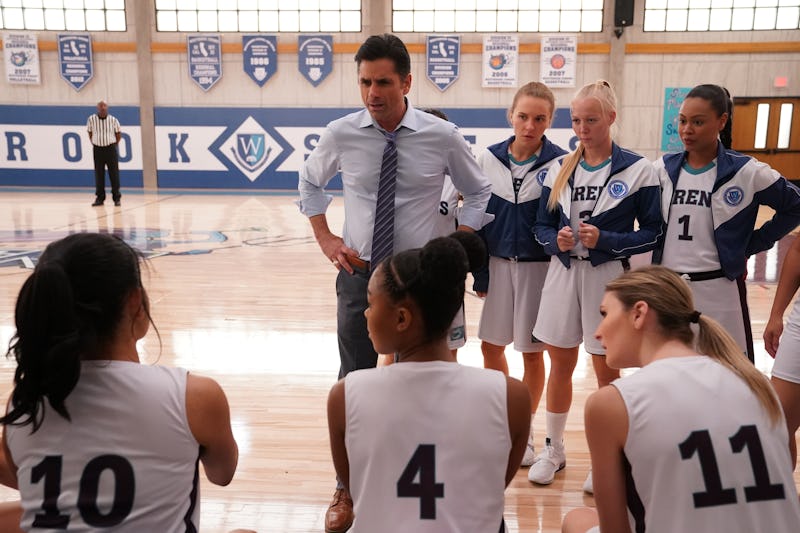 Gilles Mingasson/Disney+
TV shows about high schools have two production options. They can film in a real school and shoot around class schedules, or they can shoot on a lot constructed to look like a school. The Disney+ show Big Shot went with the second option. The series stars John Stamos as Marvyn Korn, a big time basketball coach who takes his talents to the fictional Westbrook School for Girls in the La Jolla neighborhood of San Diego, California. The academy is an elite prep school with the motto "women striving, women thriving." As Korn's assistant coach tells him, "These girls are gonna lead the world some day."
There's no shortage of real all-girls private schools in California and around the nation, but Westbrook isn't one of them. A publicist for the show confirmed to Bustle that Big Shot was filmed on the Paramount lot in Los Angeles, California. This location actually ended up being somewhat of a headache for production, as COVID-19 infections picked up in the county during the end of 2020 and early into 2021.
According to Deadline, production repeatedly had to shut down due to state and county filming guidelines. A false positive coronavirus test among the staff stopped filming for a day in November, and then an actual positive test shuttered production for the second half of December. In February, production again had to take a 10-day hiatus when another test came back positive. The constant back and forth quickly wore on Stamos, who tweeted that he hoped people would follow LA County social distancing and mask guidelines so he wouldn't have to keep quarantining every few weeks.
"My son went to bed last night crying and woke up crying cause he can't be with his father. I'm grateful to have a job, it's a privilege at this time. I was exposed to the virus for the 3rd time, and have to isolate again for another 10 days!" he wrote. "I feel my job is doing what they can to keep us safe. But people, please follow the rules — your actions affect so many more lives than just your own. Thanks."
Despite all the bumps in the road, filming on the 10-episode first season was eventually completed and the series will now air on Disney+ beginning April 16. But the fact that Westbrook School For Girls isn't real doesn't detract from Big Shot's emotional stakes or impact. Stamos' Coach Korn takes his job seriously — too seriously — and he's about to be schooled in how to properly treat a group of athletes. After all, as one of his players remarks, "This is Westbrook. We won't respond to my way or the highway." Korn's reign of terror stops now.