Jack McMullen On His New BBC Drama, Lockdown, & Life Since Waterloo Road
The actor has come a long way since Finn Sharkey, but he'd "never say never" to a reunion.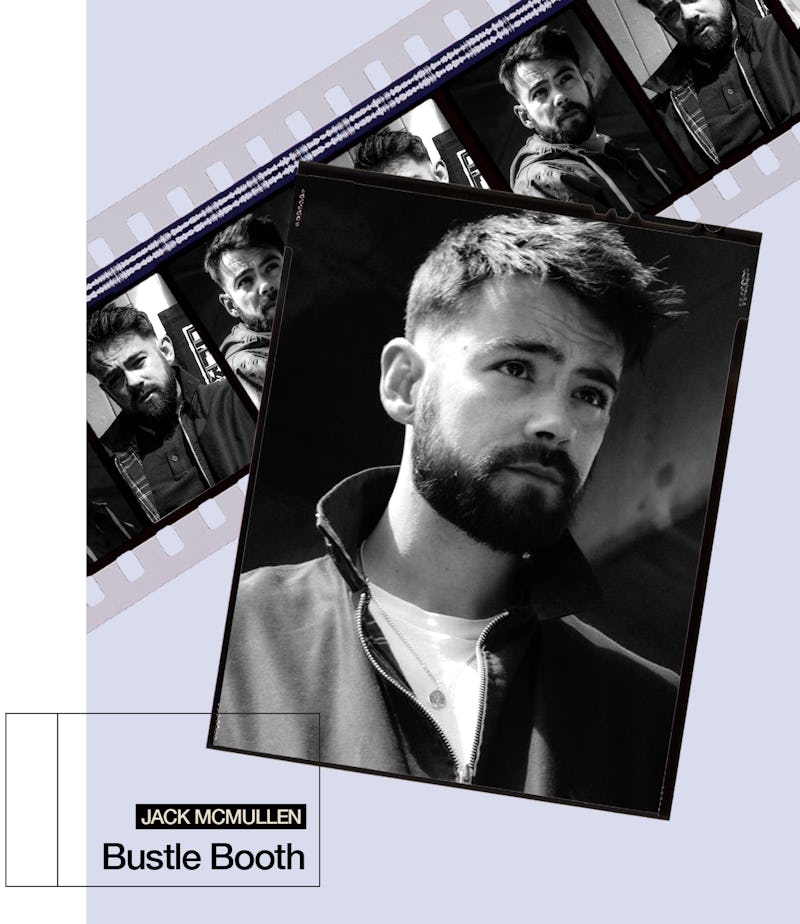 Photos by John Armour
When I speak to Jack McMullen on Zoom during a dreary afternoon in May, he's sitting outside a football pitch in north London waiting for a kickabout with some friends. After a year and a half of lockdown restrictions, it's one of the activities that's been keeping him going. That, and growing an avocado from a pip in an old vodka bottle, he tells me.
But McMullen, 30, has also been working this year. We're here to discuss Time, the newest credit on his already impressive CV, which includes Brookside, Grange Hill, Little Boy Blue and, of course, Waterloo Road. (More on that later…)
Time – a three-part series penned by Jimmy McGovern – is everything you'd expect from a well-researched, complex BBC prison drama: gripping, heartbreaking, and completely eye opening. Leading the cast is Sean Bean as sorrowful prisoner Mark Hebdon and Stephen Graham, who plays Mark's prison officer.
McMullen appears as Daniel, Mark's cellmate, who's staring down the barrel of a lengthy prison sentence for a pretty serious crime. In Daniel, McMullen has created a vulnerable, grief-ridden individual that you can't help but feel sorry for him as he grapples with what he's done. McMullen explains, "In the seven stages of grief, he's right at the beginning, he's in complete denial."
The UK prison system is a subject that McMullen has been interested in exploring for some time. "I'm lucky enough to have someone close to me that has experienced working in the prison service," he tells me. "So, even though I've been aware of what prisons are like, I've always thought that everyone else should."
He adds: "So, I showed this person some of the scripts and he was impressed with how true to life it is — which is a testament to the research that was done in the creation of the show."
So he had some prior knowledge going into filming but was there anything new he learnt from working on Time? "Well, one thing's for sure, I wouldn't last five minutes in jail," he laughs. "So, I'll just carry on trying to keep my nose clean."
Soon talk turns to Waterloo Road. Despite not having appeared on the show for almost 10 years, does McMullen still get recognised as Finn Sharkey, I ask? "Yeah, I still get asked about it," he chuckles. "If I do get stopped it's usually for Waterloo Road, after all these years." But he doesn't mind. "It was such a big part of my adolescence and I love it," he says.
What about the interview last year where McMullen said it's too soon for a Waterloo Road reunion? Does he still feel the same? "Well, I explicitly said never say never," he assures me.
Get to know more about McMullen's in his Bustle Booth questionnaire below.
In The Bustle Booth
What's your coffee order?
Espresso.
What are the saved weather locations on your phone?
Liverpool and London. The rest were depressing me. They had to go.
What's your sign?
If I see two magpies I know something good's coming. If I see one it's a load of old nonsense. My superstitions are flexible like that.
Favourite overused movie quote?
"The usual bumflufferies" from Sexy Beast (overused by me).
What was your favourite cartoon as a kid?
The Simpsons
What's one movie or TV show you're currently obsessed with?
Attack on Titan
Who is your celeb idol?
Jürgen Norbert Klopp
If you had to be on a reality TV show, what would it be?
Takeshi's Castle
Go-to karaoke song?
"Folsom Prison Blues" by Johnny Cash
What's something that's inspiring you lately?
People's optimism, Bong Joon-Ho, and me Nan's sense of humour.
What is something you would want people to say about you?
His wit will only get him so far.