Tom Holland & Jake Gyllenhaal's Bromance Rages On With This Birthday Shout-Out
The 25-year-old Spider-Man actor drooled over Gyllenhaal's "I miss ussss" bday message and photo of them together.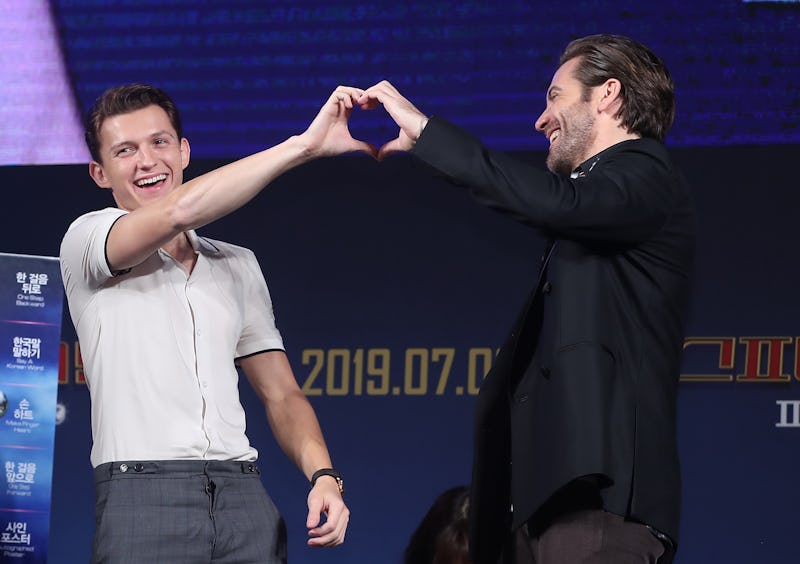 JTBC PLUS/ImaZinS/Getty Images
If you looked in a dictionary for "friendship goals," you might find an image of Tom Holland and Jake Gyllenhaal. The duo has been an unstoppable force of chaotic energy and laughter ever since they became fast friends on the set of Marvel's 2019 blockbuster Spider-Man: Far From Home. Over the years, the self-described "husbands" have continued to sing each other's praises, make each other laugh with their impressions, and wish each other happy birthday.
Like on June 1 when Gyllenhaal wished the newly 25-year-old actor a happy birthday by posting an image of them together on his Instagram Story. The selfie features only half of Gyllenhaal's face as he poses with a bloodied Holland in their superhero costumes (or motion-capture suit, in Gyllenhaal's case), likely after one of their many hard-fought battles on the Far From Home set.
"HBD Tom Holland," the image read. "I miss ussss." Holland later re-posted the image on Instagram and added three drooling emojis in response, which we're going to assume means he appreciated the shout-out, or he got lost staring into Gyllenhaal's single blue eye?
The duo's back-and-forth birthday interactions have slowly become a standing tradition between the best friends. It's a tradition that was technically started by Holland; his first birthday wish to Gyllenhaal dates back to December 2019. "He's the Mysterio to my Spider-Man. Happy birthday mate," Holland wrote, tagging the image #HusbandGoals.
Holland followed that up with a post on Gyllenhaal's birthday year later, this time including a video of the two at a Spider-Man: Far From Home press event in Seoul, South Korea. "I had to be the first [to wish you happy birthday]," he wrote. "Happy birthday mate. Miss you."
But that doesn't mean that birthdays are the one day out of the year the friends can post about each other. On the contrary, this bromance is open to any and all holidays, like Valentine's Day:
The moral of the story? Find someone who looks at you the way Spider-Man looks at Jake Gyllenhaal ... or is it find someone who looks at you the way Jake Gyllenhaal looks at Tom Holland? Either way, it's guaranteed to be the kind of wholesome celebrity friendship that we all love to see.