The Wedding Coach Host Jamie Lee Knows The Stressful Side Of Wedding Planning
She keeps it real on Netflix's new reality wedding series.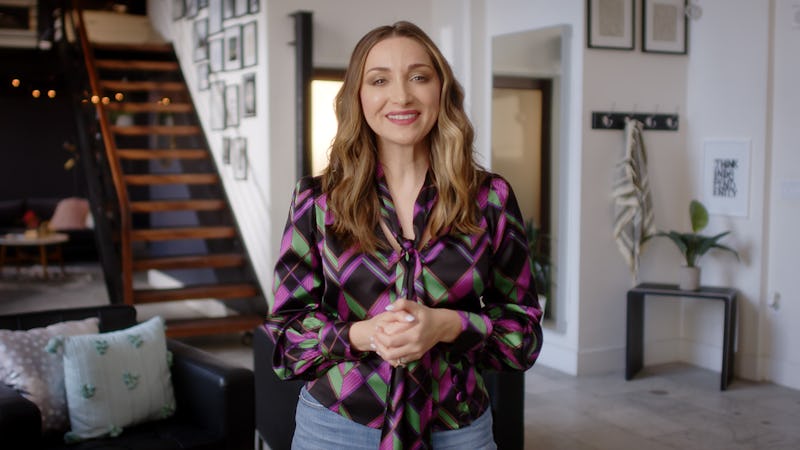 Netflix
It may seem from the outside that wedding planning is a super exciting part of someone's life — and it can be. But it can also be incredibly stressful. Comedian, author, and former bride Jamie Lee knows how tough building a wedding can be, and that's why she wants to help couples through their own planning processes on Netflix's The Wedding Coach.
Lee first opened up about the ugly side of walking down the aisle when she wrote her book Weddiculous: An Unfiltered Guide to Being a Bride. It documented everything from getting engaged to going on the honeymoon and was filled with refreshing honesty about some of the pitfalls of planning.
"No one was talking about how during your engagement period it's actually a really difficult time ... I had lots of turmoil with my then fiancé/now husband. Our parents got involved in ways I could have never predicted," she told Splitsider. "It became really hard. I was crying in my car lot. I felt stressed everyday. It was a special kind of stress, almost like a hazing period. I really wanted to make a book that was honest, funny, and also practical. … I want to make sure that people don't feel alone."
Now she's putting that into action with The Wedding Coach. But before you see her help get couples down the aisle, here's what you need to know about Lee.
She Has Serious Comedy Chops
Lee's career really kicked off when she made the semifinals on Last Comic Standing in 2010. Per her IMDB, she's since gone on to perform stand-up on shows like Conan, Last Call with Carson Daly, and The Late Late Show with James Corden.
She's also a comedy writer who's worked on shows like Ridiculousness, Teachers, and Crashing — the latter of which she's also starred in. Plus, she's been on MTV's Girl Code, 2 Dope Queens, and more. You also may have recently seen her go viral on TikTok for asking Shailene Woodley if she was hungry during a red carpet interview.
Out of context, it's a little awkward, but in the full video, Lee was just determined to shake things up with celebs by asking them questions they don't often get on red carpets.
Jamie Lee's Husband Is Dan Black
Lee went through all her wedding stress with now-husband Dan Black by her side. Like Lee, Black is an actor and comedian. He's also a big wrestling fan and hosts the Comedians of Wrestling podcast. Lee and Black married in April 2016, per Splitsider.
Lee's Instagram Is Hilarious
Lee uses Instagram to promote her various projects and often pokes fun at the stereotypical Instagram influencer. In this photo where she's posing in the middle of the street, she joked in the caption, "Just merrily crossing the street, taking my time, if a car boops me in the crosswalk, I wouldn't be surprised."
"Truly meaningless content," she captioned another #OOTD shot.
Her personality on Insta is similar to what you see in the trailer for The Wedding Coach and read in her wedding book. She gives off a very relatable, funny, and down-to-earth vibe, which is just what anxious couples need when planning one of the most stressful events of their lives.