The Rock's Daughter Wanted To Meet Aquaman & Jason Momoa Made It Happen
Dwayne Johnson's 3-year-old is obsessed with the superhero.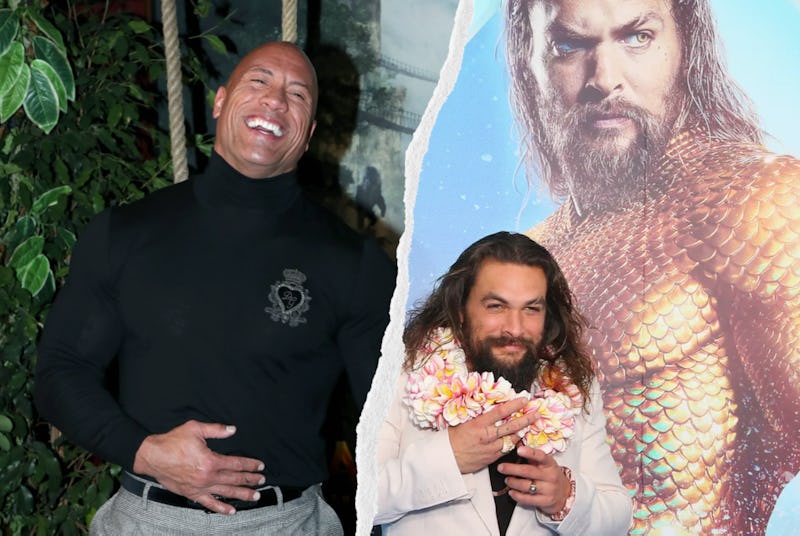 Bertrand Rindoff Petroff/Don Arnold/Getty Images
The Rock's 3-year-old daughter Tiana is at the age when she's starting to understand her dad's acting prowess, including that the fact that he voices Maui in Disney's Moana. Equipped with this knowledge of his oceanic past, Dwayne Johnson's inquisitive daughter apparently asked him, "Daddy, do you know Aquaman?"
In a tribute for Tia to mark her April 17 birthday, Johnson documented her obsession with her favorite superhero and her request to meet him. Well, Aquaman actor Jason Momoa surfaced to make her dream come true. Momoa commented on the post, writing "happy birthday tia" with a few hearts and laughing-while-crying emojis. He went on to send Tia and pops a special video message, seemingly as Aquaman, expressing his love for the Johnson family and his intent to meet up with her at the ocean in the future.
The Aquaman star promised that their families would get together for rock climbing and surfing in Hawaii. Johnson thanked Momoa in the caption for "making this adoring 3yr old's birthday the best EVER." He added that "her reaction is priceless and what it's all about" and that "this kind of stuff will ALWAYS be the best part of our fame." Momoa agreed in the comments: "we do it for our babies. for the next generation. happy birthday baby tia see u hawaii."
On Sunday, April 18, before Momoa had responded, Johnson had documented Tia watching Aquaman, writing on Instagram that "birthday girl Tia is OBSESSED" with the superhero. In the video, Tia can be seen pointing at the screen and saying, "Look what Aquaman just did to that man!" Later, Johnson asks his daughter "who is cooler, daddy or Aquaman?" In the caption, the actor noted: "She didn't even wait til I finished the question, before answering definitively, 'Aquaman.'"
The Fast & Furious star also posted a photo of Tia with an Aquaman figurine, noting that his daughter " insisted Aquaman join us for breakfast" on her birthday. He wrote that Tia "asked daddy to draw Aquaman so she can FRAME IT and hang it up in her room." Momoa also commented on the post with another birthday wish, writing rote "happy birthday baby tia. all my aloha my braddah. beautiful ohana."
Like his Maui character in Moana, all Johnson can do now is say, "You're welcome."