Jepperd From Sweet Tooth Is Loosely Based On A Marvel Antihero
The character accompanies human-deer hybrid Gus across the country in Netflix's new post-apocalyptic series.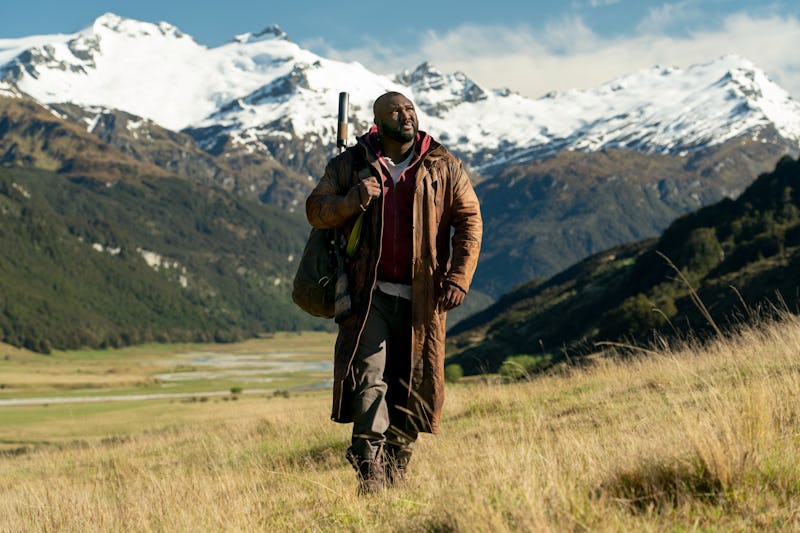 KIRSTY GRIFFIN/NETFLIX
Netflix's new post-apocalyptic series Sweet Tooth is an adaptation of a DC Comics' Vertigo Imprint story of the same name, written and drawn by Jeff Lemire. The dystopian story is set in a world that was once similar to ours — before a global pandemic wiped out most of humanity and seemingly led to the birth of a number of human-animal hybrid babies. Fearing that these hybrid children are somehow responsible for the deadly epidemic, some of the remaining nomadic gangs of humans start hunting them while others dedicate themselves to protecting them.
The comics center around Gus, a human-deer hybrid who was raised by his father in a remote Nebraska cabin and is forced to set off on his own after his father dies. Soon, Gus stumbles across Tommy Jepperd, a large, grizzled loner who takes Gus under his wing and eventually agrees to travel across the country with him in search of a rumored safe haven for animal-human hybrids.
In the pre-apocalyptic world, Jepperd (played by Nonso Anozie in the Netflix series) was a professional hockey player who was known for his violent outbursts on the ice. His character is loosely based on Frank Castle, better known as Marvel Comics' The Punisher. After a personal tragedy left Jepperd to navigate the dystopic world alone, he became a drifter, which is when he comes across Gus. As the unlikely duo travel on their often dangerous journey, they encounter allies and enemies, ranging from a creepy scientist experimenting on animal-human hybrids to a gang of humans fighting to protect hybrid children.
The first Sweet Tooth comic was published in September 2009, and the original series ran for 40 issues before concluding in January 2013. Lemire also recently revived the story under publisher DC Black Label with a six-issue miniseries entitled Sweet Tooth: The Return that began in November 2020.
Though it's currently unclear how closely the Netflix series will follow the comics, Lemire said in a Netflix video that showrunner Jim Mickle's vision for the series was in line with his original story, adding that he felt like Sweet Tooth "was in really good hands." The adaptation promises to further develop some of the characters from the comics while incorporating several new characters. The show also looks to be a bit less dark and edgy than the comic, but without sacrificing the heart of a story. "While there is certainly a softening of some of the more edgy moments from Lemire's original series, the core of this story remains intact," reads a ComicBook.com review.
Sweet Tooth arrives on Netflix on Friday, June 4.