Jodie Harsh On "No Sleep," The Power Of Pride, & Drag Race UK
"Drag queens are the new rock stars. We're only going to get bigger."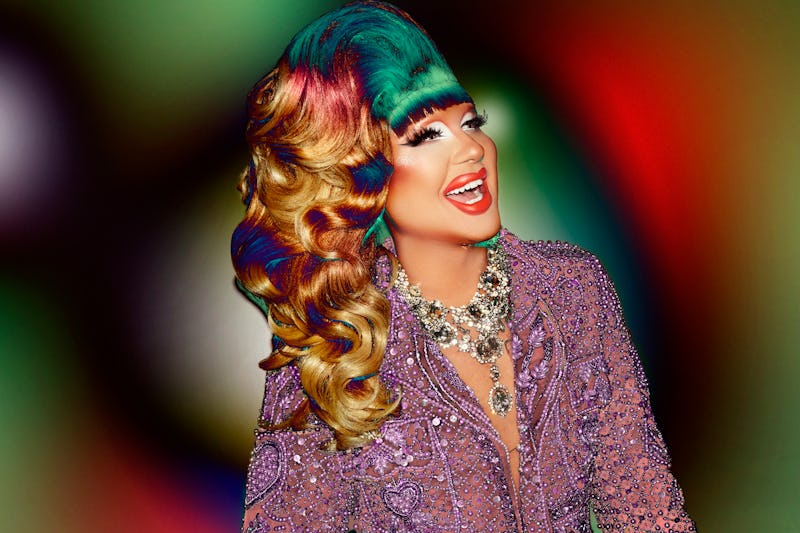 Courtesy of Jodie Harsh
Jodie Harsh's earliest Pride memory is a train journey she took with her parents as a child. They were en route to the theatre in London when Jodie noticed what appeared to be a sea of rainbows as they sped past Brockwell Park. "I remember looking out the window and saying 'what's that? I want to go.' My dad just looked at me and said: 'no, you don't.'"
Ironically, many years (and Pride parades) later, Jodie Harsh has become one of the most recognised drag performers in British history. She even supported the Spice Girls on their comeback tour. Her drag persona was crafted in the bars and clubs of London's LGBTQ+ nightlife scene, where she would earn extra cash in between classes at the London College of Fashion. Complementing Jodie's club promotion expertise – and that legendary hairpiece – are her talents as a respected DJ and music producer. Recall her 80s-tinged lockdown anthem "My House."
As COVID restrictions ease across the UK, and in the middle of Pride Month celebrations, the timing of Jodie's latest banger, "No Sleep", couldn't be more fitting. The song is reminiscent of pre-pandemic nights spent on the dancefloor, providing an optimistic taste of better days ahead. Amid the track's euphoric beat, the lyric "I missed this and I really missed us" repeats throughout, referencing the long-awaited revival of clubland – whenever that may be.
Here, the drag superstar reflects on the curation of "No Sleep", the importance of Pride, and the joy of being Jodie Harsh.
On "No Sleep"
I wrote the track with the amazing SG Lewis and Jin Jin at the Sleeper Sounds Studio in West London. Lewis has a real disco-funk kind of vibe which I love, so I definitely wanted to create something within that zone. So, we started listening to the likes of Giorgio Moroder to get inspired, and minutes later we were working on the baseline. It all came together so quickly.
"No Sleep" is about the return to the dance floor and those amazing nights out that you don't want to end. We discussed what we really missed about nightlife and how people haven't experienced the adventure of a night out for the last year and a half and wanted to bring that sentiment into the song.
On the importance of Pride
For me, Pride Month is a celebration of how far LGBTQ+ people have come. The Stonewall Riots were just over 50 years ago and so much has changed since then. I know a lot of people complain about big corporate companies sticking Pride flags on the side of a bus and not doing enough for the actual community. But, honestly, at least there are Pride flags on the side of buses. It wasn't very long ago that simply being LGBTQ+ was illegal.
I also believe Pride Month gives the opportunity to keep fighting and highlight where progress still needs to be made. Trans people are being disproportionately targeted all over the world and there are countries where it's perfectly acceptable to behead someone because they're LGBTQ+. The fight is not over.
On her LGBTQ+ heroes
Marsha P. Johnson is someone I really admire. I'm also very thankful for the really strong allies who don't identify and LGBTQ+; people like Madonna, Liz Taylor, and Princess Diana. Always advocating for queer people and raising millions for people living with AIDS and HIV, and they did it during a time when people weren't talking about it.
On Drag Race UK
To put ten drag queens on the BBC is progress. The show is highlighting queer culture and talent. I remember one moment in the last series where Bimini Bon Boulash was having a conversation with Ginny Lemon about being non-binary. Those kinds of conversations help to educate so many people.
Also, the respect drag is now getting is huge. Drag Race queens are headlining tours in massive arenas that are usually reserved for big musicians. It's no longer a queer underground culture, it's become a water cooler moment for straight people in the office, too. Drag queens are the new rock stars. We're only going to get bigger.
And the queens who like to moan about Drag Race UK... I'm sure they sent audition tapes, right? [Laughs].
On her hopes for the future
I've got so many ideas of what I want to do next. I'm determined to one day do a dance banger for Madonna. I really want that to happen. Period.
As for right now, I've got a lot going on and I'm looking forward to all of it. Last March, I remember being in bed with COVID, and every day I was getting emails from my management and agent saying "oh, this event in September is cancelled" — and I'm sat there thinking "Oh my f****** god. I don't have a career anymore." So I'm really happy to be doing lots of live shows, including Night Tales in London on Friday, August 20. I'm also performing on the main stage of Creamfields, going on tour with Sink The Pink, and I've just announced that I'm going on tour with Jessie Ware in December. I can't wait to get back out there.