Everything To Know About Joseph DeAngelo, AKA The Golden State Killer
HBO's I'll Be Gone In The Dark follows the decades of work that led to his arrest.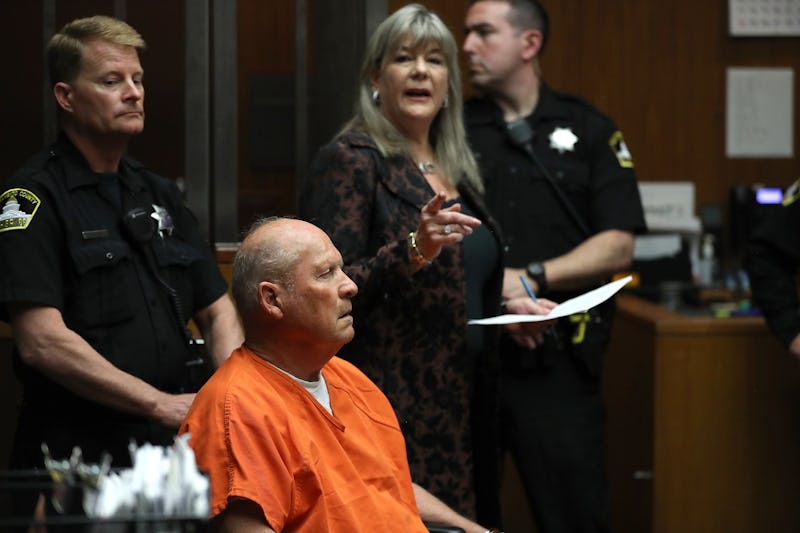 Justin Sullivan/Getty Images News/Getty Images
HBO's I'll Be Gone In the Dark follows Michelle McNamara's years-long hunt for the Golden State Killer, who raped and killed dozens of women between 1974 and 1986. McNamara died suddenly in 2016, but in the midst of filming for I'll Be Gone In the Dark, there was a break in the case: after over four decades, the Golden State Killer was caught. New DNA evidence led to the arrest of Joseph James DeAngelo, a 74-year-old former cop, in 2018. He pled guilty to 13 counts of first-degree murder on June 29 and was sentenced to 11 consecutive life sentences without the possibility of parole, the New York Times reported.
This brought the end to a long journey for McNamara, who coined the name Golden State Killer in a 2013 Los Angeles magazine feature. The criminal was previously known as the East Area Rapist throughout the Sacramento area, and as the Original Night Stalker in Southern California.
DeAngelo's crimes began in 1974, when he committed a series of rapes throughout the Sacramento area. After a local publication reported that the East Area Rapist typically assaulted women in their homes when their husbands were absent, he began breaking into houses while they were present and tying up the husbands, per the NYT. "He was so in tune with what we were doing and what was in the media," former Sacramento sheriff's detective Carol Daly told the outlet. "And every time we would say, 'Well, he didn't do this,' it was: 'Ha-ha. I gotcha. I could do it.'"
In 1978, DeAngelo moved to Southern California and began killing his victims.
Courtesy of FBI.gov
Handout/Getty Images News/Getty Images
Given that the Golden State Killer was able to outwit law enforcement, officials correctly predicted that he was a police officer himself. According to the Sacramento Bee, DeAngelo was a Vietnam War veteran who later graduated from Sacramento State with a bachelor's degree in criminal justice. He worked as a police officer in Exeter — located in central California — from '73 to '76, followed by Auburn, which is located outside of Sacramento. However, DeAngelo was kicked out of the Auburn Police Department in 1979 after he was caught shoplifting a can of dog repellant and a hammer from a local drug store, per the Bee.
In 1986, DeAngelo suddenly stopped killing. "I felt that something happened that he just wasn't able to do those crimes anymore," Daly theorized in her interview with the NYT. DeAngelo worked at a Save Mart distribution center until his retirement in 2017. A year later, he was arrested at his Sacramento home.
DeAngelo would not have been caught if it weren't for technological advancements. The case was finally cracked through something the Times called "genetic genealogy," in which DeAngelo's DNA from a 1980 crime scene was matched to his relatives on a DNA website. Though some are troubled by the ethics of such a method, many of DeAngelo's surviving victims feel that justice has been brought.
"I already feel relieved," one of his rape victims, Gay Hardwick, told the Times. "He's going away and never coming out and there won't be any appeals. He will die in prison."
According to CNN, DeAngelo cannot be formally charged with any rapes because the statute of limitations has passed. However, he admitted to the crimes as part of a plea deal that allowed him to escape the death penalty. According to the Associated Press, DeAngelo will begin his sentence on Aug. 17.
If you or someone you know has been sexually assaulted, you can call the National Sexual Assault Telephone Hotline at 800-656-HOPE (4673) or visit online.rainn.org.