What Julia Louis-Dreyfus' Falcon & The Winter Soldier Cameo Could Mean For The MCU
She plays a shady and mysterious figure named Valentina Allegra De Fontaine.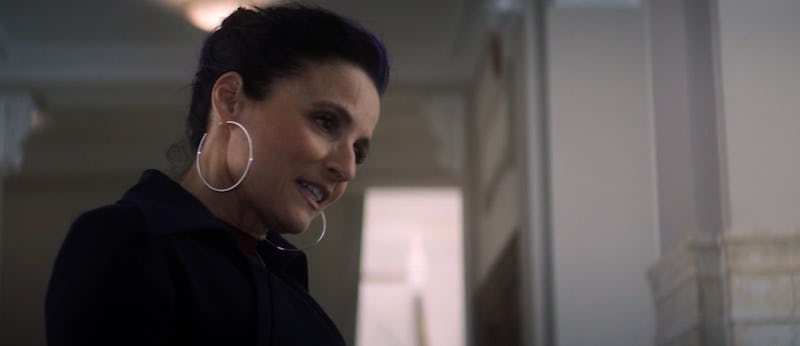 Marvel Studios/screenshot
Spoilers ahead for The Falcon and the Winter Soldier Episode 5. After publicly and brutally murdering a Flag-Smasher, John Walker is promptly fired from being Captain America in Falcon and the Winter Soldier's fifth episode. This puts the shield safely back in Sam's hands — but it doesn't mean Walker is out of our hair for good. Walker's actions have caught the attention of some pretty powerful people...including a comics character new to the MCU.
Contessa Valentina Allegra De Fontaine, aka "Val" for short, introduces herself to John and his wife following his dismissal. Played by Julia Louis-Dreyfus, the new character tells John that she supports his violence and praises his decision to take the super-soldier serum — "the second-best choice you've ever made in your life," she says, after "picking up the phone when I call you." She also lets him in on a little "state secret" about the shield: it's not actually the government's property.
Valentina presents herself as a mystery to both viewers and John, leaving him with a blank business card. But there are a few things we know about her from the comics. According to Marvel, Valentina is a triple-agent from Russia whose parents died while working for Leviathan, a terrorist organization. Because her family was part of the Italian resistance, she had access to S.H.I.E.L.D., where she could secretly serve as a spy for Leviathan. Here, she developed a relationship with Nick Fury and served on the Femme Force, an all-women team of spies.
Eventually, Valentina joined Hydra after a Skrull invasion ended S.H.I.E.L.D. At this third organization, she took on the mantle of Madame Hydra — a woman of many identities and the skills to support each one. Just like Fury, Valentina is introduced in the MCU as a stylish figure shrouded in secrecy — she'll call you, not the other way around. Plus, her knowledge of behind-the-scenes superhero stuff makes her a potentially important figure in the rest of Falcon and the broader MCU.
According to Vanity Fair, Dreyfus was originally intended to make her debut as Valentina in Black Widow. If she really is the shadowy counterpart to Fury that Falcon is making her out to be, several theories suggest that she'll be a key figure in the assembly of the Thunderbolts, a team of villains-turned-heroes in the Marvel comics. The group includes the Taskmaster, who is slated to appear in Black Widow this July. If Dreyfus is still set to appear in the movie, too, the possibility of the Thunderbolts forming feels even more plausible.
Setting up an entire new antihero team may seem like a tall order for a six-episode series, but Falcon head writer Malcolm Spellman already teased the possibility in March. He told Entertainment Weekly that the show would set up several upcoming Marvel projects, including at least "three that I'm not allowed to talk about." How Valentina fits into that, we'll have to wait and see, but she definitely seems important.