Poog Is No Joke
Comedians and podcast co-hosts Jacqueline Novak and Kate Berlant say it's their most earnest act yet.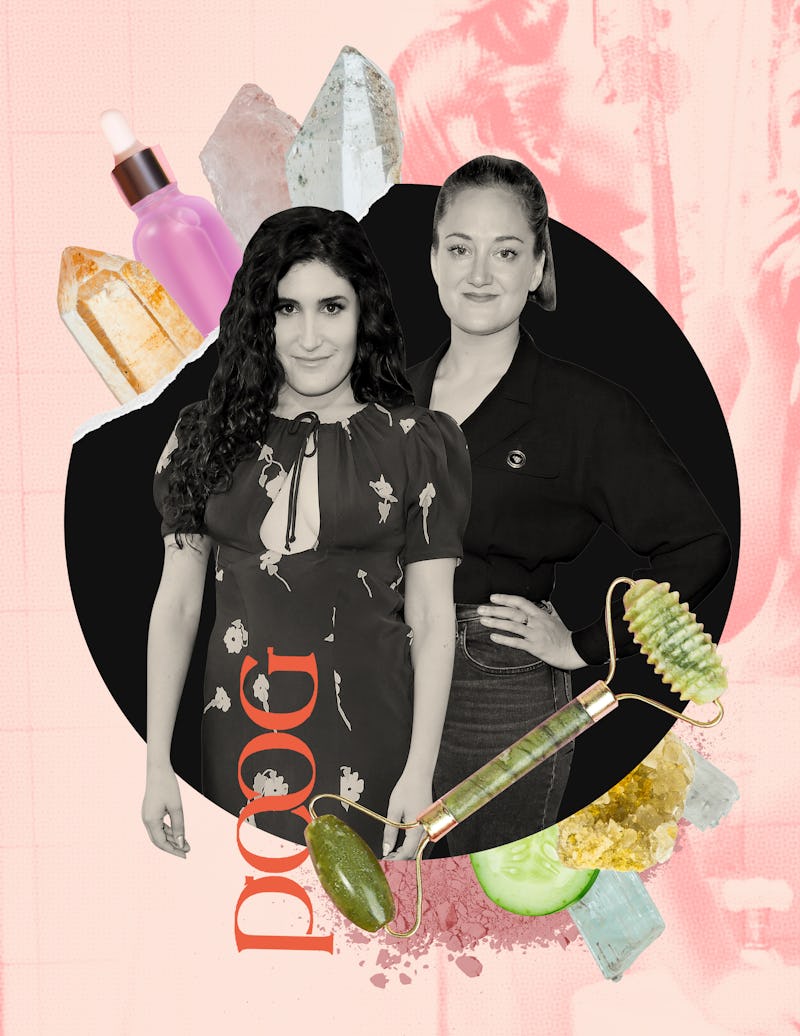 George Marks, Anna Efetova, Cindy Ord, Steve Granitz, Stuart Cox, Iryna Veklich, mikroman6/Getty Images
Jacqueline Novak is reading excerpts aloud from Kate Berlant's master's thesis. Novak conned her Poog co-host into sharing "Sublime Hideousness; Bearded Women, and Fantasies of Dispossession" with her years ago, and it's been sitting in Novak's Gmail ever since. "I was really interested in the way that comedy becomes gendered," Berlant tells Bustle, now made bashful by reflecting on her younger, uber-academic self. "[You included] three quotes. One from Macbeth, 'You should be women, and yet your beards forbid me to interpret that you are so.' Roseanne Barr, 'They say I'm not really feminine, well I say suck my d*ck.' And then Ellen DeGeneres, 'I'm a woman trapped in a woman's body,'" Novak recites to a fully cringing Berlant.
This frenetic, indefatigable, and often embarrassing energy is quintessential Poog: Novak and Berlant's weekly iHeartRadio podcast probing the wellness industry from its most complex corners (hypersomnia, astral projection, and snail mucin have been recent topics of discussion). The comedians first came up with the concept for the show in the Himalayan salt room of a Los Angeles-based Korean spa, where they were lounging naked while taking a break from the plunge pool. ("The plunge pool was big for us because [the cold water] hurts and it's horrifying and that's why it's going to give us the biggest benefit," says Novak.) It's this naked intimacy that's become the cornerstone of the success of the podcast, which has earned a cult fan base including fellow comedians like Abbi Jacobson, Megan Mullally, and Saturday Night Live's Chloe Fineman.
"Poog is the embarrassingly common part of me... [we] contain multitudes, and multitudes include extremely basic sh*t."
Unsurprisingly for two humorists — Berlant is best known for her absurdist videos with her frequent collaborator, John Early, while Novak's one-woman show Get on Your Knees carefully dissected the act of oral sex — there's a lot of comedy in Poog. (The title, as you might have noticed, is Goop in reverse.) This has caused some to question how earnest the pair are actually being. A recent rave review in The New Yorker called the podcast "a show about wellness which is, in a dazzling and purposefully deranged way, utterly unwell." By this logic, Berlant, 33, and Novak, 38, "play the role of overeducated, understimulated women," a diagnosis they both reject. "We approach Poog from a completely earnest place," Berlant says. "This is, like, the most vulnerable and raw thing I've ever done." Novak goes one step further. "Poog is the embarrassingly common part of me," she continues, noting that the comedy comes from the fact that we "contain multitudes, and multitudes include extremely basic sh*t."
One of Berlant's multitudes is her hypochondria, which is humorously documented throughout Poog. In one episode she feels pain in her right side after working out and worries she has appendicitis. During our interview, while telling me "Poog is existential, but it's also very much rooted in like, 'How can you be existential about skin care?'" she disappears out of frame to grab a glass of water because she's "so thirsty she thought [she] was going to collapse." For a millennial audience, the most anxious generation in history and the first to use Google to self-diagnose with terrifying pessimism, there is something indisputably and blissfully relatable in this.
"[People] who have never done any real thinking in their life are ready to dismiss you as not a 'thinker' because [you] watch Long Island Medium. But you don't know at what level I'm engaging with that [show]."
Yet as Berlant's master's thesis will attest, beauty is a fraught topic in comedy. Your desire for it has to be the butt of the joke — à la Joan Rivers — or you must strip yourself of it, like a Liz Lemon-era Tina Fey. For Berlant and Novak, the trepidation they felt at entering this space has become their motivation. "It's this instinct where I'm ruining the image I would want to cultivate of myself," Novak says. "But because that thought occurs to me, I'm like, 'And therefore I must [do it].'" In this way, Poog is a rebuke of the kind of feminism that binds women from caring about wellness or reality TV. "[People] who have never done any real thinking in their life are ready to dismiss you as not a 'thinker' because [you] watch Long Island Medium," Novak explains. "But you don't know at what level I'm engaging with that [show]."
Whether they're being entirely earnest or Poog is simply an extended Goop parody, it doesn't really matter. "There's something scary and liberating about being able to give over to the unintellectual or embarrassing urge to get rid of your wrinkles," Berlant says, and she's right. This is Poog's special sauce, their ability to lay bare our most vulnerable feelings about wellness without shame or faux confidence. That and the pair's unfiltered friendship. "I joke to Jacqueline that I'm roping her into a serious friendship where she has to talk to me like every week," Berlant says, before Novak interrupts her, as friends do. She's just realized that she's been wearing a "Frownie" — an anti-wrinkle treatment that takes the shape of an oversized Band-Aid running the length of her forehead — for the entire interview. I'd assumed she had a head injury. "I'm constantly wearing Frownies so it didn't even f*cking occur to me just to say, 'I have something on my forehead,'" Novak says, apologizing. "It's psychotic."