Kate Winslet Stopped Mare Of Easttown From Cutting Her Tummy Out Of A Sex Scene
"[Mare is] a fully functioning, flawed woman with a body and a face that moves in a way that is synonymous with her age and her life."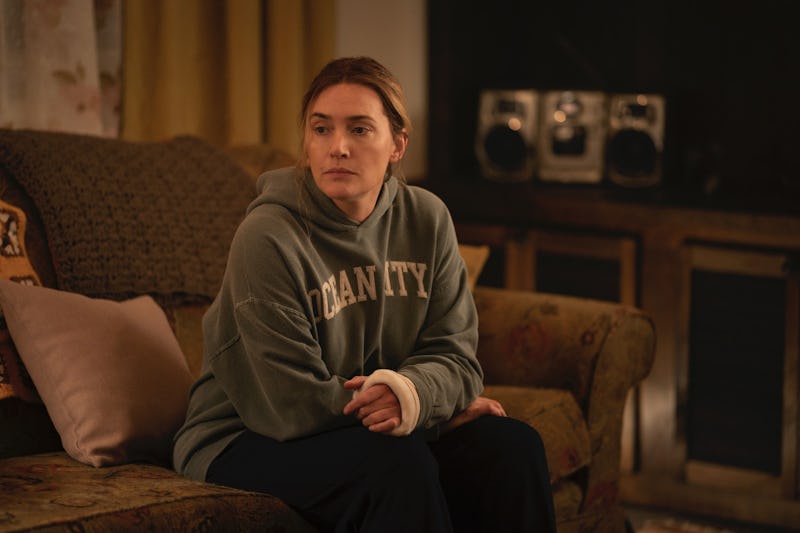 HBO Max
Spoilers ahead for Season 1 of Mare of Easttown. Kate Winslet has revealed that she stopped a director from editing out a "bulgy bit of belly" from a sex scene she filmed for Mare Of Easttown.
Speaking for an interview with the New York Times, Winslet recalled a moment when Craig Zobel told her the post-production team could edit her stomach during a sex scene and she told him: "Don't you dare."
Her decision to do so was fuelled by her desire to keep her character Mare Sheehan as realistic as possible, and to be representative of what women in their forties look like.
"Listen, I hope that in playing Mare as a middle-aged woman — I will be 46 in October — I guess that's why people have connected with this character in the way that they have done because there are clearly no filters," she told the publication.
"She's a fully functioning, flawed woman with a body and a face that moves in a way that is synonymous with her age and her life and where she comes from. I think we're starved of that a bit."
As well as asking for her sex scene not to be edited, Winslet also explained that she chose to send back the show's promo poster twice as she was not happy with it due to over-airbrushing.
"They were like 'Kate, really, you can't,' and I'm like 'Guys, I know how many lines I have by the side of my eye, please put them all back,'" she told the New York Times, later adding: "We're so used to seeing this stuff airbrushed away," in reference to the sunspots and imperfections that were left on her face to play Mare.
Winslet has previously spoken about how taking on the role of Mare has been different to anything she's done before professionally. "Mare is a totally different character for me," she told an Emmy reporter. "Different from anything I've ever done. She swears; she vapes; she eats absolute junk."
In order to fully inhabit the role, Winslet said she let Mare take over many parts of her life. Speaking to the Emmy reporter, she said: "The other day when I came downstairs, my husband looked to me and was like, 'Is that one of Mare's hoodies?' I said, 'Yes, just don't say anything. It's a process I'm going through. It'll be gone soon.' I've been her for a year-and-a-half, right? You can't just switch it off."
You can watch Mare Of Easttown on NOW TV.