Khloé Kardashian Was Labeled A "Hypocrite" After Ranting About Single-Use Plastics
The Good American founder has since responded to the backlash.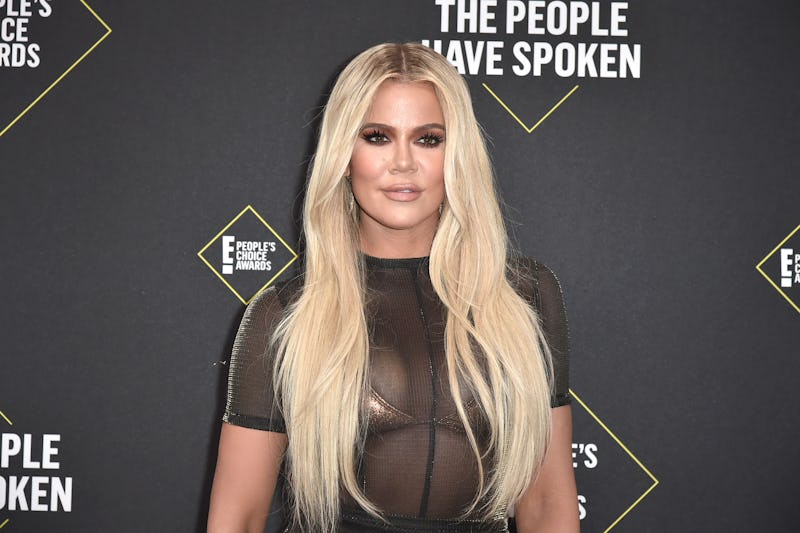 David Crotty/Patrick McMullan/Getty Images
Khloé Kardashian is at the center of yet another controversy, and this time it's about single-use plastics. In case you missed it, the 36-year-old reality star took to her Instagram Stories on Monday, June 7, to express how glad she is that so many of her followers decided to purchase the same giant water bottle that she uses daily. But when the Good American founder called out some of her fans for filling it with water from single-use bottles, she was quickly labeled a "hypocrite" on the internet.
"So many people tag me in these huge gallon-sized jugs of water and I feel awesome because I know people are staying hydrated," Kardashian said at the beginning of her environmentally friendly rant. "Something that irks me is that I see people taking water bottles and they're just pouring it into the gallon-size reusable plastic bottle so they can consume their water for the day. That defeats the purpose because those water bottles are just going to go into a landfill somewhere."
The Keeping Up With the Kardashians star added that she's "trying" to limit her use of single-use plastics while also making sure she's drinking enough water. "The point of this is yes to stay hydrated, but also to hopefully reduce you know all the pollution," she continued before encouraging people to purchase water filtration systems. And while she certainly makes a good point, the internet was quick to call out the reality star for her massive balloon displays and her tendency to fly private, both of which are terrible for the environment.
"Is Khloé going to stop traveling by private jets since she wants to act so concerned about the environment??" one Twitter user asked. "Private jet passengers account for 10 times as many greenhouse gas emissions as a commercial traveler & 150 times more than train travelers." Twitter user @scorpiomoonvibe echoed that sentiment, slamming the reality star for being concerned about single-use plastics but not the "environmental impact of the excessive balloons and flowers" that she tends to show off on social media.
Later that day, Khloé took to Twitter to respond to the backlash. "It must be a slow news day," she wrote before addressing her efforts to be more green. "I am constantly learning and trying to be better for the environment for the sake of my daughter. I am the last one to say that I'm super environmentally conscious because I know how much more I have to learn. All I was simply saying is a pet peeve of MINE. I find it silly that people are pouring 4 to 5 single-use plastic bottles into a reusable container. It sort of defeats the purpose."
Kardashian went on to explain that while she understands that plastic is the only option for some people, she wanted to recommend a filtration system and provide her followers with a better alternative. "It's not about being perfect," she continued. "It's about learning and hopefully making small changes for our future." She also encouraged people to send her some environmentally friendly tips so that she, too, can make adjustments in her day-to-day life.
"I'm always down to learn and I'll see how that incorporates into my life," she added. "Hopefully we all do our part in our own ways. I'm proud of us all for doing our best and simply trying." Lastly, she tweeted that she probably won't be sharing her giant water bottle journey anymore. "I mean the drama over water," she wrote. "LOL I'll keep my jug of water to myself moving forward."