Lady Gaga Actually Acknowledged ARTPOP: Act II In A Rare Statement
Her producer also hinted that fans might hear those songs in the near future.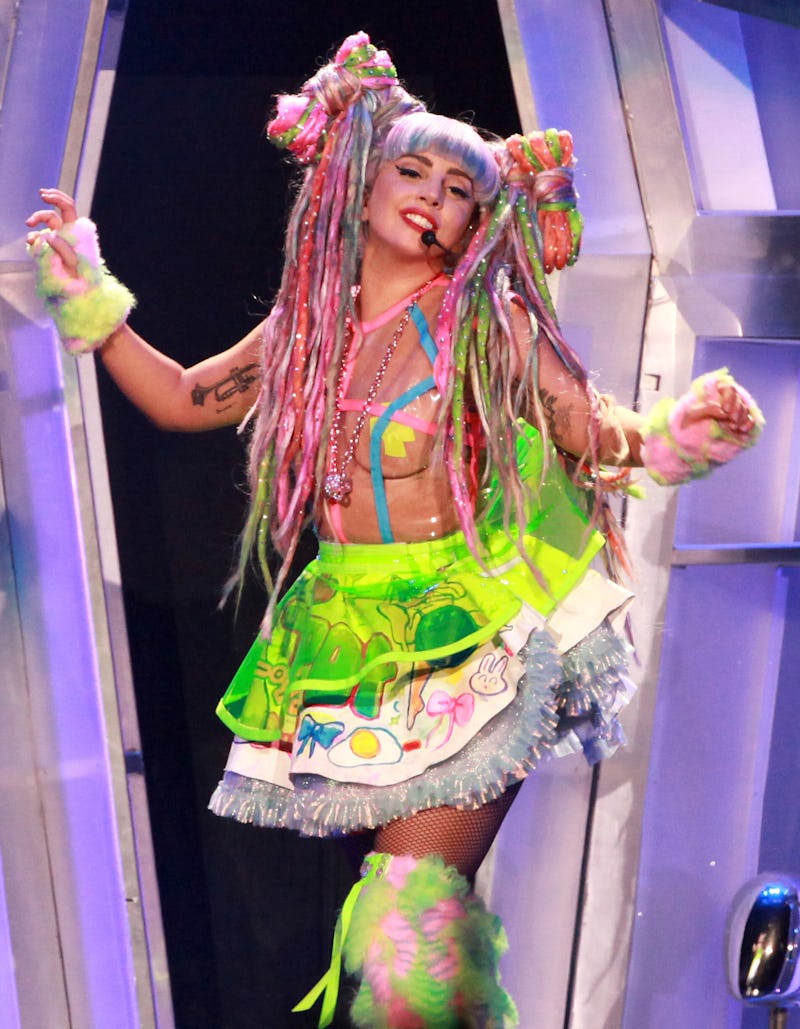 Barry Brecheisen/WireImage/Getty Images
Just like she said in 2013, Lady Gaga's ARTPOP truly could mean anything. On Tuesday, April 13, Lady Gaga honored ARTPOP on Twitter as fans petitioned for a sequel to the underrated 2013 album. ARTPOP debuted at No. 1 on the Billboard 200 and spawned a platinum hit in "Applause," but it divided opinion, with many critics seeing it as a misstep after her first three blockbuster albums. However, fans have kept its legacy alive, with deep cuts like "Aura," "Sexxx Dreams," and "Venus" becoming fan favorites that even Gaga has performed years later on stage at Coachella and her Las Vegas residency show Enigma. But clearly, fans want even more.
The campaign for a sequel kicked off on Easter, when a fan asked the album's main producer, DJ White Shadow, if he would ever release long-rumored ARTPOP B-sides. He said fans would have to petition Gaga for those tracks—so they did. The petition has now garnered more than 40,000 signatures and counting, getting the attention of Gaga herself. To show their support, fans set up a Twitter campaign to #BuyARTPOPoniTunes, which resulted in the album reaching No. 2 on the iTunes Albums chart (behind only Taylor Swift's new re-recording of Fearless).
The singer took to Twitter to express gratitude to her Little Monsters, saying the petition for a sequel "inspired such a tremendous warmth in my heart" and opening up about the painful process of creating ARTPOP. "Making this album was like heart surgery," she wrote. "I was desperate, in pain, and poured my heart into electronic music that slammed harder than any drug I could find. I fell apart after I released this album."
Shortly before the November 2013 release of ARTPOP, Gaga teased that she was working on a second set of tracks, dubbing it ARTPOP: Act II at the time. Of course, the sequel never materialized, with Gaga instead focusing on the ArtRave: The Artpop Ball tour and Cheek to Cheek, her first jazz album with Tony Bennett. However, fans have heard snippets of what could have been, with White Shadow slyly inserting snippets of rumored Act II songs like "Tea" into his sets.
Despite the outpouring of love, the singer didn't tease or confirm a second volume of ARTPOP, meaning her tweets may be a case of gently letting fans down. However, in an Instagram post, DJ White Shadow promised that he would talk to Gaga about releasing Act II songs after she's completed work on her upcoming film House of Gucci in Italy. "I talked to LG last night and she shared my incredible joy," he revealed. "We made a plan to get together after Italy and discuss your wishes. No promises made, but kindness and love are strong as steel."
Nonetheless, Gaga made it clear that she still loves the album — a far cry from 2019, when she said "I don't remember ARTPOP" on Twitter. "Thank you for celebrating something that once felt like destruction," she wrote. "We always believed it was ahead of its time. Years later turns out, sometimes, artists know. And so do little monsters. Paws up."