Everything To Know About Lance Bass' Longtime Assistant Lisa Delcampo
She's currently pretending to be him on The Circle.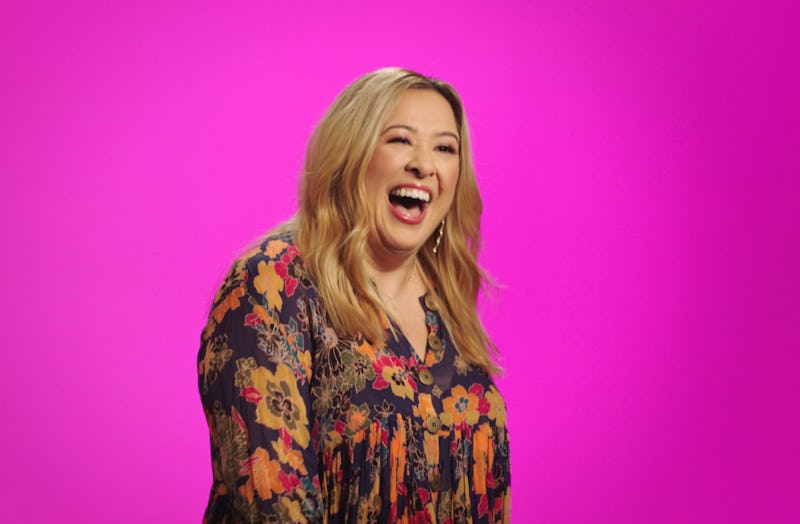 Netflix
The Circle Season 2 features a celebrity contestant — at least, as far as the other players know. In Episode 3, Lance Bass joins the game. Except it's not really Bass. It's his longtime personal assistant, Lisa Delcampo. "I know Lance Bass better than Lance Bass knows Lance Bass," she declares in the show.
Delcampo, 42, does seem to know a lot — like that Bass is really into space and even trained to be a cosmonaut. But she already rubbed the rest of the players the wrong way. When they asked why a famous person would need the show's $100,000 prize (Bass' net worth is estimated to be close to $22 million), she joked that he wanted to fund an *NSYNC tour.
Reflecting back on the experience, Delcampo told Billboard that it "was easier than I thought and harder than I thought at the same time. Being a guy and how guys would message and talk -- that's so different than what I would do. I use a lot of emojis, and Lance doesn't use a lot of emojis. That was the hardest part, keeping that in check."
But Bass had all the confidence in Delcampo (or as he calls her, "Giggles"). "We're both huge The Circle fans," he added to the outlet. "So when she had the opportunity to audition, I was like, 'You have to do this,' not knowing she was going to go in as me. I thought it was brilliant. If there's anyone who would be able to play as me, the only person that could do that is Lisa."
Indeed, Delcampo has been working for Bass for a long time: over 15 years, to be exact. According to her LinkedIn, she became Bass' assistant in 2005.
Prior to her gig with Bass, Delcampo was a senior publicist in Las Vegas for almost three years. While there, she coordinated press for corporate clients like the Hard Rock Hotel & Casino, Chippendales, Restaurants at the Wynn, and more. She also worked with celebrities, making dinner reservations, getting show tickets, and accompany them to clubs to ensure they'd get nothing but the best service when they were in town. From there, she transitioned into working for Bass full-time.
Delcampo joked on The Circle that her job mostly requires her to take Bass' dogs, Chip and Dale, to the groomer, but she's actually responsible for a lot more. According to her website bio, she coordinates his movie and hosting gigs, helped out during his run on Broadway and Season 7 stint on Dancing with the Stars, and even associate-produced Bass' 2012 documentary series Mississippi I Am. She's also appeared on his podcast, The Lance Bass Show.
As for whether that experience will be enough to clear her path to victory, we'll have to wait and see. But Bass is just as curious as the rest of us to see how things played out. "I'm excited to watch because I don't even know if she's won or how far she has gotten," Lance told Billboard. "I'll be surprised just as much as everybody else."