Let Spotify Help You Find Your Perfect Match
Whatever you're into, there's a podcast for that.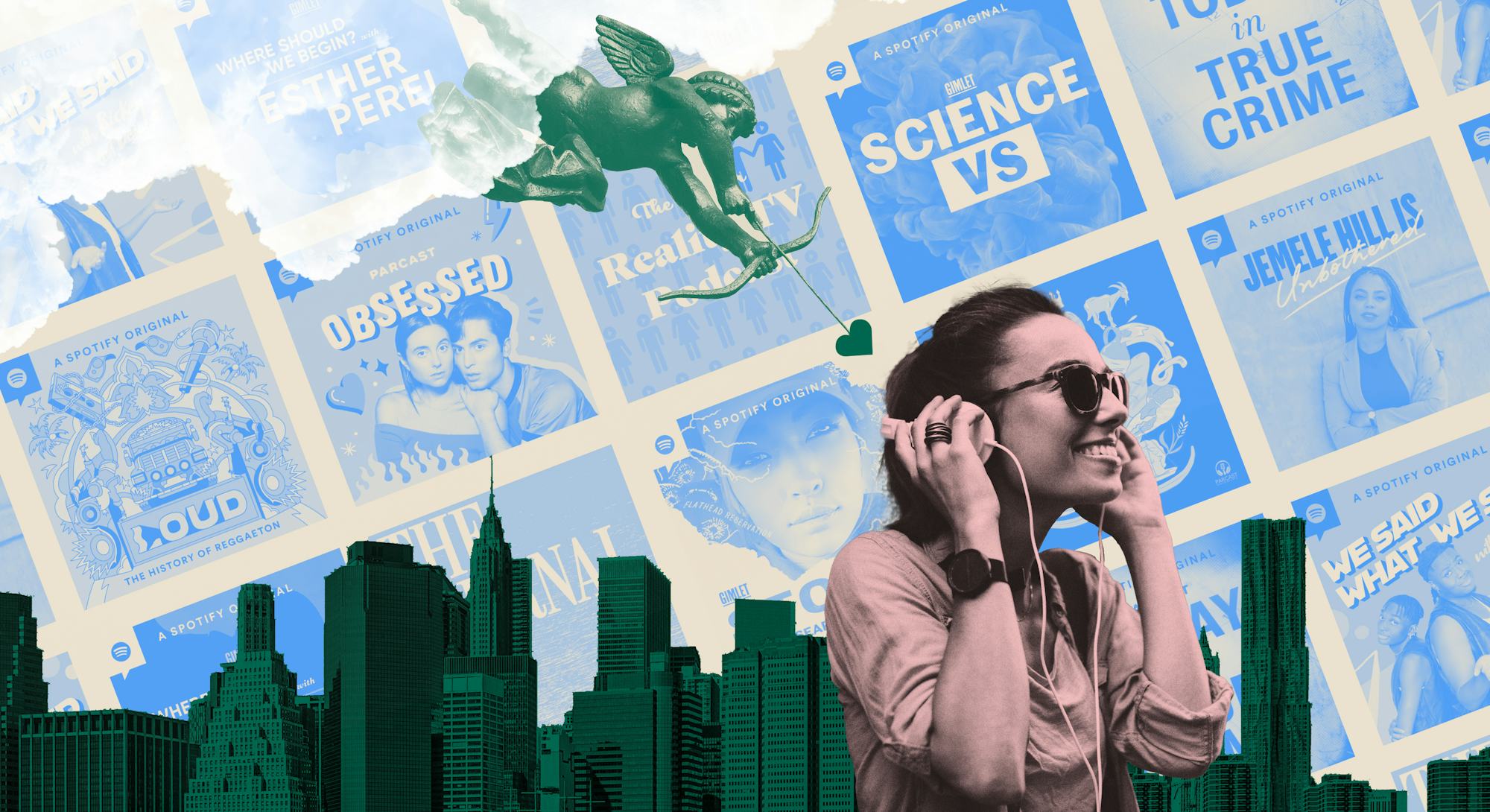 Few mediums are more intimate than the podcast. They're the voices in our ears, accompanying us as we take road trips, wash dishes, or tune out people yelling on New York City sidewalks (a coping mechanism from yours truly).
Finding the right podcast to suit my mood and interests can be like using a dating app. You're swiping to find that perfect match, and when the stars align, that's amore! Take the road-trip podcast, for instance. Maybe you're looking for a true-crime thriller, something riveting to binge during a long drive. Or maybe you'd prefer something a bit more touching if it's a solo road trip and you need an outlet for a much-needed mid-interstate cry.
Even with a zillion podcasts out there, it can be hard to find the one. That's where Spotify's new match-making quiz comes in. Like the most skilled matchmaker, Spotify will make sure your matches check all the right boxes. Emotional intelligence? Check. Someone who knows how to commit? Double check! And with over 2 million podcasts on-platform, Spotify is your one-stop-shop for all kinds of aural infotainment. Before you find out for yourself, here are some key factors to consider.
If you're looking to get lost in a story...
I'm a very mood-based podcast listener. Sometimes I need friends laughing in the background to make me feel like I'm not, um, a freelance writer deeply alone at home. Other times, I want to completely immerse myself in a story that will make me want to clean the whole house. Spotify's new quiz will help you determine if you should dive headfirst into "Stolen: The Search For Jermain," the story of an indigenous woman named Jermain Charlo who went missing in Montana – or if you're looking for something on the lighter side to dive into.
If you're looking for guidance…
One of my many podcast moods is "Help!" I don't know where I'd be without the five-plus advice columns and podcasts I consume each week. If you're searching for some answers, this quiz will help you suss out which shows will serve as a therapy session versus those which function more as a cherished chat with a really smart, cool, funny friend that always course-corrects whatever's ailing you.
If you're looking to learn...
Toward the beginning of the pandemic, I signed up to remotely audit a college class. Who did I think I was? Turning in homework? I was more likely to bake bread. Post-collegiate learning is best served sans assignments and with a heaping dose of entertainment. If you're looking to learn something new — even just for dinner party conversation purposes — let's find your new favorite teacher. Soon, you'll be able to not only sit through your boyfriend's friend going on about Bitcoin, you'll casually inform the table that El Salvador just became the first nation to adopt it as a national currency.
If you're looking for something short and sweet...
Another key matchmaking factor is time. Sometimes you need a show that takes you through a drive to the store or cleaning the bathroom aka something short and sweet. Spotify's quiz will guide you to the podcast that will entertain and inform you in quick, digestible bites. I also prefer shorter episodes for mornings when I need friendly voices to wake me up but not necessarily take up too much time before work.
If you're looking for fellow pop-culture obsessives...
Are your conversations peppered with names of Bravo stars? Or do you enjoy discovering the little-known histories of today's icons, hearing stories that set the record straight on rumors and dive deep into origin stories? This quiz will help you find what you're looking for, whether the vibe is a bathroom gossip session or a wildly entertaining oral history that you won't find in the tabloids.