Lil Nas X's Nicki Minaj Halloween Costume Had Heartbeats Runnin' Away
The rapper even recreated the "Super Bass" motorcycle ice sculpture moment.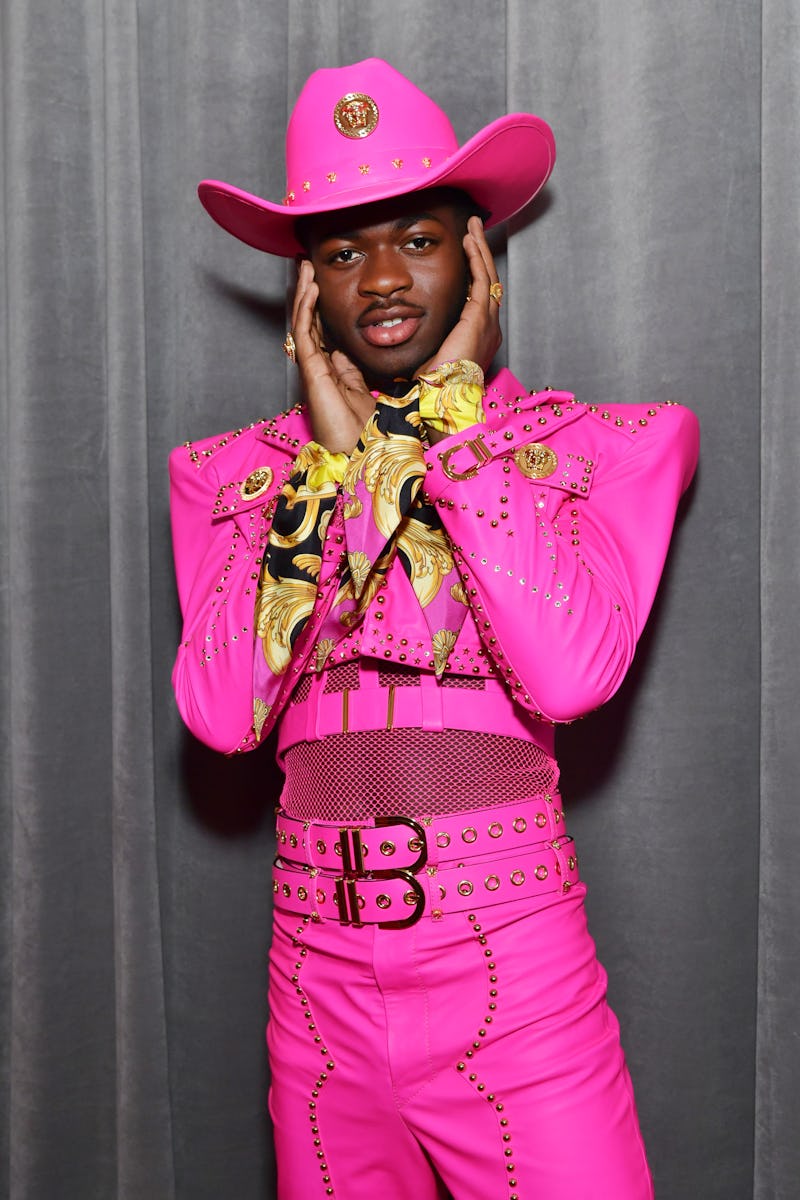 Emma McIntyre/Getty Images Entertainment/Getty Images
This one is for the boys with the boomin' system. Lil Nas X dressed up as Nicki Minaj for Halloween, paying homage to her 2011 "Super Bass" music video. "NAS MARAJ !!!" the "Old Town Road" rapper — wearing a pink animal-print jumpsuit, two-tone wig, and neon pumps — captioned photos of his recreation of the scene in which Minaj rides a motorcycle ice sculpture. (Her real name is Onika Maraj.)
"NO YOU DID NOTTT," his "Panini" video co-star Skai Jackson commented on Instagram, adding a crying face emoji. Iggy Azalea also proclaimed Lil Nas had "[won] Halloween 2020 !" One celeb who didn't seem to be a fan, however: 50 Cent. First, the "In da Club" rapper tweeted "what the [f*ck], Nikki come get him !!! Lol." Then, Lil Nas responded to 50 Cent in a since-deleted tweet that read, "why u in barb business?" referencing Minaj's Barbie alter ego and fan army nickname. So far, Minaj hasn't publicly reacted to either of them.
As his followers already know, Lil Nas is longtime Minaj fan — though the openly gay Grammy winner has said there was a time he was afraid to admit it. After proposing they collaborate on a song in a June tweet, one user asked why he'd previously hidden his love for Minaj — and had falsely denied running the NasMaraj stan account. "I didn't want people to know I was gay tbh," he tweeted in response, adding a separate response that "the rap/music industry ain't exactly built or accepting of gay men yet."
Lil Nas apologized to Minaj in a Tweet that did catch her attention. "It was a bit of a sting when you denied being a barb, but I understand," she tweeted in June. "Congratulations on building up your confidence to speak your truth." His response: "the generous queen, i love u. and i'm sorry i did that in a time where u were already getting so much bandwagon hate. i felt so bad, hoping u wouldn't see my denial. i was just so afraid of people finding out about me and losing everything before i even got a chance."
If imitation is the highest form of flattery, however, Lil Nas' ode to Minaj may have finally redeemed him. We'll just have to wait to see what she has to say about it.