Lil Nas X Said SNL Was "Going To Hell" After Recreating His "Montero" Lap Dance
Wait until the rapper's critics see Chris Redd's SNL impression.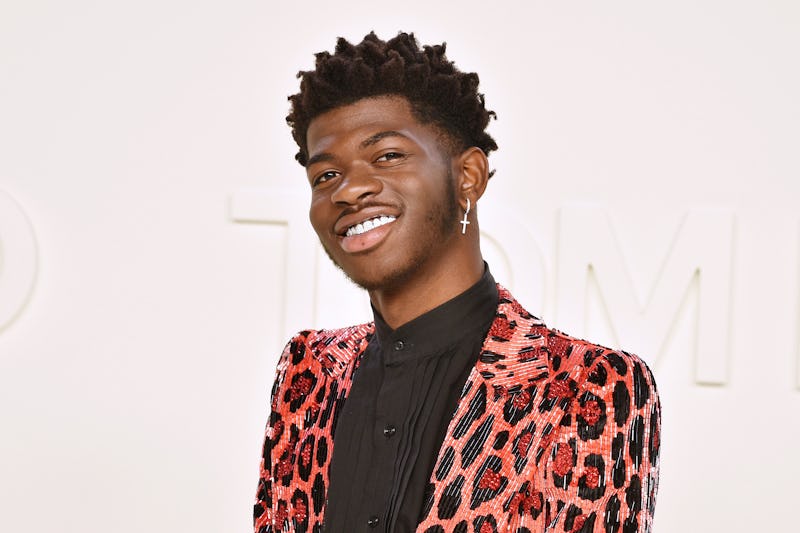 David Crotty/Patrick McMullan/Getty Images
The writers of Saturday Night Live may be following Lil Nas X on that stripper pole down to hell. Lil Nas X responded to SNL's parody of his "Montero (Call Me By Your Name)" music video, where he descends to hell on a stripper pole and gives a now-infamous lap dance to the devil before promptly killing him. Needless to say, he took the jokes in stride.
The April 3 episode of SNL opened with a new edition of their "Oops, You Did It Again" sketch, hosted by Chloe Fineman as Britney Spears, who brings out controversial guests and decides whether they're clear or "not that innocent," as the iconic song goes. Her first guest was Lil Nas X, played by Chris Redd, who was questioned about his "Montero" video and the accompanying Nike Satan shoes, which contain a drop of human blood and caused Nike to file a lawsuit against MSCHF, the company that designed them. "I really don't know why Nike's so mad," he remarked in the sketch. "Their whole thing is, 'Just do it.' Well, I did it."
Many conservatives spoke out against Lil Nas X's video, but SNL's parody may cause even more outcry. After Fineman's Spears asked if he would give God a lap dance to "even things out," he obliged, twerking for a fake God. "Happy Easter, everyone," Spears quipped. After seeing the sketch, the real Lil Nas X took to Twitter and shared a photo of the new lap dance, clearly concerned about the show. "Snl going to hell," he captioned the post.
Of course, Lil Nas X wasn't the only person who had to answer to Spears. Her next guest was Kate McKinnon dressed as Pepe Le Pew, the Looney Toons cartoon skunk from Space Jam who won't be in Space Jam: A New Legacy due to concerns that the character "added to rape culture." However, McKinnon's Pepe Le Pew claimed that she was supposed to make an appearance in the highly anticipated sequel, joking that "any good basketball film needs a horny skunk."
Last but certainly not least, Pete Davidson appeared as Florida Congressman Matt Gaetz, who is under investigation by the Department of Justice over sex trafficking allegations. Spears joked that the situation was "so bizarre" and "so incredibly Florida" that she needed to clarify things. And when Gaetz defended himself, she still had doubts thanks to her roots. "I don't know, Matt, I think I can spot a teen predator when I see one," she said. "After all, I was on Mickey Mouse Club." To no one's surprise, Lil Nas X was the only one that wasn't deemed "not that innocent."