Lil Nas X Shut Down "Montero (Call Me By Your Name)" Critics On Twitter
"I hope you are mad, stay mad, feel the same anger you teach us to have towards ourselves."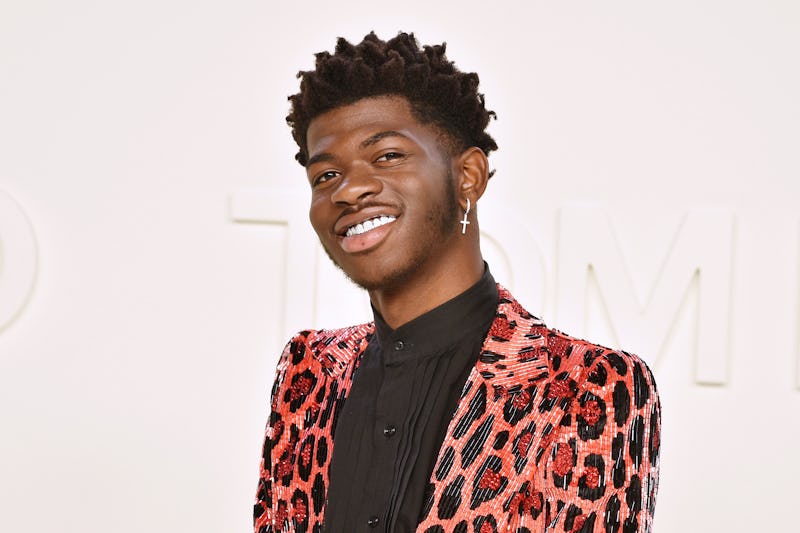 David Crotty/Patrick McMullan/Getty Images
While the music video quickly began trending on both YouTube and Twitter and was applauded for breaking boundaries for queer artists, not everyone online was thrilled. Facing a slew of negative comments, Lil Nas X shut down "Montero (Call Me by Your Name)" critics in a Saturday, March 27 tweet, telling conservative commentators that were angry at him for embracing his sexuality to "stay mad." He went on to explain how religion and being gay impacted his teen years and made it clear no one was going to shame him now.
"i spent my entire teenage years hating myself because of the sh*t y'all preached would happen to me because i was gay," he wrote. "so i hope u are mad, stay mad, feel the same anger you teach us to have towards ourselves."
The "Montero (Call Me by Your Name)" music video features a CGI fantasy world and begins with the singer in an imaginary Garden of Eden. There, he is tempted into a kiss with a half-serpent, half-man. That leads to the singer being put on trial in an arena full of furious spectators, and when one hits him on the head, he enters the afterlife. At first, the skies open up and it seems like the rapper might be nearing the pearly gates; however, he instead takes an epic stripper pole to hell, where he meets the devil, gives him a lap dance, and ultimately takes Satan's horns for himself.
Though the music video went instantly viral, many conservative commentators weren't happy with Lil Nas X's satanic tryst, prompting the "Old Town Road" singer to quickly respond to the backlash. In addition to his tweet encouraging them to "stay mad," Lil Nas X responded directly to a Twitter user who claimed, "The system is targeting kids," with a quote-tweet. "i am an adult," he wrote. "i am not gonna spend my entire career trying to cater to your children. that is your job."
The singer also posted several responses from fans defending him on Twitter, including one that read, "Why y'all mad at lil nas he literally killed satan we should be thankful." Another follower got a retweet after writing that the music video "portrayed the fact that he isn't bothered with the idea of going to hell if it means that he gets to accept who he is and his sexuality."
Lil Nas X, whose real name is Montero Lamar Hill, penned an emotional letter to his younger self that he shared on Twitter to coincide with the music video's debut. "Dear 14-year-old Montero, I wrote a song with our name in it," he wrote in the note. "I know we promised to never be 'that' type of gay person, I know we promised to die with the secret, but this will open doors for many other queer people to simply exist."