Lizzo Was Gagged By Her 33rd Birthday Surprise: Drag Race Winner Symone IRL
Kylie Minogue also got a gift from Naomi Smalls in the form of a lip-sync set to one of her songs.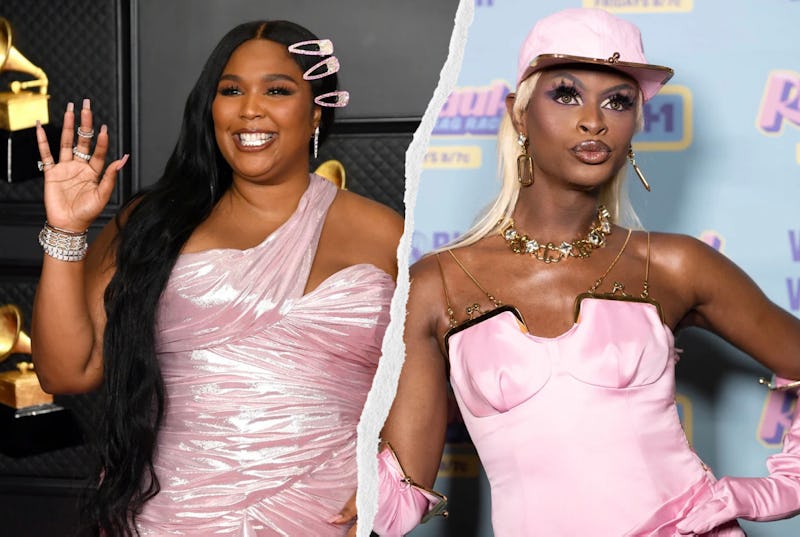 Kevin Mazur/ Emma McIntyre/Getty Images
After taking home the Season 13 crown on RuPaul's Drag Race last week, Symone sashayed away ... to Lizzo's Las Vegas birthday bash. RuPaul's Drag Race winner Symone surprised Lizzo for her 33rd birthday on Tuesday, April 27. Needless to say, she was completely and utterly gagged.
As seen in videos posted on Lizzo and Symone's Instagram stories, the "Truth Hurts" singer was told to stand as RuPaul's "Supermodel (You Better Work)" boomed on the speakers, teasing a huge surprise. When Symone made her grand entrance and strutted down the hallway, Lizzo totally lost it, later joining the newest Drag Race winner for an impromptu photoshoot and a hug. "Happy birthday @lizzobeeating!!" Symone wrote on Instagram. "Thank you for having me! Love you diva!"
Symone was a fitting birthday gift for Lizzo given how much she's proven to be a huge fan. She even rocked the queen's merch on her Instagram Story in March, which truly flattered Symone. "It's kind of surreal, because it's like, you always hear the stories of the other queens getting fans, but at least for me, I was like, 'Oh, these girls see me?! They're repping me?! They know the Ebony Enchantress, darling!'" she told Entertainment Tonight on April 21. "I'm always just humbled by it." They also have a connection in their mutual stylist Marko Monroe.
Lizzo wasn't the only pop star that was gooped and gagged by a Drag Race legend this week. Naomi Smalls, the runner-up of Drag Race Season 8 and All Stars 4 competitor, performed a glittering routine set to Kylie Minogue's euphoric "Dance Floor Darling," from her 2020 album Disco, at a recent drag show. The iconic singer was stunned. "Who is YOUR #DanceFloorDarling?" she wrote on Twitter, sharing a video of the number. "Thanks @naomismallsduh for this. The whole routine was [fire emoji]."
Both ladies have huge connections to the show as well. Lizzo served as a guest judge on Drag Race back in 2018, where the contestants lip-synced to her hit "Good As Hell" years before it even became a smash. Just a year later, she had many queens, including Detox and Asia O'Hara, join her for a special music video for "Juice."
Meanwhile, Minogue is set to make her Drag Race debut by appearing as a guest judge on the first ever season of Drag Race Down Under, representing her home country of Australia. "It's such an iconic show and I can't wait to watch the contestants perform their hearts out to win the title of Down Under's first Drag Superstar!" she said in a statement. It's likely that Minogue can't get these performances out of her head.
READ NEXT: 15 'RuPaul's Drag Race Queens' Who Must Return For All Stars