Lizzo Accidentally Slid Into Chris Evans' DMs & His Reply Shocked Her
Somebody come get this man, he just got lost in Lizzo's DMs.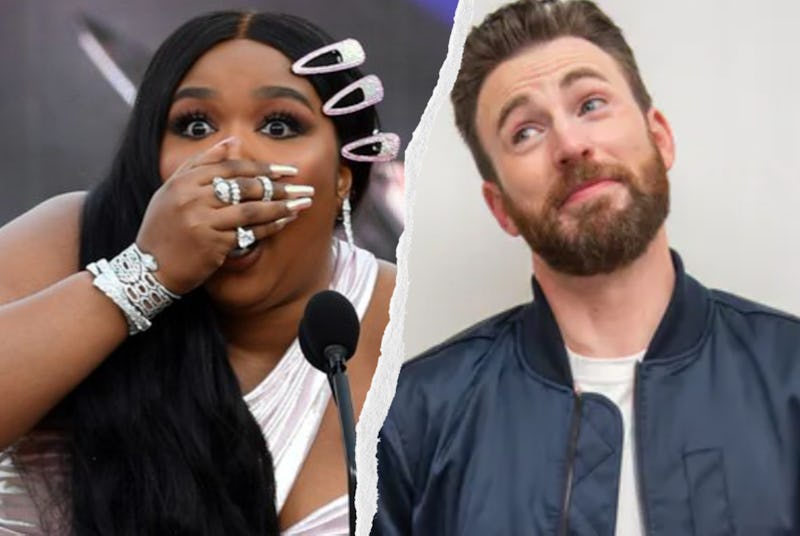 Kevin Mazur/Vera Anderson/Getty Images
Getting tipsy took a turn when Lizzo drunkenly slid into Chris Evans' DMs. She shared as much on TikTok on Saturday, April 17, revealing that she'd sent the Avengers: Endgame star a string of emojis, including a dashing away, a woman playing handball, and a basketball. In a follow-up TikTok, the Hustlers actor, who has long been candid about her love for Evans, showed that he eventually responded to her DM, sending her into full-on fangirl mode.
In the video, Lizzo lip-synced to audio by TikTok star Tatayanna Mitchell, superimposed in front of the DM window to Evans. "The reason I'm upset about this one is because I know I'm not gonna be able to marry him, and honestly, it hurts me to the core," the singer mouthed to the original audio. "Because damn papa, he a rare breed, no comparing. Like, Chris."
The "Truth Hurts" singer wrote in the caption: "Don't drink and DM, kids.... for legal porpoises this is a joke." However, it evidently paid off this time. In a follow-up video, Lizzo put her hand on her forehead and slid down, revealing that Evans responded to her and now follows her on Instagram. "No shame in a drunk DM 😘," he wrote back. "god knows I've done worse on this app lol 🤦🏻‍♂️" She showed herself screaming and shaking from happiness, as one does when Captain America talks to you, and captioned the TikTok with just one word: "BITCH."
Before the Marvel star responded to the message, Lizzo's followers were rooting for her to shoot her shot. "Lizzo drunk DMing Chris Evans is the highlight of this year," one fan commented. Another wrote, "Wait you and Chris would be a power couple! I love it!" Many followers also noted that the post was relatable, with one user writing, "She's one of us," and another saying, "ME TOO."
Lizzo's TikTok isn't the first time the rapper has interacted with Evans online. In 2019, Lizzo tweeted a video of a young fan dancing to "Juice," writing, "Rare footage of me as a child." Evans retweeted the video, writing, "This kid is cooler than I could ever hope to be." Lizzo was clearly star-struck by the exchange, because she wrote back to Evans, "Wow marry me." Meanwhile, Evans has made it more than clear he's a fan of the Grammy winner's music, participating in a dramatic reading of "Truth Hurts" back in January 2020.
As for her other social media antics, the singer has further experience with drinking and DMing. In April 2019, Lizzo revealed she slid into Drake's DMs while tipsy during an appearance on Busy Tonight. "It was bold," she told host Busy Philipps. "I was drunk and I was just like, 'Let's just see if this motherf*cker can sing.' And I sent him a DM. This was a while ago." Lizzo noted that while Drake never returned her private message, the "God's Plan" rapper did follow her back on social media.