Everything To Know About Love Is Blind Season 4
The release date is right around the corner.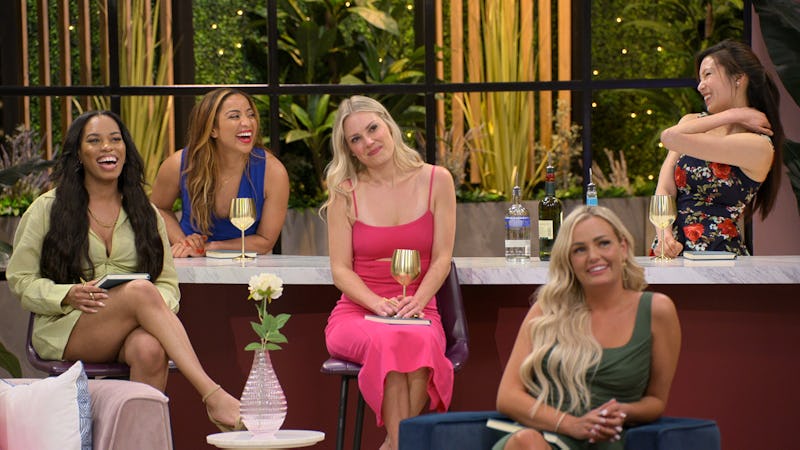 Netflix
Another rollercoaster Love Is Blind season has come and gone, but the pods won't be empty for long. To cap off the Season 3 reunion, co-host Vanessa Lachey told viewers she'd see them again for Love Is Blind Season 4. Though not exactly new information, it was a welcome reminder since Netflix announced Seasons 4 and 5 back in March 2022.
The next installment will be here soon, too. In an October interview with Women's Health, co-host Nick Lachey revealed that both future seasons have already been filmed, teasing that fans should expect the unexpected.
"We've filmed five seasons," he told the magazine. "Every single one has been so different from the others, so that's what makes it interesting, what makes it intriguing for us allows us to approach every single season with a fresh attitude and fresh perspective."
Not everything is a mystery, though. On Feb. 21, Netflix released the first details about the latest installment — and in early March, shared the cast and a first look at the season. Here's everything we know about Love Is Blind Season 4 so far.
Love Is Blind Season 4 Cast
"We certainly have no control nor does anyone else in terms of who connects with who and which of those relationships move on to the next level," Nick explained to Women's Health. "Speaking as someone who's there from day one, and sees all the people that are there from day one, I do think that they've done a good job of trying to cast diversely and will continue to. You'll see that in Season 3 and 4 and 5."
On March 7, Netflix released the Love Is Blind Season 4 cast.
Here's the full lineup of women:
Amber, 34, a flight attendant
April, 29, a sales and marketing coordinator
Ava, 32, a communications specialist
Bliss, 33, a senior program manager
Brandie, 39, a real estate broker
Chelsea, 31, a pediatric speech language pathologist
Irina, 26, a business owner
Jackelina, 27, a certified dental assistant
Kacia, 31, a family support specialist
Kendra, 33, a social worker
Micah, 27, a marketing manager
Molly, 32, a marriage and family therapist
Monica, 31, an elementary school teacher
Tiffany, 37, a client lead recruiter
Wendi, 28, an aerospace engineer
And the men:
Bill, 33, a real estate investor
Brett, 36, a design director
Chris, 32, a technical recruiter
Conner, 28, an operations manager
Jack, 30, a software sales professional
Jimmy, 29, a technical product manager
Josh, 31, a project engineer
JP, 30, a plant operations director
Juan, 30, a mortgage loan officer
Kwame, 33, a sales development manager
Marshall, 27, a marketing manager
Paul, 29, an environmental scientist
Quincy, 36, a gym owner and fitness coach
Ryland, 29, a commercial insurance and real estate investor
Zack, 31, a criminal defense attorney
Love Is Blind Season 4 Location
So far, Love Is Blind has filmed in Atlanta, Chicago, and Dallas. "The people from those places are so different that it makes the seasons really differentiate themselves from each other," Nick said. In May 2022, a local blog reported that Love Is Blind producers were working on a new season in Seattle, noting frequent cast and crew sightings at Capitol Hill venues, including a self-pour wine and beer cafe. And indeed, Netflix just confirmed Season 4 would take place in the Emerald City.
Love Is Blind Season 4 Premiere Date
Love Is Blind seems to be in a pattern of airing two seasons a year, with Season 2 and Season 3 debuting last February and October, respectively. The Love Is Blind Season 4 premiere date is sticking pretty close to schedule: Netflix announced that the show will return on March 24 with the first five episodes. (As usual, the remaining episodes will air in batches on the next three Fridays.)
Love Is Blind Season 4 Trailer
Along with the premiere date, Netflix dropped the first teaser for Love Is Blind Season 4 on Feb. 21.
Then, on March 8, Netflix dropped the full trailer — and already, a contestant admits he "made the wrong choice," while others face wedding twists and sex talks.
This post will be updated as more Love Is Blind Season 4 details become available.
This article was originally published on