What Is Magic Johnson's Net Worth? The NBA Veteran Is A Brilliant Businessman
The subject of HBO Max's Winning Time and Apple TV+'s They Call Me Magic invests a lot of money.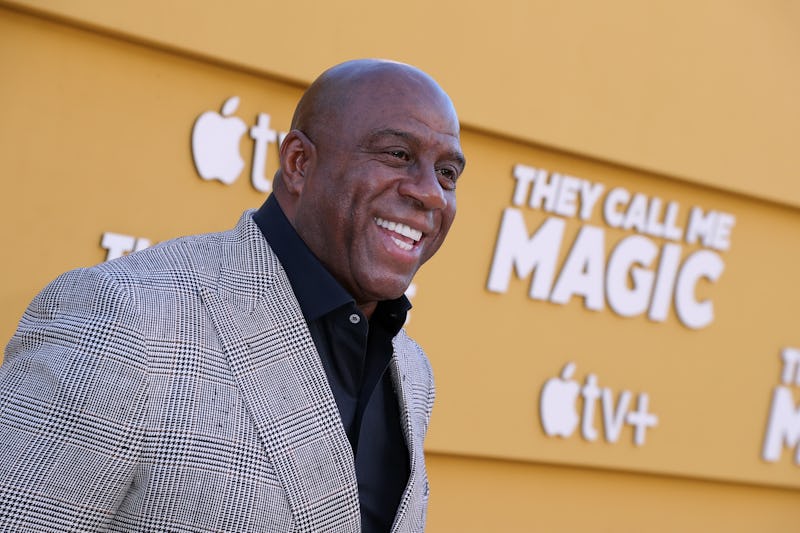 Leon Bennett/Getty Images Entertainment
Magic Johnson has already earned his spot in the history books as one of the best basketball players of all time. He's won championships and Olympic medals, made millions on the court, and he even changed how the world views HIV by sharing his own positive diagnosis. In the decades since he stopped playing basketball professionally, Johnson has proven himself to be an astute entrepreneur, and his net worth has grown by leaps and bounds when he refocused his energy as a businessman who wants to reinvigorate urban neighborhoods.
Now, millions are learning about Johnson and his backstory via two new series that spotlight who he is as a man and an athlete. HBO Max's Winning Time: The Rise of the Lakers Dynasty tells the story of his first NBA team and their rise to new heights, while Apple TV+'s They Call Me Magic is a new docuseries about his life and career.
Read on to learn how much Johnson is worth and how many businesses he owns or invests in.
4 Ways Magic Johnson Made His Millions
1. Basketball
In 1979, Johnson was the first player picked in the first round of the draft, so he began his career as a closely watched player. He went on to help the team to an NBA championship the first year he was a member of the group, and that turned out to be just the beginning of his success on the court. He signed to the team for $25 million for 25 years, and at the time, that stood as both the largest sum paid to a player and the longest contract ever in the game.
Spotrac pegs Johnson's first-year salary with the Lakers at $460,000, which Winning Time: The Rise of the Lakers Dynasty points out was one of the most impressive sums ever paid to a rookie, at least at the time. The outlet reports that throughout the years Johnson was attached to the team, he may have earned as much as $39 million.
Throughout his time as a Laker, the team would win five championships. Even after he retired suddenly from the game, he returned to play for the United States in the Olympics, and he and his fellow athletes from Team USA went on to win the gold medal.
After Lakers assistant coach Randy Pfund was fired, Johnson stepped in to coach for the 1993-1994 season, just one year after he'd stepped away as a player. In 2017, he was named president of basketball operations for the team, but he backed down from the position two years later. What he earned for those roles isn't clear.
In June 1994, Johnson became a part-owner of the Lakers when he spent a reported $10 million to purchase what was estimated to be a 4.5% share of the team. He later sold that stake in 2010, potentially for as much as $30 million, according to Los Angeles Business Journal.
2. Endorsements
Starting in the beginning of his career, Johnson leveraged his fame, talent, and likability to partner with brands and increase his earnings. Throughout his years as a basketball star (and even afterward), he appeared in ads and commercials for companies like 7UP, KFC, Lincoln cars, McDonald's, Quality Dairy, Slice soda, and even the NBA's own line of merchandise. He spent 13 years as a spokesperson for Converse, and he was reportedly paid $2 million a year for his association, though by the end he was apparently unhappy with the deal.
Johnson was once offered a deal with Nike very early on in the company's life, but since the company wanted to pay him in stock instead of cash, he turned it down. He has been very vocal about how he regrets that decision, as some outlets suggest that he could have earned billions from that contract, had he accepted the terms.
3. Entertainment
Just one year after he retired from basketball, Johnson signed a deal with Fox to produce films. A year later in 1998, he launched his own late-night talk show on Fox called The Magic Hour, though it only lasted one season, as the ratings were reportedly low. Even his comedian sidekick on the program called it "an absolute nightmare."
For seven years, Johnson worked as an on-screen commentator for NBA games, signing a deal with ESPN and ABC in 2008. The former athlete has also spent years as a motivational speaker and someone who can be hired to headline private events hosted by companies, which usually feature famous figures giving speeches. Johnson even narrated a book in the mid-'90s called What You Can Do to Avoid AIDS, and his work on the audiobook earned him a Grammy.
4. Businesses
After making millions as a basketball player and as a celebrity endorser, Johnson jumped into the business world and became an entrepreneur following his athletic career. This is common for many stars in sports, but Johnson has outearned almost all other players, and the money he's made from his many, many ventures is much grander than what he took home for shooting hoops.
Below is a very quick look at the 40-plus companies Johnson has created or invested in throughout the decades, with almost all being connected to his namesake investing firm, Magic Johnson Enterprises.
What Is Magic Johnson's Net Worth?
From his salary as a basketball player to endorsements and on-camera opportunities to his many, many businesses and investments, Johnson has earned millions in many different ways, and he's still making huge sums of money to this day. At present, his net worth is estimated to be $620 million by Celebrity Net Worth.