Don't Write Maria Bakalova's Story Off As A Hollywood Fairytale
The Borat scene-stealer has spent her life studying to become a star.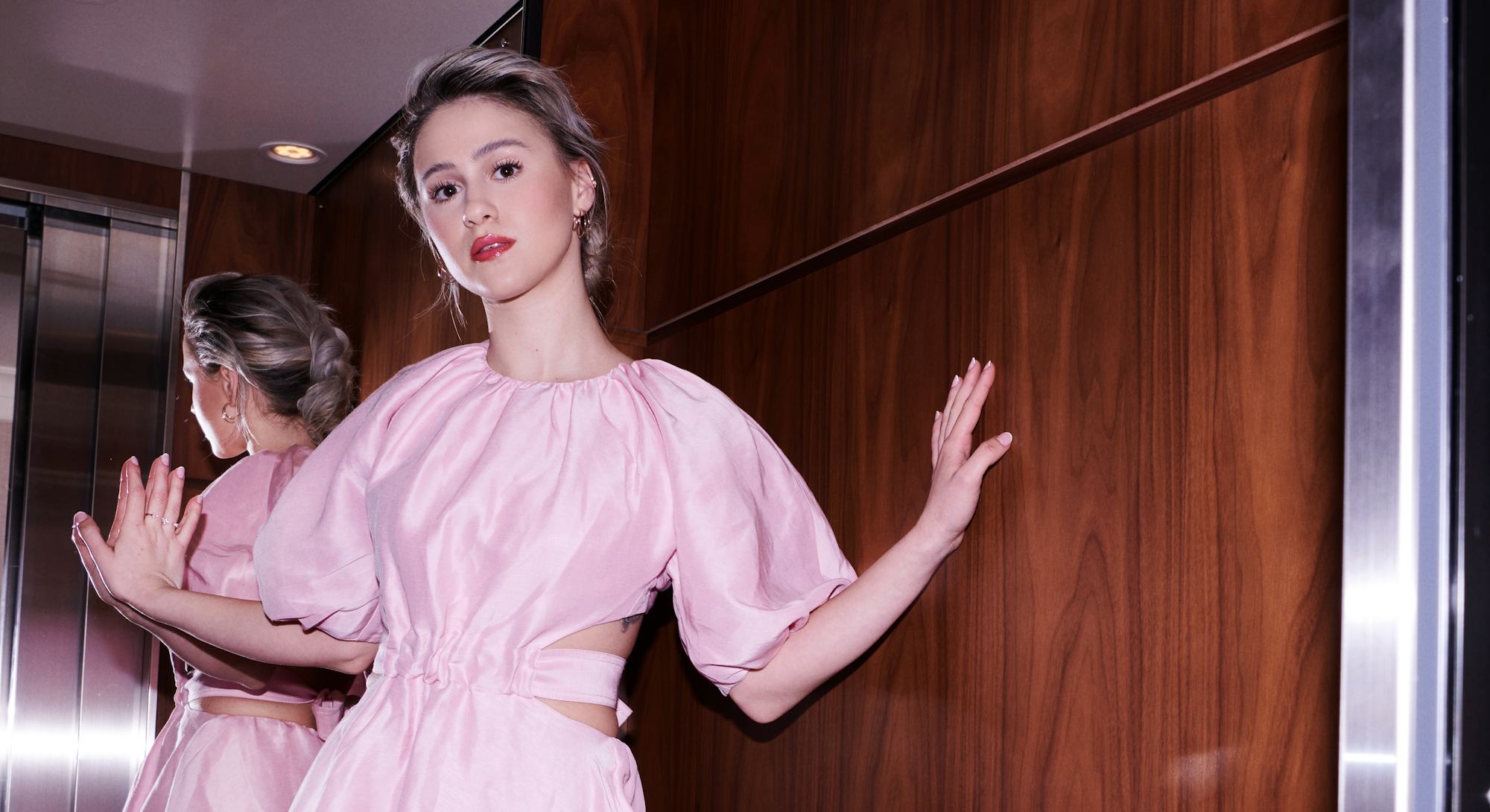 Before Sacha Baron Cohen became her Hollywood godfather, Maria Bakalova had a fantasy fairy godmother: Marilyn Monroe. As a teenager in Burgas, Bulgaria, she'd doodle various Monroe epitaphs and daydream about following in the oft-romanticized star's footsteps. "[I'd write out] her quote, 'I'm going to be a great movie star some day,'" Bakalova, 24, tells Bustle over Zoom from London. "I was even drawing a small human being with suitcases and all the [Hollywood] palm trees."
Bakalova's ascent has arguably been even more meteoric than Monroe's. The story of how she first learned of the open casting call for Borat on Facebook has been recounted in scores of interviews and media appearances since she she burst onto the scene in October 2020. Because the project was shrouded in secrecy — all the post said was, "we're searching for a lead actress for a big Hollywood movie" she recalls — she assumed that it was a scheme to sell women into sex trafficking. Still, she took the bait, drunkenly recording an audition in the wee hours after her Bulgarian University's version of prom. (Bakalova waved a cigarette around in one hand while holding a bottle of alcohol in the other throughout the entirety of the taping.) The story is a quintessential Hollywood fairytale: a young ingenue is plucked from obscurity, blissfully unaware of the preternatural talent she possesses. But this cookie-cutter narrative overlooks one major detail: Bakalova has spent her life studying to become a star.
Bakalova didn't grow up watching movies like Borat. Instead, her childhood was spent reading Dostoevsky. After years of flute and singing lessons forced her to take a few months of total vocal rest (she was hitting too many "really, really high notes" in the hopes of becoming a rockstar), literature became her preferred method of escapism. "I was a huge bookworm. I was obsessed with Gabriel García Márquez, [Jorge Luis] Borges' magical realism, and a lot of Russian literature," says Bakalova. Her first tattoo was a quote from Mikhail Bulgakov's The Master and Margarita. "I wanted to disappear from this reality and go somewhere else. The moon or [Márquez's fictional setting of] Macondo. That's how the acting came along." She immersed herself in European arthouse cinema with the same fervor that she'd devoured Russian lit. She took up Danish after discovering the Dutch filmmaking movement Dogme 95, watched filmmaker Lars von Trier's entire filmography, and became fluent in Mads Mikkelsen's career. "I'm just a nerd," she says.
Her studies paid off. Prior to Borat, the actor starred in 9 Bulgarian projects back to back. "[I played a] teenager with a mental illness, a teenager having an affair with her father, a teenager losing her sister in the woods, a teenager committing suicide," Bakalova says. "But not a single comedic performance." When she landed the role of Tutar, she once again took an academic approach to the work, delving deep into both the subtle and not-so-subtle nuances of Borat creator Sacha Baron Cohen's chaotic craft. "[Borat] is something that you need to do your homework for. Because [when you're filming] you don't have the chance to do a second take. It's either now or never," she explains in between hits of her omnipresent vape. On set she'd observe Baron Cohen's every move. "[I watched] the way that he was behaving, the way that he was staying in character as much as possible, and speaking as Borat [between takes]. Even when we're not rehearsing, how he was [staying] in the part."
The student ultimately upstaged the master. Not only did Bakalova earn an Oscar nomination for her performance — an honor Baron Cohen has never received for his acting work on Borat, though he's nominated in the best adapted screenplay category for the film — the New York Times heralded her as the film's true hero. Further proving the casting wasn't a fanciful fluke, Bakalova is currently in London filming Judd Apatow's The Bubble; next she'll star in A24's "secret slasher film" Bodies, Bodies, Bodies.
It's been a banner year for Bakalova, one in which she's had little time to process her many successes. (She found out about the Oscar nomination while shooting a scene with Pedro Pascal for The Bubble, and immediately filmed another take after hearing the news.) But that doesn't mean Bakalova is taking her Monroe-like mega fame for granted. For a long time Bakalova didn't dare believe she'd ever have an acting career in America, let alone one in which she'd be nominated for Hollywood's most prestigious award. "You have to dare to do something dangerous," she says with all the chutzpah of her cigarette-wielding audition tape. "You might start flying. Who knows?"
Photographer: Joseph Sinclair
Stylist: Jessica Paster
Make Up: James Molloy
Hair: Patrick Wilson