Matt LeBlanc Looked Like An "Irish Dad" On The Friends Reunion, According To Twitter
Ireland has now claimed him as their own thanks to the viral meme.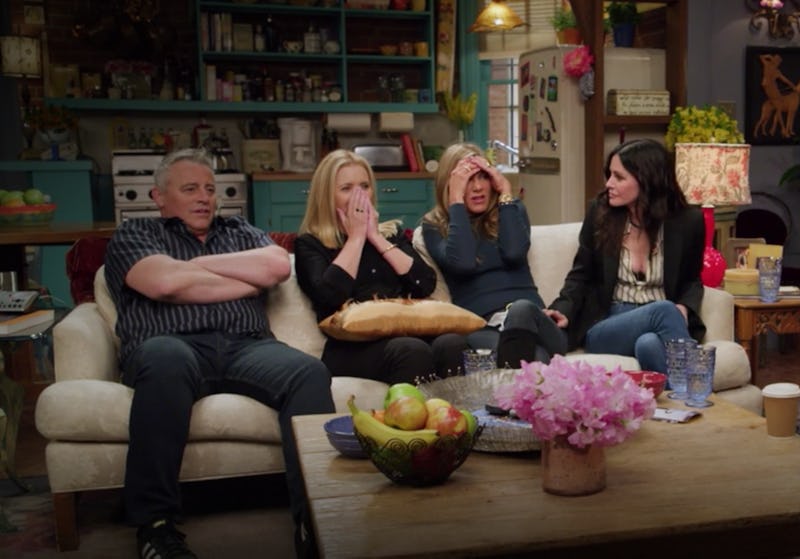 The Friends reunion featured many exciting things, including Lady Gaga singing "Smelly Cat," Jennifer Aniston and David Schwimmer admitting their crushes on each other, and the reemergence of Janice, for example. But somehow, Twitter can't stop focusing on Matt LeBlanc's crossed arms during the Friends reunion, turning his casual pose into an unexpected albeit hilarious meme.
While chatting with his castmates Courteney Cox, Lisa Kudrow, Matthew Perry, Schwimmer, and Aniston on the set of Rachel and Monica's iconic apartment, LeBlanc was often seen leaning back and crossing his arms, as many men would when catching up with old friends. Now, his chill pose has taken on a life of its own, with many viewers saying on Twitter that he looked like their Irish dad or uncle, and therefore running wild with memes. "Twitter was not at all kidding when they said that Matt LeBlanc was giving off some serious Irish dad/uncle energy during the #FriendsReunion," one viewer commented.
Ironically, it doesn't look like LeBlanc even has any Irish heritage. As reported by The Telegraph, his father is of French-Canadian descent, while his mother, Patricia, is of Italian ancestry, just like his Friends character, Joey Tribbiani. Still, that's not stopping Twitter from putting him in the most Irish situations, or the people of Ireland for embracing him as one of their own. Even Bridgerton star Nicola Coughlan is in agreement. "Matt LeBlanc is Irish, I don't want to see any other nation trying to claim him," she tweeted, "he's from Tullamore, he drinks milk with his dinner."
Twitter couldn't also help but use Photoshop to put LeBlanc into some other unexpected situations and historical artifacts, because it's what the internet does best.
LeBlanc has yet to comment on his new meme fame, but Twitter is already imagining what will happen when he finds out about it.
Some Irish people are going so far as to say this meme will unify the whole country. "I don't wish to be sensationalist but this Matt LeBlanc Twitter thing is the best thing to happen in Ireland since independence," one user joked. Needless to say, if LeBlanc ever needs to seek refuge, Ireland would welcome him with open arms and a pint.