Meghan Markle's Children's Book Features A Nod To Daughter Lili
The Bench is inspired by the relationship between Prince Harry & Archie but doesn't leave out the couple's newborn.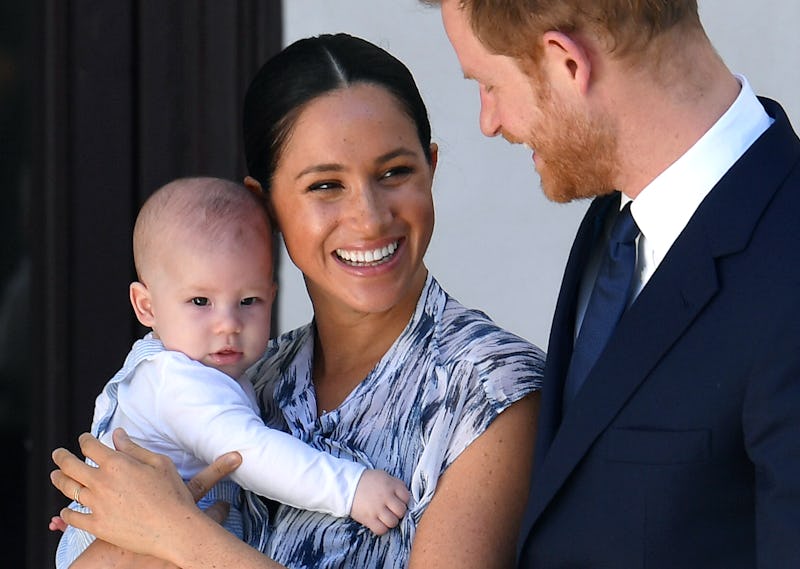 Getty
Meghan Markle's new children's book, The Bench, finally hit the shelves on June 8. The Bench, published by Penguin Random House, is all about the special bond between father and son, as seen through a mother's eyes, and is inspired by the relationship between Prince Harry and baby Archie, but still contains a nod to the couple's newborn daughter.
According to a press release sent to Bustle, "The Duchess of Sussex's debut touchingly captures the evolving and expanding relationship between fathers and sons and reminds us of the many ways that love can take shape and be expressed in a modern family." The book was announced earlier this year on May 4.
The Bench has been slow to rise bestseller's lists, but is now steadily climbing, As of Tuesday afternoon, it ranked at No.34. It is currently ranked at No.24, and is the top bestseller under the 'Early Learning in Children' category. With a total of 109 reviews so far, it has been rated a four out of a possible five stars.
Meghan has revealed that the idea for her upcoming book started out as a poem she wrote for Prince Harry on Father's Day, a month after Archie's birth.
Previews of the book show its illustrations, created by Caldecott-winning and best-selling artist Christian Robinson.
"Christian layered in beautiful and ethereal watercolour illustrations that capture the warmth, joy, and comfort of the relationship between fathers and sons from all walks of life; this representation was particularly important to me, and Christian and I worked closely to depict this special bond through an inclusive lens," said the Duchess. "My hope is that The Bench resonates with every family, no matter the makeup, as much as it does with mine."
Along with the book's cover, which depicts a bench up a tree, Penguin has release two interior pages. In one, a mother is looking out the window, crying, as a man throws his son in the air. The accompanying words read, "And here in the window / I'll have tears of great joy / Looking out at My Love / And our beautiful boy."
The other page shows a father reclining with his son on his lap. The words read: "And here you will rest / See the growth of our boy."
The couple's second child, Lilibet Diana, who was born on June 4, receives a little nod in the book as well — with a scene depicting a dark-haired woman cradling a baby while a ginger-haired man helps a young boy feed chickens.
Alongside writing the book in physical form, Meghan has also committed to narrating the audiobook edition. You'll be able to access it on Listening Library in the U.S. and Canada and by Penguin Random House UK Audio in the UK.
In the audio narration, Meghan reads, "This is your bench, where life will begin, for you and our son, our baby, our kin."
"Meghan's touching text explores the relationship between fathers and sons and undeniably tugs at the heartstrings that parents and caregivers feel," said Mallory Loehr, the EVP & Publisher for Random House Books for Young Readers Group in a statement, "Christian's art beautifully matches the tender emotion of Meghan's words, and every spread is infused with a vibrant sense of joy and love."
This article was originally published on