Meghan Markle & Prince Harry's Oprah Interview Doubled As A Gender & Due Date Reveal
The couple revealed that baby Archie will be joined by a baby...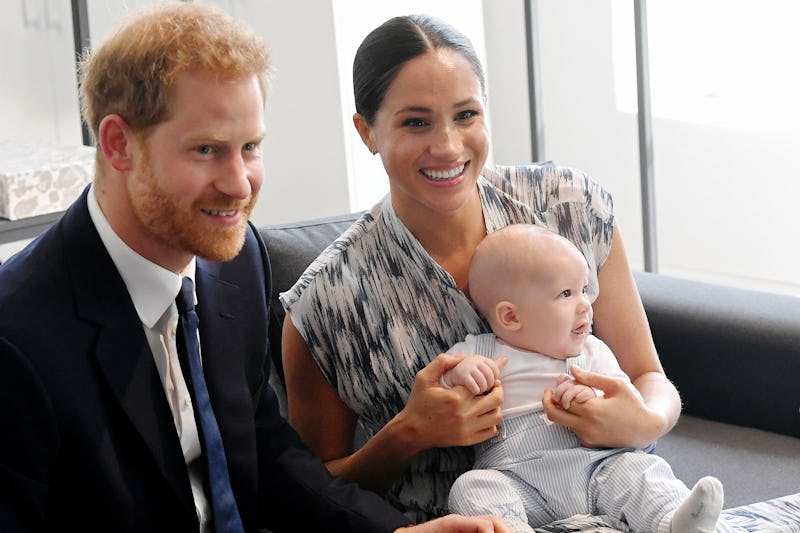 Pool/Getty Images Entertainment/Getty Images
When it came time to reveal whether their new baby would be a boy or girl, Meghan Markle and Prince Harry skipped colored icing and environmentally-destructive fireworks. Instead, Meghan and Harry revealed the gender of their second child to Oprah Winfrey during their bombshell CBS interview. At the start of her tell-all, the Duchess teased that she'd tell Oprah the sex of her second child when Prince Harry joined her.
After an emotional first hour in which Meghan detailed the hardships she went through while living in England and before she gave birth to Archie, Harry joined and immediately shared that they are expecting a baby girl. Meghan also revealed that the due date is sometime in the summer, but kept the specifics to herself. "To have a boy then a girl — what more can you ask for?" Harry said about the news, confirming that they are done expanding their family. "Two is it."
Prince Harry also went on to express his emotions about expecting a baby girl with Meghan. "Grateful, having any child, any one or a two would have been amazing, but to have a boy and then a girl ... now we've got our family, and we've got four of us," he told Oprah.
Already, royal watchers are showing their support for Meghan and Harry's growing family on Twitter.
Among the congratulatory tweets, some are also wondering if Meghan and Harry will name their daughter after his late mother, Princess Diana.
During the hour that Harry joined Meghan to speak with Oprah, he detailed that much of the reason they left England was because of the lack of support they received from the royal family and institution. In addition to them essentially being on their own to deal with the constant negative media attention and lies spread about them, Harry, understandably, had the memory of his mother's death in the back of his mind. Together, it makes sense why they would want to get some distance and move to America.
"This constant barrage, my biggest concern was history repeating itself; and I've said that before on numerous occasions very publicly," Harry said during the interview. "What I was seeing was history repeating itself, but more perhaps or definitely far more dangerous." Meghan added, "We never left the family, and we only wanted to have the same type of role that exists ... there are senior members of the family. We said specifically we're stepping back from senior roles."
She referenced other members of the royal family who make an income and live on palace grounds without performing senior duties. "We weren't reinventing the wheel here we were saying, 'Okay, this isn't working for everyone. We're in a lot of pain, they can't provide us with the help that we need. We can just take a step back," the Duchess explained. Harry concluded, "I was desperate. I went to all the places, which I thought I should go to for help. But we never left."