Melanie Lynskey Plays A "Ruthless Leader" In The Last Of Us
Kathleen heads up a "bit different" version of the Hunters from the video game.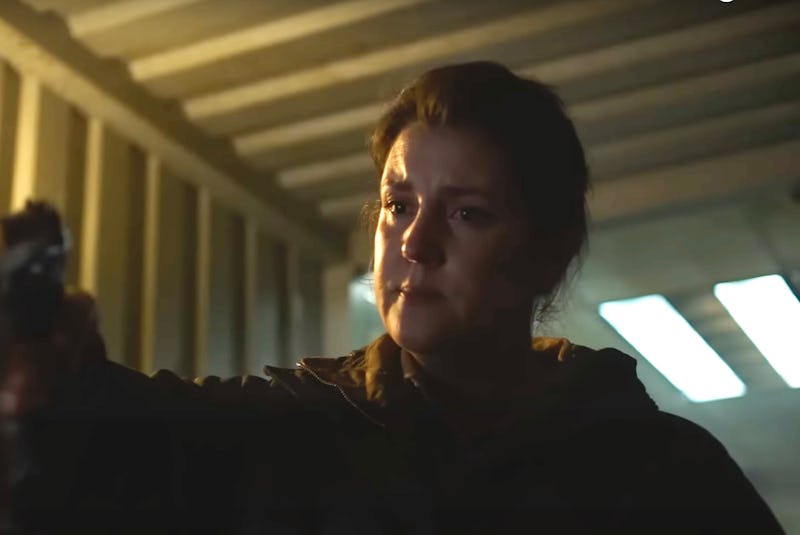 HBO/screenshot
While HBO's The Last of Us has already slightly deviated from the video game plot-wise, the post-apocalyptic series goes a step further by introducing Kathleen, an entirely new character played by Melanie Lynskey in Episode 4. The sneak preview gives only a glimpse of Kathleen, who's described as the "ruthless leader of a revolutionary movement" in Kansas City, but in that single clip, she still appears to be a badass, pointing a gun at someone's head asking, "Where is he?" Because Kathleen didn't appear in the Naughty Dog games, the "he" she is referring to remains about as much a mystery as the role itself, but there are still plenty of hints about what Lynskey's character might be up to in HBO's adaptation.
During a The Last of Us panel at Brazil's CCXP 2022 in December, series co-creator Craig Mazin revealed that "Melanie plays a leader of a group that in the game were known as the Hunters," though noting that "in the show, they're a bit different." In The Last of Us video game, the violent survivor group successfully revolted against FEDRA's military occupation of their local quarantine zone, and afterward became known for brutally murdering any "tourist" who enters their territory before stealing all of their belongings and supplies.
"Melanie is a very complicated character," Mazin continued. "She's a brilliant actor, and we needed somebody who could portray somebody that was doing terrible things, but then when you got to know her, you understood why and actually felt for her. One of the things that [Neil Druckmann] created with the game was this philosophy that no one's ever purely good, no one is ever purely evil; we have the capacity to do both. And Melanie Lynskey plays somebody that I think you're gonna hate and then you're gonna love."
In Druckmann's game, Joel and Ellie encounter the Hunters in Pittsburgh, not Kansas City, but the episode's trailer seems to indicate the plot will mirror the events that take place in Pennsylvania, where the duo meets brothers Henry and Sam. When HBO announced in August that they'd cast Lamar Johnson and Keivonn Woodard to play Henry and Sam, who appear in Episode 5, the network also confirmed that the brothers would be "hiding from a revolutionary movement seeking vengeance" in Kansas City. According to The New Yorker, Lynskey's Kathleen was written as a "rebel leader fixated on revenge" in order to serve as a cautionary tale for Joel, hinting that "grief transformed them both into stronger, sharper, and, in many ways, baser versions of themselves."
After Lynskey's "surprise" role was revealed when the Last of Us trailer dropped in September, the Yellowjackets actor has shared some more small details on social media, too. After Lynskey admitted to Mindy Kaling on Twitter that she would be dead in one second in the show's Cordyceps-ravaged dystopian world, she added that she was still honored to join the series. "I am thrilled/excited/honoured and super proud of the episodes I'm in!" Lynskey tweeted on Jan. 31, adding that she was also painfully aware that she had to follow the poignant Bill and Frank episode, starring Nick Offerman and Murray Bartlett. "This show is so, so good the whole way through. But also I will be following the masterpiece to end all masterpieces so *gulp*"
Earlier the same day, Lynskey also posted that if she ever wins an Emmy, she wants to give it to Mazin for writing The Last of Us Episode 3. "He can just keep it with all the other Emmys he'll get for this show," she wrote, adding, "If he feels like he has too many Emmys, he can give it to Murray Bartlett or Nick Offerman or really anyone involved."